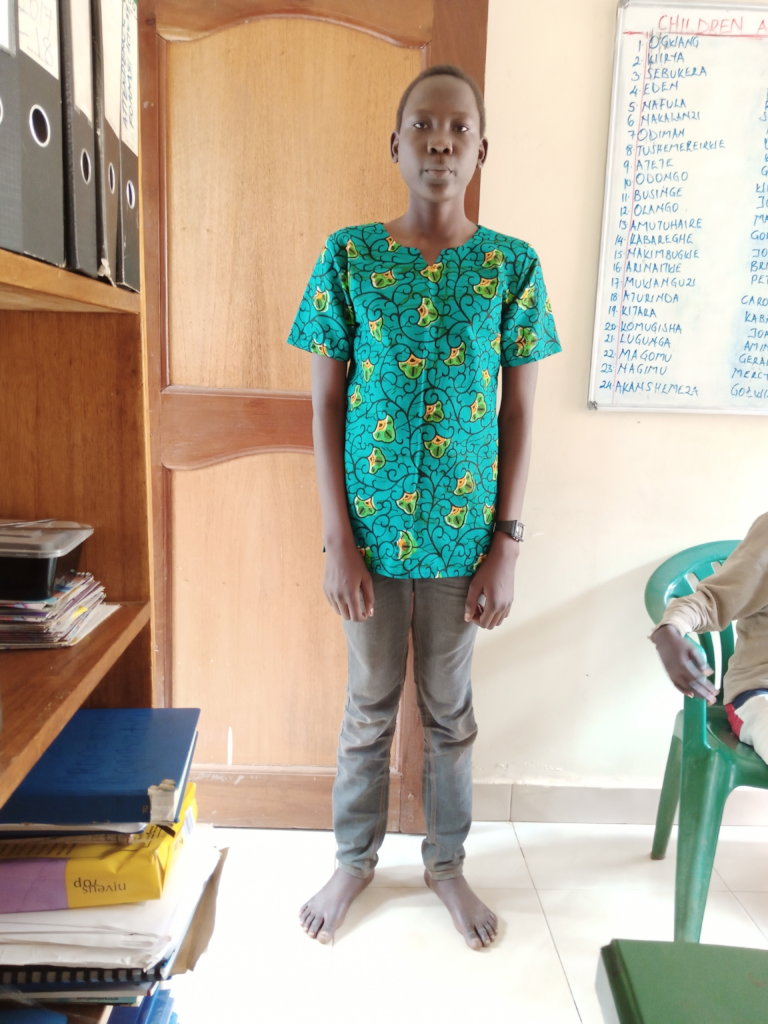 This Report is to highlight the enormous benefit of the relationship with GlobalGiving and our wonderful donors that has enabled us to raise funds to continue to help children with cancer in Uganda access to oncology treatment. We are extremely grateful for your support for the children with cancer who are doing it tough.
Overview
In Uganda over 3,000 children annually get cancer with only 50% surviving.
In 2016, Kawempe Home Care (KHC) opened the New Hope Children's Hostel (NHCH) to provide a home for the poor and vulnerable children with cancer whilst getting treatment from the Uganda Cancer Institute (UCI). The programsupports vulnerable children with cancer from the rural areas who are under treatment or are undergoing diagnostic investigations for their cancer.
Since inception, the New Hope Children's Hostel has cared for 629 children of whom 172 completed treatments, sadly 180 passed away, and 12 are receiving palliative care and 202 are still on treatment.
Ochom tells his story on the journey he has had to make.
'I am 17years old and from Kumi District in Eastern Uganda. I am the only child from my mother but I have half brothers and sisters. My parents are peasant farmers and struggle to support the family. In February 2019, I noticed a small but painless lump on my left chin, which gradually increased in size, causing neck pain and headaches. I took pain killers which didn't help much. My parents took me to a clinic in Kumi, where I was treated and later sent to Kumi hospital and was operated on due the enlargement of the tumor.
I felt better and was discharged. However, a few months later the lump re-occurred. I had to go back to the hospital for a second operation. A small tissue was removed and sent to Mulago National Hospital for examination.
The results showed thatI was suffering from cancer of the Lymohnodes. I can't express how hopeless I felt at that time. I did not know if my father could or would pay my medical bills.'
In November 2019, Ochom was referred to UCIand his step mother accompanied him and he began receiving chemotherapy. She stayed with him for his first cycle and then left him there after the husband ordered them both to return claiming that cancer was incurable and they were wasting time and resources at UCI.
'I decided to stay at UCI so as I could continue with the cancer treatment as if I went back home,I would not have medical support. I had no money for food or accommodation and relied on good Samaritans to help me.I felt desperate and alone until one day a social worker at UCI referred me to New Hope Children's Hostel.
How New Hope Hostel helped Ochom to look forward to a future.
Ochom was provided at the hostel with meals, medicines, accommodation, emotional support, care and he also could relate with the other children who were in a similar situation to him. He finished his chemotherapyand radiotherapytreatment and he will have a review in a months' time. The hostel also provided him with transport to go home to see his family.
There is still a long way to go for Ochom but New Hope and UCI are committed to helping him to receive his full treatment.
How Your Contribution Has Helped
KHC and the children who have benefitted from your support, say thank you.
During our 12-month relationship with GlobalGiving, KHC received over US$12,522 in donations from 92 donors.These funds have enabled KHC, during a very difficult time worldwide with Covid19, to continue to provide assistance to those amazing children.
How the Funds Were Used.
55% on food for the children and caregivers
18% on transport to and from UCI for treatment
10% on additional medicines for the children
12% Personal protective equipment (PPE) and cleaning and washing materials
5% on transport home for the families after treatment.
Without this support the New Hope Children's hostel would have found it very difficult to continue to provide this service. Your contribution has made a difference and we are extremely grateful for your support.
Links:
Attachments: