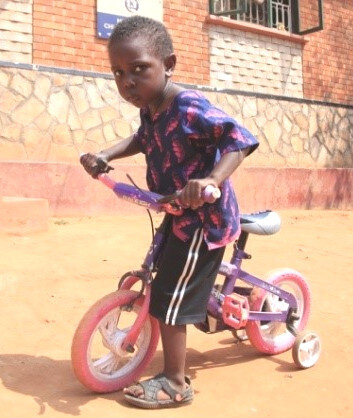 To know that you helped change someone's life circumstances for the better is a reward.
Charles is 4 years old and the second youngest of six children. His father is a mechanic and his mother runs a small-scale business. In November 2019 Charles started complaining of body aches, weakness in his legs and arms. He was also anemic and was taken to the local hospital and had a blood transfusion. His condition got worse and in February 2020 he was referred to the Uganda Cancer Institute (UCI) for assessment. Charles was diagnosed with cancer of the blood (leukemia).
He was referred to New Hope Children's hostel for psychosocial support and his elder sister who was in Senior 6, became his caregiver at the hostel. Charles had to undergo weekly intense cancer treatment, however his father wanted him to go back home as he did not think that the cancer was curable.
However,Charles made great improvements in his condition and he is now stable and has monthly treatment for his cancer.
His parents were very happy with his progress and were grateful for the support New Hope Children's Hostel provided his children during this difficult time. Charles still has a way to go but he and his family are not alone.
It was hoped that 2022 would be a year when the world would shake off Covid19 and a sense of 'normality' would return. How wrong we were. Our thoughts and prayers go out to the families that are caught up the Ukraine war and the continuing unrest in many parts of the world.
Many not-for-profit groups rely even more now on individuals to help keep their projects operating.GlobalGivinghas given many projects like ours support through their campaigns throughout the year.
Thank you to our donors who support what we do for children with cancer who like Charles are mainly from poor rural areas and unless they get support they cannot afford for their children to access treatment.
For the period January- March 2022, the New Hope Children's hostel received US$608in donationsand this was mainly due to our6 regular donors who give monthly contributions.

How the funds were used

This quarter the funds were used for fuel to transport the children to the hospital for their treatment, medicines for pain and symptom control and cleaning materials and detergents.
This quarter 82 children and their caregivers were cared for at the hostel. We are pleased to report that 2 children completed their treatment session and were allowed home until their next appointment.
Sadly 10 children passed away during this time. Our thoughts and prayers go out to their families.
Our reward is seeing children with cancer have a chance to enjoy a future.