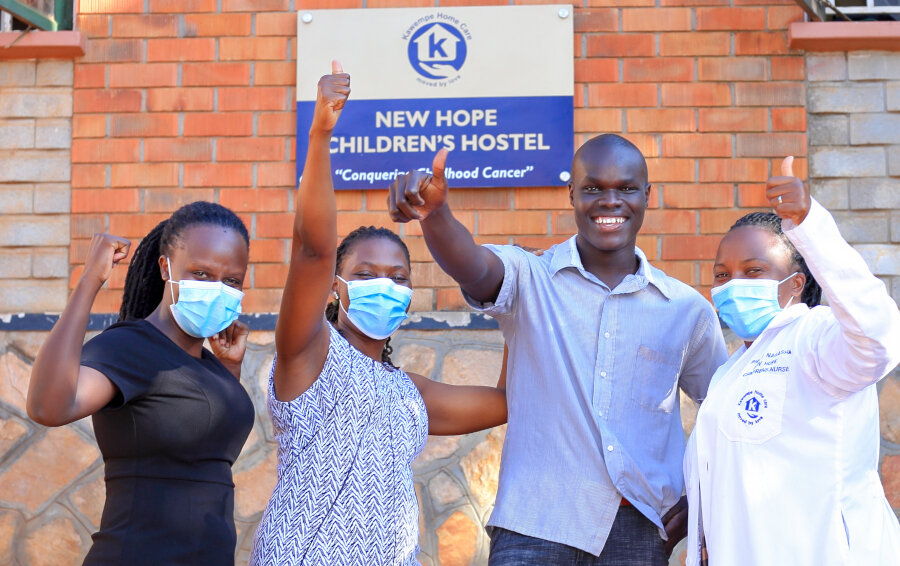 Thank you for your wonderful support through GlobalGiving. This quarter (Oct- Dec 2021), the New Hope Children's hostel received 24 donations, totalling US$1,878.

This support was crucial during a very difficult time with the lockdowns due to Covid19 which required innovative solutions to ensure that our children and our other patients were able to continue their treatment. Our staff and volunteers have been amazing. Treatment for serious illnesses such as cancer,cannot be put on hold.

This is why we are so passionate about helping children with cancer
This is a good news story about a fight that Muhamed is winning.
Muhamed is 18 years old and recently he achieved in his final A level studies, 3 A's, a distinction two in general paper and ICT. This achievement ranked him as one of the top students in Uganda. What is even more incredible is that this young man has been fighting cancer since he was in Primary 6, and was undergoing treatment during this time.
'I have 7 brothers and 6 sisters. I first noticed pain in my right ankle in 2013, which I managed with painkillers. I sought medical carefor the pain but it continued to get worse so I finally went into hospital. My mother sold charcoal in order for me to get further treatment and also borrowed some money from friends to meet the costs of staying at the hospital. It was confirmed I had liposarcoma cancer.'
Muhamed's treatment was unsuccessful and in 2021 he was referred to the Uganda Cancer Institute (UCI). He arrived with some books and clothes and the first night he slept on the verandah and the next day he was referred to New Hope Children's Hostel.
'My mother stayed with me at the hostel during my chemotherapy. I was able to study for my exams in the nurses' room. Once I had a great improvement in my leg my mother requested to go home as she was the bread winner and needed to care for my siblings.
I am very grateful for all the support I have been given not only from the New Hope hostel but also my school and the staff. There are still challenges ahead but I am grateful that I now have a future.'
Muhamed's dream of becoming a telecommunications engineer is becoming a reality as he has been accepted to do civil engineering at Makerere University and on a government scholarship.
He has also completed his cancer treatment and now will undergo routine medical reviews every two months.What an amazing young man.
Your contribution has helped to make a difference.

How the funds were used

This quarter the funds were again directed to providing food for the children and their caregivers and fuel for transport with the price sky rocketing and having to double the number of trips due to restriction on numbers allowed to travel together.

Your Support during 2021 has enabled 156 children and their caregivers to be cared for at the hostel. We are pleased to report that 27 children completed their treatment session and were allowed home until their next appointment.

Sadly 47 children passed away during this time. Our thoughts and prayers go out to their families.
Thank you for supporting our children and giving them a fighting chance to beat this terrible illness.