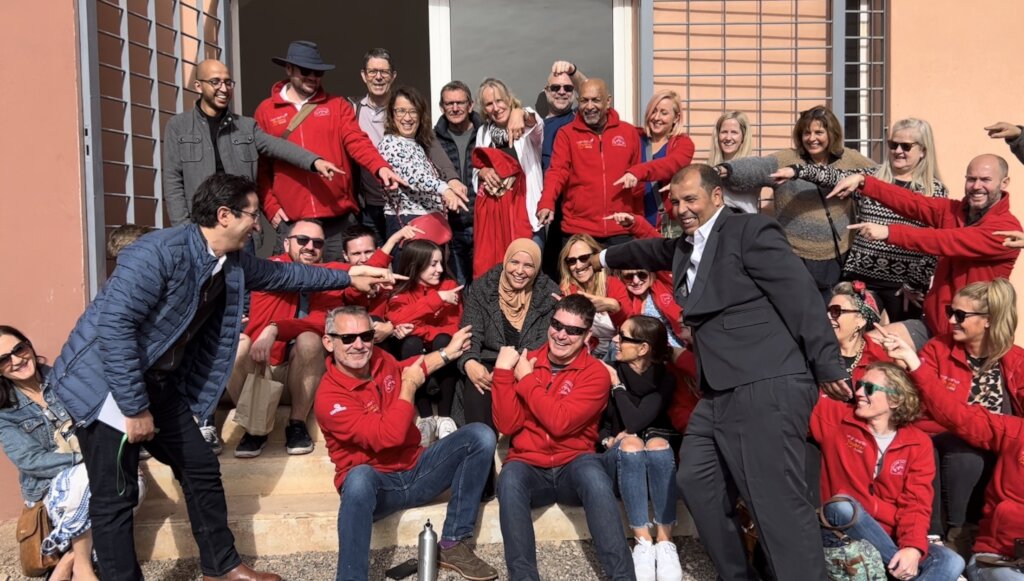 Thanks to you, we ended 2022 on a high note!
A group of Virgin Atlantic climbers joined our 'Climb Morocco' challenge and successfully summited Mount Toubkal, raising over $30,000 for the study centre project.
Preparations for the challenge event had started back in 2020 but plans had to be put on hold when Moroccan borders closed to international travel during Covid.
To see the event become a reality after such a long wait made it even more joyful. We would also like to make special mention of Kasbah Tamadot, Virgin Unite and the fantastic team at GlobalGiving who helped to match all donations during the campaign.
This all means that we can move forward with getting the study centre prepared for opening in late Spring. Leading the project will be our new Eve Branson Foundation President, Fatima Gounsa.
Fatima brings a wealth of local knowledge and experience. She is pictured here on the steps of our new study centre alongside the Virgin Atlantic team after completing their climb!
Fatima collected the keys to the building last week and recruitment is now underway to appoint two local managers who will supervise the centre. We are sourcing quotes to purchase desks, equipment and install CCTV as an additional security precaution.
The Eve Branson Foundation makes a meaningful impact on the community we serve by making sure no-one gets left behind. Exams can be a difficult time for even the most prepared students. Many will drop out of education here because they lack a quiet place to study and then struggle to achieve their grades.
With this challenge at the forefront of our minds, we developed the study centre project to provide 500 students in Asni with a safe learning space. The centre will support exam revision, improve access to learning materials and provide a quiet environment inbetween lessons.
Once open, we can deliver improved education outcomes for both girls and boys enrolled in secondary education. The centre is the first of its kind and is invaluable to Asni.
A huge thank you - we couldn't have achieved any of this without your support.