Project Report

| Jun 29, 2021
Update on 300 schools in rural Kenya and COVID-19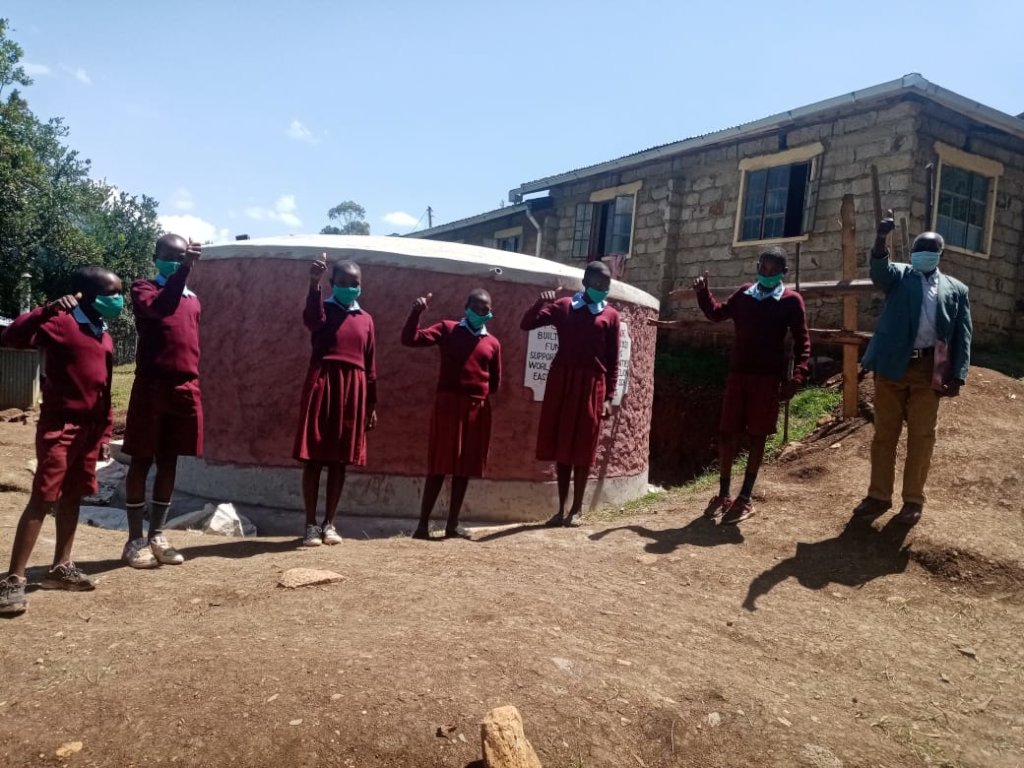 As promised, we are delighted to send you an update on the project to keep 300 schools in Kericho county, Kenya safe from COVID-19.
Schools reopened in January for a new academic year having been closed for 10 months of last year. The challenge of access to clean water and adequate sanitation is all the more critical to support with handwashing being the most basic form of defence in the schools against the spread of the virus.
We're working with 312 schools in total and this project has focused on keeping the schools equipped with soap and water containers so that children and teachers have handwashing facilities available to them.
At the end of May construction of a 32,000 litre water tank was completed at Kedowa River Farm Primary school. Head teacher Mr. Koech humbly extends great gratitude to Brighter Communities Worldwide. He says "School pupils and teachers are now using clean safe water. The challenge we used to face on water supply has been reduced. There is now enough harvested water for hand washing, cooking, drinking, cleaning classrooms and washing utensils among others. Thanks and God bless you from head teachers of Kedowa river farm primary school."
At Ndubusat Girls Secondary school, construction continues on a 40,000 litre water tank. The tank is made from concrete and as work progresses principal Mrs Lagat sends her thanks.
At the start of June, Ewat Primary school celebrated as their new boys toilet block was commissioned. The toilet block has 8 separate cubicles and the roof is guttered to collect rain water which the boys can harvest from a tank beside the toilet block. The handwashing stations can be topped up with water from there.
At the special ceremony to officially open the toilets, the board of management announced they are ready to help with distribution of soap to vulnerable household in the communities attached to the school.
This comes at a critical time because Kericho county has been put on a 30 day lockdown. Levels of COVID-19 are soaring and 90% of positive cases have the Delta variant. So far schools remain open but we are ensuring that schools and local communities have soap and that the message is reinforced around handwashing and social distancing to prevent transmission.
We will be participating in the GlobalGiving July Bonus Day Match Fund on Wednesday July 14th. Donations over €80 will be matched from 2pm (Irish time) on that day and the higher the amount donated, the higher the match while funds last.
Thank you for your support.