On behalf of The Branch Foundation (TBF) and The Cambodian Center for the Protection of Children's Rights (CCPCR), I would like to express my sincere gratitude for your support towards this project. Although we have not reached our funding target amount, we are deactivating this project due to the following reasons:
- Over the last couple of years, CCPCR's organisational capacity has begun to far exceed our own. In light of this, TBF will be focusing on it's own sustainability and concentrating on collaborating with organisations similar to our own size.
- With knowledge of CCPCR's growth we are certain that they, as an organisation, can find funds pertaining to the activities outlined in this project through other funding channels.
We have very much enjoyed working with CCPCR over the last couple of years and hope to maintain our partnership in some capacity. Not reaching our target for this project hasn't affected your donation, which has had a lasting and meaningful impact on the lives of the girls at the shelter. You have helped in the following ways:
Provided school materials such as text books, pens and school bags
Ensured that the girls were able to attend local schools
Given the girls opportunities to overcome previous trauma through activities such as yoga and traditional dance
Enabled regular visits/check ups from local social workers
Further proof of how your generosity has helped the shelter is highlighted in the following quote from one of the girls residing there:
"I feel exited for my life now because I have a lot of opportunities to study all the kinds of subjects, so, my life and my study has developed. I never thought that I would have a life such as now, however a lot of people provided encouragement, good advice and money to support my studies, it is useful for my future. I always try my best to study so I do not disappoint the people who have supported me."
If you are still interested in helping to provide educational opportunities for marginalized people/communities, please feel free to read up about our project at Koung Jor Shan Refugee camp in which we help support local teachers and provide the materials necessary for these bright young students to realize their full potential.
http://www.globalgiving.org/projects/educate-140-refugees-on-the-thai-burma-border/
Kind regards,
Tom Rosen
Note: The Branch Foundation pursues the highest degree of care and protection for each of its beneficiaries. To protect the identity of the people on this project, names have been changed and pictures do not necessarily represent girls who have been abused or trafficked.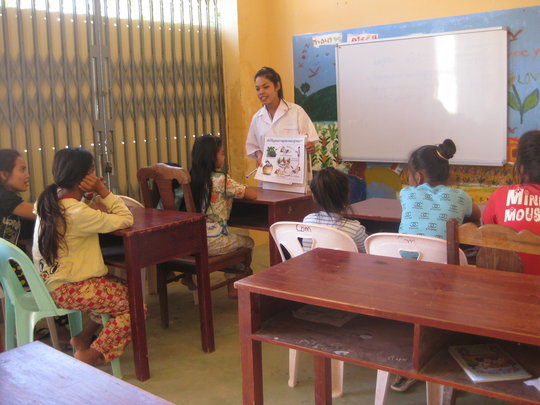 Links: