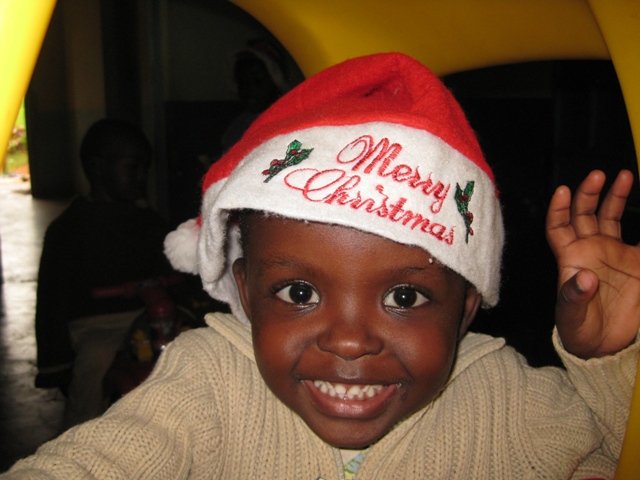 On behalf of the staff and babies at the St. Andrews Baby Unit in Kandara, we'd like to wish all our Global Giving supporters a very Merry Christmas and a Prosperous New Year.
Looking back on the year that has passed, there have been some remarkable achievements. The babies have all been in good health and have made terrific steps forward in their development. The biggest toddlers are now able to feed themselves and are progressing well with potty training. As we mentioned in our last update, the first attempt at this didn't go so well but with perseverance on the part of the staff and a volunteer they have now made good progress and are in the habit of using the potties. They have even had to add another little girl to the training group as she was copying all the older ones and trying to join in!
Joe, Patrick and Irungu are the latest babies who have mastered the art of walking. That means that out of thirteen babies only two are not yet mobile. One of these is Baby Anne who we introduced as our latest arrival in our October update. I'm happy to report that Anne is doing very well – she has gained weight and looks much healthier than when she first arrived. The other is Eric who is almost there and just needs a little more confidence. I'm sure that by the New Year, he'll be up and about and causing more chaos for the staff.
In recent weeks, an extra housemother has been taken on to help in the care of the babies. With thirteen little ones needing 24 hour care, there is a lot of work to be done, especially now that so many of them are mobile. It is anticipated that some of the older ones will join a nursery class in the New Year to ensure that their development continues and they are given every opportunity to grow. This will also allow the housemothers more time to work with the younger babies during the day.
The support from the local community has been very good this year. Just last weekend, a family arrived with a donation of food items. It was their son's first birthday so they decided to celebrate by holding a party in the baby unit for their son and all the other little ones. There was a cake, party hats and all sorts of fun to be enjoyed as well as the donations which will be of great use. The unit is now known in the community and it is great to see people taking an interest in caring for the infants who, for one reason or another, have nowhere else to go.
Our thanks go to everyone who has donated to this project throughout the year. The donations received through Global Giving have really been a tremendous help in allowing us to keep the baby unit open and running smoothly. We hope that this level of support will continue in 2011 and we can ensure that the little babies who had no hope now have a chance of a brighter future.