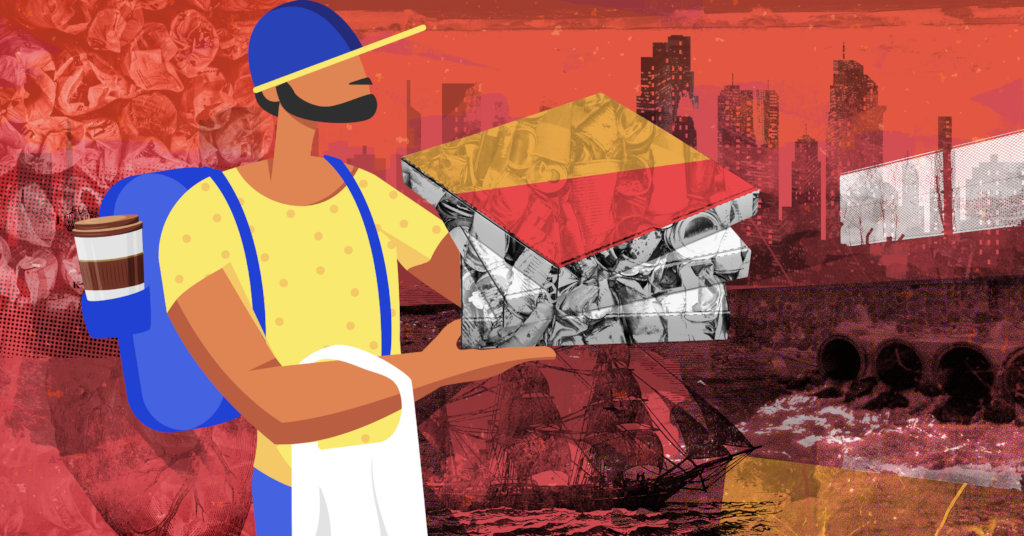 Dear friends,
We've seen unimaginable changes to our lives in the wake of COVID-19. Orb Media's latest investigation focuses on small change that many of us are making around the world may have far-reaching consequences to our bodies and our world.
COVID-19 has forced many of us to take out and order in more, often without the option of using reusable containers.
Online meal delivery revenues in the United States are projected to reach $26.5 billion this year, a 20 percent increase over 2019. DoorDash, which serves the United States, Canada, and Australia, has seen business skyrocket during the pandemic and was valued at more than $39 billion upon going public on December 9.
Many of us are aware of at least some of the impacts that disposable food packaging has on our environment. But new information is emerging about how packaging affects us as humans. On November 30, the Food Packaging Forum, a Switzerland-based nonprofit foundation, published a new database of more than 12,000 chemicals that may potentially be used in food packaging by manufacturers around the world. The database reveals:
More than 600 of these chemicals as highly hazardous to humans and the number of food-contact chemicals that have not been subject to any toxicological research.
The food packaging industry has been hesitant to disclose chemicals used in its products and existing regulations to ensure food packaging is safe are limited.
Can we still get takeout from our favorite eatery to support them during this tough economic time? Can we minimize both our chemical exposure and the broader environmental impacts associated with disposable containers, tableware, and cutlery?
Orb Media's new reporting package addresses how to evaluate and mitigate some of the negative impacts of this global trend.
In addition to providing some details from our new investigation with you now, I'm excited to share that at the time of you receiving this email, media organization partners in almost a dozen countries have committed to do local reporting in their communities on this issue, informing millions and validating the impact of Orb Media's unique support and distribution model.
We've also produced a companion white paper for impact investors to consider while making investments in alternative materials. Note that you'll need to login (registration is quick and free) to view the entirety of both reports.
This, and all the work we do, is all thanks to your ongoing support. If you have any feedback or would like to introduce us to someone who would benefit from our work, don't hesitate to reach out directly to me at victoriaf@orbmedia.org.
Warmly,
Victoria Fine
CEO, Orb Media
Links: