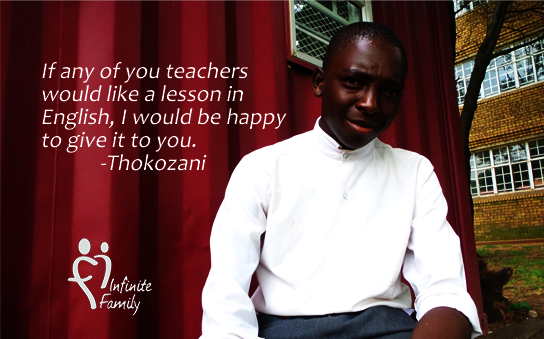 "If any of you educators would like an English lesson, I would be happy to give it to you!" That's how Thokozani ended his short presentation on the difference his Video Mentor, Sharon, had made in his life in the year and a half they had been connected.
He started his presentation by saying that in 8th grade, before starting video conversations (VCs) with Sharon through Infinite Family, he had been a shy and uncertain English speaker. He added that English had been one of his worst subjects and that he also struggled with all subjects that were taught in English, including math and science. Since meeting Sharon, he was proud to report that he was doing better in school overall, especially in English.
To Thokozani's surprise, his self-confidence had also increased dramatically, so much so, that he had begun to want to lead by example and be a role model for the younger students who were also struggling. Despite recently losing his father, he is always at the LaunchPad computer lab helping the Net Fundi lab managers and coaching the new Net Buddies as they learn the system.
Thokozani's newfound skills will help him excel for the rest of his life. For starters, the Program for International Student Assessment (PISA) has been studying the performance of 15 year olds worldwide in reading, math and science since 2000, including over 10 million students in 2018 alone! What have they found to be the most important indicators of student success? Confidence and self-motivation - both traits that Thokozani enthusiastically demonstrates now.
In addition, in a country with 11 official languages, the ability to communicate well in English is absolutely critical in getting that important first job in South Africa and in earning promotions for the rest of our Net Buddies' lives. The skills that you have helped Thokazani develop while working with his Video Mentor have put him on the path to earning more than five times what his non-mentored peers will earn – for the rest of his life. We thank all of you who have supported Infinite Family through GlobalGiving for investing in Thokozani and inspiring him to begin a life of leadership as a role model for success.
Now back to that English lesson – who wants to be first?
Links: