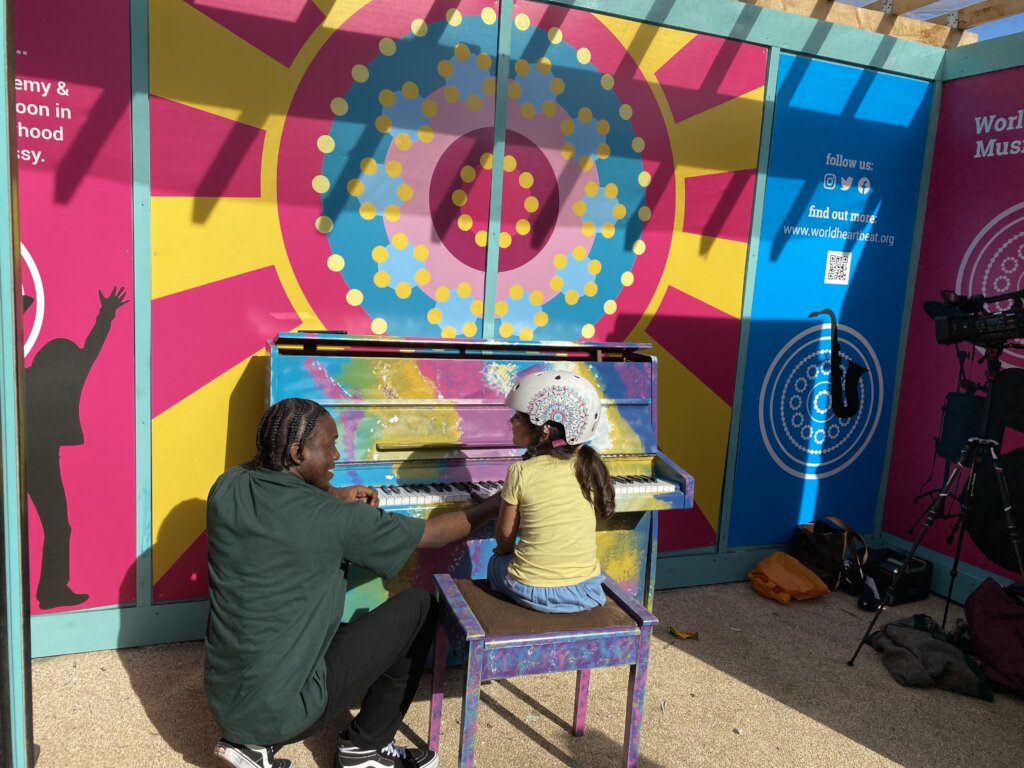 Dear friends and supporters,
From celebrating the Queen's Platinum Jubilee, launching our Nine Elms Sessions' music videos, hosting an open day and film screenings, hosting international Columbian musicians and educators with a two-week residency as part of our Planet Harmony project (including workshops in making musical instruments out of recycled materials as well as collaborations with local schools to explore themes of social, racial and climate justice through music) and launching a pop-up music space in an alcove in Nine Elms – it's fair to say it's been a busy few months for World Heart Beat!
On Sunday 5th June, our musicians were invited to perform at Wandsworth's Big Jubilee Lunch to celebrate the Queen's Platinum Jubilee. We provided five different musical performances including a piano party, Indian music featuring Tabla maestro, Alok Verma and supreme vocalist Raj Heer, a New Orleans Second Line Marching Band, plus contemporary gig and jazz bands in five of Wandsworth's beautiful parks. Local residents had the perfect opportunity to enjoy live music and picnics al fresco with friends, family and the community whilst celebrating the Queen's Jubilee achievement!
World Heart Beat once again took part in the hugely popular annual Wandsworth Arts Fringe (WAF) Festival, a celebration of culture and creativity which takes over the Wandsworth theatres, parks and streets. This year, we were invited to open the festival with our New Orleans band leading the way as we all followed the course of the River Thames through new, regeneration areas and local developments in Battersea and Nine Elms. It was truly uplifting and joyous; we even made it onto the front cover of the summer edition of the Wandsworth magazine, Brightside!
In June, we launched our final Nine Elms Sessions on our YouTube channel - a compilation of six music videos celebrating the Nine Elms local community whilst reflecting on the area's heritage, present identity and promising future. We showcased the Sessions at the plush Cinema in the Arches at Battersea Power Station, as well as at one of our fundraising events to help try to secure the final funding required for our new music education centre and concert hall, opening in Nine Elms in October. If you're able to help fund our 'last mile', or know a business who might be able to help, please do visit our website to find out more.
We held another successful Try an Instrument - Open Day at our Kimber Rd residence, welcoming over 40 new faces to find out first hand from our young people and teachers the benefits of learning music at World Heart Beat. It was lovely to see so many enthusiastic young people (and parents!) from all backgrounds trying out instruments and asking questions about learning here at the academy.
In May, we invited Mr Klaje, a collective of musicians and educators hailing from Cali, Colombia for a residency to deliver workshops across eight schools in Wandsworth. The collective initially began as a percussion group that used recycled materials to make music and over time, they started performing in Colombia and other countries of Latin America, sharing alternative lyrics that invite people to reflect on social and environmental issues. Since then, the group has engaged further with socially and environmentally engaged music projects, such as "The Rubbish Road", a programme where they provided musical training and workshops to underserved and vulnerable groups, on how to make instruments using recycled materials and make music using them.
The workshops were really well received by the students – they offered warm up activities and fun games, which saw them acquire practical skills in listening, rhythm, percussion, vocals, and also social values like trusting, empathy, respect and collaboration. They then made instruments out of recycled materials, which at times were shakers or drums! They then came together to play music, accompanying Colombian folk music and reflecting on the day, with a focus on empathy, consideration and the power of music to help make a difference to the world!
In July, we launched our Planet Harmony Project in collaboration with Griffin Primary School and Harris Academy, Battersea exploring the themes of social, racial and climate justice through music. Winston Rollins, Trombonist, Writer and Producer taught Trombone and Trumpet to twenty-two Year 4, 5 and 6 students at Griffin Primary School, whilst Alok Verma taught tabla to students at Harris Academy. The project was showcased at Griffin Primary School's city garden – a beautiful, peaceful outdoor space – and an excellent location to showcase the students' learnings, alongside recycling workshops for members of the public.
We also took part once again in the uplifting, family-friendly Happy Streets Festival around Thessaly Road, Nine Elms. This one-day event takes inspiration from the nearby 'Happy Street' Thessaly Road bridge design with themes of happiness and wellbeing. The festival included a line-up of live music, theatre, craft and wellbeing activities and performances for all ages. Performances came from our gig band, our marching New Orleans band, as well as instrument making workshops at the Yvonne Carr Centre Garden using recycled materials – it was great to see all ages getting involved and making some rhythmic sounds and beats from the instruments!
Furthering our outreach to schools in Wandsworth, Brazilian singer-songwriter Aleh Ferreira (best known as the front man of legendary Brazilian funk band, Banda Black Rio)has been teaching Viola Caipira (Brazilian 10-stringed guitar) to sixteen Year 7 students at Harris Academy, Battersea as part of the World Heart Beat Online Music Programme. Artist-educator Pepe Barcello has taught an Intro to Latin American music, as well as reaching out to Awesome Adventure King Henry's Walk, a charity with the mission to empower children and young people to achieve their potential and improve their health, well-being and resilience.
To celebrate Make Music Day (Tuesday 21st June) World Heart Beat launched Music is in the Air – a pop-up space offering FREE music lessons in Nine Elms throughout the summer until the end of August. The alcove includes a piano and drums set located at Alcove 3, Merchants Way, the colourful walking route which runs through New Covent Garden Market between Nine Elms Tube station, Arch 42 and Ponton Road. It also offers the opportunity for musicians to use the space to practice together, or hold a concert, free of charge! We were delighted when Pianist and Composer Howard Blake (his well-known work includes his soundtrack for Channel 4's 1982 film, The Snowman) 'christened' our piano to Nine Elms' passers-by.
We hope you have a peaceful and relaxing summer!
With my best wishes,
Sahana