Dear GlobalGivers,
Thank you to everyone who continues to support the on-going recovery efforts in Tohoku. Your donations helped to continue to bring attention to these recovery efforts through a matching campaign at the three-year anniversary of the earthquake and tsunami. Matching campaigns of this magnitude do not come around often, but it was well worth it for this cause. Overall, $102,336 funds were raised from 783 unique donors! Out of the 32 projects that took part in this matching day, the top three performing projects all raised over $9,000 each without matching. Here are some updates from these organizations:
The Taylor Anderson Memorial Fund's project Help Students, Families and Schools Recover raised $24,634 from 314 unique donors, making the final fundraising total, with matching, $49,203! This project is working to provide a public library and help the Asahigaoka Gakuen Children's Home in Kesennuma. In the Fund's latest report, donors were informed that over 100 books were donated by Ambassador Kennedy to the Taylor Anderson Reading Corner last November. Additionally, for the past three winters, the Taylor Anderson Memorial Fund has provided children at the orphanage in Kesennuma with Christmas presents and other gifts through a Christmas Wish program. All gifts were tailored to each specific child, and there was even a party where the children performed on stage for each other. While the project has not been fully funded yet, the organization wishes to thank all of its incredibly gracious donors. They would not have been able to raise nearly $50,000 in one day without you!
Fukushima Kids Executive Committee has been able to send children to Hokkaido through the project Bring Smiles to 500 Children of Fukushima. Through the Matching Day, Fukushima Kids was able to raise $12,920 from 25 unique donors, rounding out to a total of $24,840 including matching! Since the tragedy, Fukushima Kids has helped over 3,200 children escape to Hokkaido to relax and play outside, instead of being trapped in the disaster-stricken Fukushima. The organization has seen great improvement in the children who have participated in the program, and many wish "when I become an adult, I want to repay the favor to the people who helped me". Keiko, a mother two, feels so touched that so many around the world have helped Fukushima survivors like herself. She says because of the program, she is no longer "caught in the bitterness of a victim mentality".
Academy Camp's project School of Fun for Children in Fukushima also performed very well in the Matching Day. In just one day, Academy Camp raised $9,120 from 51 unique donors, and $18,200 in total! Similar to Fukushima Kids' work, Academy Camp strives to help the children of Fukushima who are forced to stay indoors because of the disaster aftermath. This project brings roughly 40 children of all ages to areas with lower radiation to allow them to play, learn, and team-build all outside. In their latest report, Academy Camp told the story of a student volunteer from the last camp on Lake Inawashiro, Fukushima. The student described how they all learned how to use an AED and do chest compressions for someone who is choking. They also went out in E-boats on the lake and experienced the beautiful outdoors. The student ended the report by saying "I hope that more people will know about this camp and share the enjoyment with a large number of people together." Thanks to donors like you, these kids continue to have meaningful experiences they might not otherwise have had a chance to have.
Because of these three organizations, many affected children and families have been able to recover from the travesty of the Japan earthquake and tsunami three years ago. Even though it has been three years, there is still much more work to be done to improve the lives of these individuals. All of this progress, however, would not be possible without all of you - keep up the great work!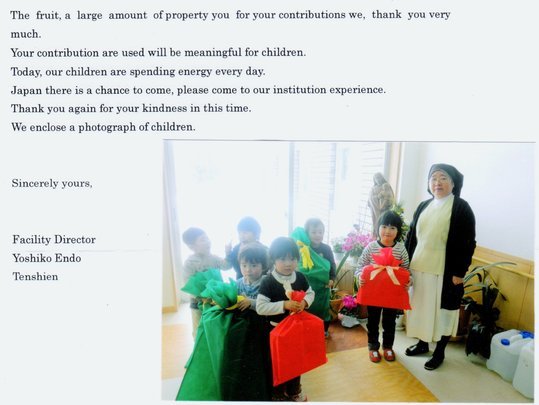 Links: