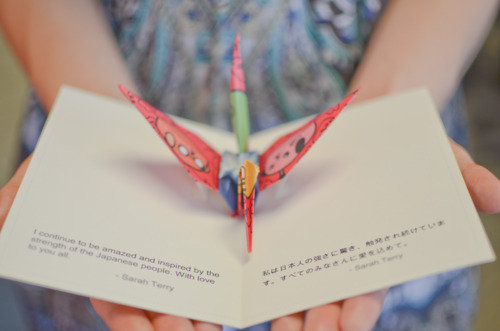 At the one year anniversary of Japan's March 11 earthquake and tsunami, we asked you, the GlobalGiving community, to write messages of encouragement that Mari, our President and I would hand-deliver to the people of Japan. We collected more than 135 messages on Facebook and via text message, and last week our staff came together to fold origami cranes, to translate your notes into Japanese, and to assemble cards for people affected by the tragedy. (See some beautiful photos of the messages here.)
Yesterday, after 14 hours of flying, Mari and I arrived in Tokyo ready for a busy trip to visit our partners on the ground. Over the next two weeks, we will be meeting with the organizations and people who you have helped support with your donations to ensure that your dollars are having maximum impact on the people and communities affected by the earthquake and tsunami.
We are excited to report that we will be visiting almost every project that received support through the GlobalGiving Japan Relief and Recovery Fund. We're committed to keeping you informed of how your money has been spent, so a full list of the grants that were given in the past year is below: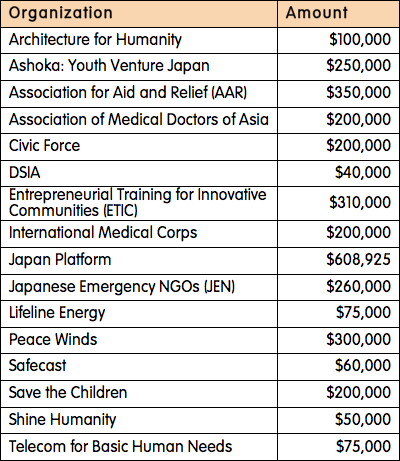 We're also excited to tell you about three new grants that were just recently approved:
1) The International Medical Crises Response Alliance (IMCRA) will receive a grant of $100,000 to support direct onsite medical operations in Tohoku. IMCRA currently provides medical resource information, seminars, clinical toolkits and web-based operational platforms to clinicians, administrators, and populations impacted by the earthquake, tsunami and radiation disasters of March 11, particularly in the areas of radiation biology, dentistry in disrupted environment, geriatrics, and infectious disease prophylaxis.
2) Peace Winds received $149,932 to help fishing communities in Minamisanriku. Miyagi Prefecture. This grant will allow them to accelerate economic recovery and create jobs through support to Minamisanriku's two Fishing Cooperatives and their 800 members.
3) Project YUI was approved for $100,000 to support the establishment of daycare centers for children in temporary shelters including hiring local nurses and mothers as daycare center staff; creating a "mom's community" for the mothers living in the same complex; and expansion to up to 15 sites by 2013.
And that's not all – generous donors like yourself have donated an additional $2.3 million in the last four months! We will continue to disburse those gifts to Japanese organizations working on long-term recovery over the next few months. We have a busy few weeks ahead of us, but we feel privileged to be able to see first-hand the great work that you're helping to make a reality and we'll continue to report back to you.
Thank you again for your support and we invite you to leave a comment on the project wall if you have questions you'd like for us to ask while we are in Japan.
Warm wishes,
Britt and the GlobalGiving team