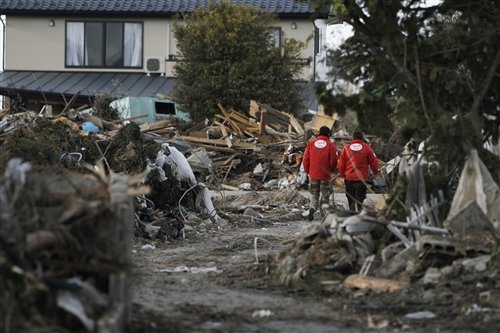 In areas affected by the earthquake and tsunami that hit Japan in March, thousands of people continue to live in evacuation centers. With so much rebuilding to do, the government still hasn't reached places like the small seaside village of Yubigahama, where debris sits uncleared and roads remain impassable. The Association for Aid and Relief (AAR), supported by your donation to the GlobalGiving Japan Relief Fund, recently set up six container houses in an area where 80% of the surrounding town was devastated by the tsunami.
As volunteers and residents helped to set up the container houses, Ms. Suzuki, one of the new residents told AAR: "Right now, four families are living in this evacuation center. I never thought I would care about the lack of privacy, because we have known each other for so long."
Ms. Suzuki moved into her new container house after two months of living in the evacuation center with four family members. "Living together for two months has been mentally exhausting. We don't have any space to discuss family matters privately. I'm really thankful just to have a space for our families to sleep on our own."
AAR plans to set up another 24 container houses in the area, and has had requests to set up additional container homes in Minami-Sanriku and Ishinomaki.
Architecture for Humanity is also working to rebuild communities destroyed by the tsunami and earthquake with support from your donation to the GlobalGiving Japan Relief Fund. In Motoyoshi, Miyagi, Architecture for Humanity is completing a covered wooden deck made of timber salvaged from the tsunami to serve as the center of a future marketplace. Several local businesses that lost their storefront have already signed up for spots at this market.
Click on the video link below to see the construction site and hear from the team carrying out the project.
Thank you again for your support to people like Ms. Suzuki, who now has a home for her family. Stay tuned for our next update, where we will announce some important new rebuilding activities that are being supported through your donations. And you can always read additional updates directly from our partners in Japan on GlobalGiving's "Updates from Japan" page.