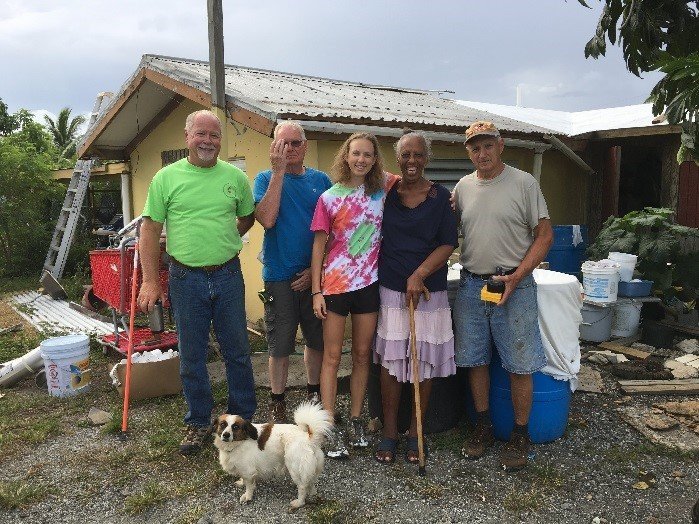 Our partners in the U.S. Virgin Islands are in it for the long haul, helping fill in the gaps and helping ensure that even the most vulnerable in the community recover from Hurricanes Irma and Maria.
Some survivors affected by the hurricanes are ineligible for government disaster aid programs or will continue to have unmet needs even after receiving the maximum amount of help from the disaster recovery programs. This is where recovery group, like the St. Croix Long-Term Recovery Group (LTRG), come in. LTRGs are locally based teams committed to seeing the islands through to full recovery. The groups are helping Virgin Islanders remove debris, feed their families, and make repairs to their homes.
"The mission of the St. Croix LTRG is to help members independently provide community services on a daily basis and provide effective relief and recovery services to people affected by disaster on the island of St. Croix," said Pastor Gary Moore, chairperson of the St. Croix LTRG.
"As we transition from the emergency response phase of the disasters to long-term recovery, it is important that we come together as community leaders to communicate, cooperate, coordinate and collaborate for a more sustainable and resilient future for our entire St. Croix community."
What does long-term recovery look like in action? An example comes from the Resilient Housing Initiative of the St. John Long-Term Recovery Team. The group recently finished refurbishing the house of a retired school teacher who designed the home with her late husband. She had been staying with her daughter in the U.S. mainland since the storms. She returned to St. John when her home was rebuilt and members of the recovery group went to visit her. She stood with tears in her eyes as she looked silently over the newly constructed home.
The group had restored the home with a reinforced ceiling, safety grab bars in the shower, and like-new furnishings donated from a villa owner. She looked around at her once beautifully terraced gardens and remarked how excited she was to work in them again. Hillary Bonner, the group's Director of Operations says, "She hugged each of us as we left, expressing her gratitude and giving thanks for all that had been done for her. We were just grateful she was able to be back in her home and returning to a 'new' type of normal."
Thank you for your part in supporting full recovery on the U.S. Virgin Islands.