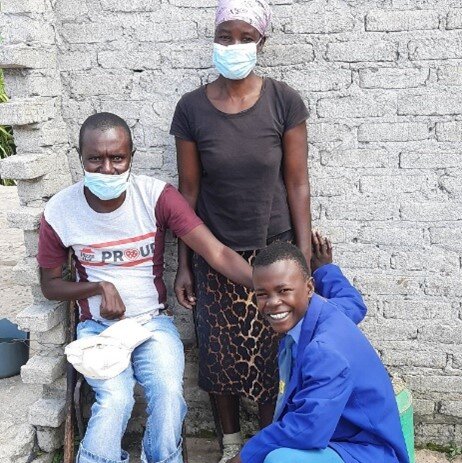 Introduction and background
Island uses several models to deliver palliative care services namely (i) home-based care; (ii) hospital-based care iii) Rural and community outreach iv) Roadside services (v) therapeutic and comprehensive bereavement care, including for children; and (vi) capacity-building for doctors, nurses, community caregivers and others. The bereavement service offered by Island is aimed at those who are grieving after any death whether the family has lost a patient who died in our care, or a sudden unexpected death such as a car accident, suicide or heart attack. The advent of COVID-19 and the subsequent national lockdown has seen Island intensifying virtual support through telephone, WhatsApp, Zoom and other electronic platforms.
Intervention and impact
Between April 2022 and June 2022, Island continued to operate under conditions of relaxed national lockdown following a decrease in cases of COVID-19 in the country. Island is now improving face-to-face clinic contacts, roadside clinics, hospital visits and home visits though virtual contacts still dominating. Island staff adhered to WHO guidelines on the use of personal protective equipment, social distancing and sanitization where physical contact was unavoidable.
Successes of these interventions included holistic provision of PC services through innovative means, especially virtual (telephone, zoom, WhatsApp call) and one on one contacts. Island intensified tele medicine through rolling out of a system for patient information collection and health outcome measurement. The system was embraced by community caregivers who are responsible for administering the tool together with Island nurses and social workers. They were particularly happy with the system for real time reporting of patient outcomes and for triggering intervention from a qualified health professional.
A story of change below and snippets of compliments from patients and families demonstrate typical changes to people's lives as a result of Island interventions.
Story of Change: Island Cares
I am a mother of three children. I live with my husband and my youngest child. My husband suffered from stroke, and we are both HIV positive. A CHBC from Island was walking in our community identifying people who they might work with. They met us and discussed the work that they do. And if we were willing to work with Island.
At first, we were hesitant especially my husband, to share any information but after realising that our information would be kept private and confidential and that these people were genuinely there to help us, we started to open up. We welcomed them because they were willing to give us advice on how to live with HIV and the importance of adhering to medication. The nurse and social worker from Island occasionally visits us, checking up on us. Me and my husband found it difficult to disclose our statuses to our children. With the help of the CHBC we managed to find the courage to discuss with our children. It has been a year now since we have disclosed, and it was hard for them to accept at first.
Island took my son for a young carers training. This was to help him to cope and understand on how to live with parents who had a chronic illness. We have seen a lot of change in our son because of these trainings. He used to be carefree and wouldn't help us around. Also, he did not fully understand what it meant to be living with HIV. Now, he helps us with house chores such as cooking and cleaning. Sometimes I go out selling my stuff and he remains and does everything well. He now understands the condition that we are in and encourages us to take our medication on time. We just want to thank Island for the help they have offered us.
2. Snippets of compliments
2.1 Thank you so much for sending us a precious Angel in the form of Elizabeth. She has been beyond fantastic she really has become a part of our family and will be solely missed. So, they left for Mutare this morning and she will be back as soon as my mum is a bit settled and she has visited her family in Rusape.
Many thanks and blessings.
2.2 Thank you to all your Staff and Nurses for the love compassion and care you all spread which embraces and gives purposes and joy to patients and relatives. Samantha and Sharon are very special. We give thanks with grateful heart. Without them Tiger would have no life or purpose.
May the Lord strengthen you all as you face so many difficult and sad situation and give you joy for accomplishing HIS will.
God Bless
2.3 I write to advise that effective 1st April 2022 we will no longer require a nurse aid for mom. Her mobility has improved so much although she is still not at full strength. If we do find that she is not coping, then we will have to review the situation and I will then be in touch again.
I just wanted to say a very big thank you to you and the team of carers who have been with her since August last year. In particular Olinda, Caleb, Rosita and now Belinda, have stood out with their care and compassion. Please ensure that you pass our thanks over to them.
Links: