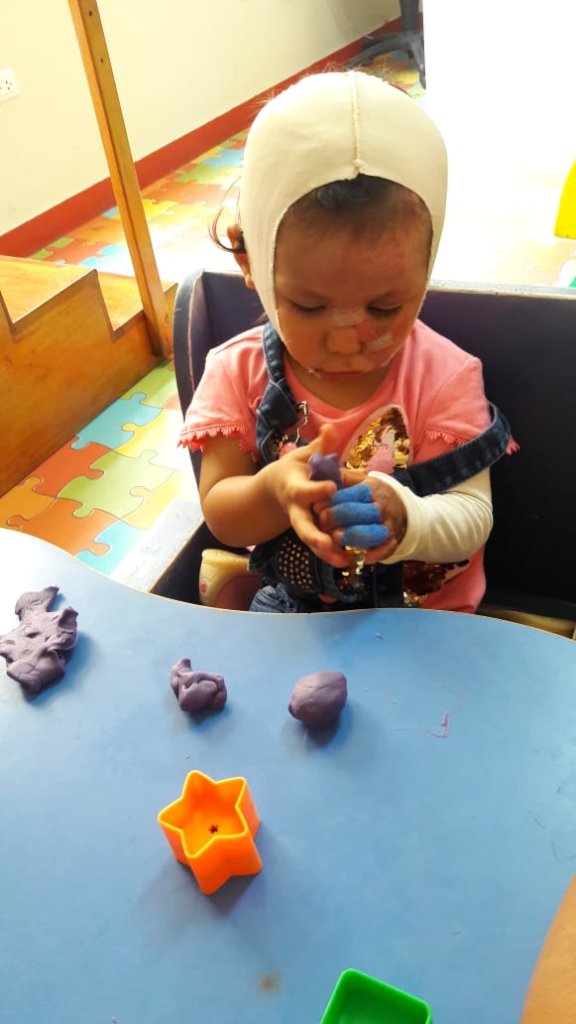 Dear Donors,
Thank you so much for your support to finance the rehabilitation of 7 burned children in Peru. Our team, kids and all their families are thankful with you, for your generosity and support. Without your help we couldn't have come this far.
In this opportunity I'd like to introduce you one of our most little angels (a.k.a patients) in ANIQUEM, her name is Yarumi and she is a warrior!
Little Yarumi was only 11 months old when an accident changed her life forever. She fell from her baby walker into a plastic bathtub full of hot water.
Thanks to your generosity Yarumi is receiving the treatments needed for an integral rehabilitation in ANIQUEM, which means physiotherapy, occupational therapy, psychological treatment, reinsertion into the society and special lycra garments to get better the scars in her face, torax and hands.
She and mom comes to ANIQUEM more than a year and I'm still amazed by all the difficulties that they have had overcome together in all this time, with another little lady and no help from the father. Yarumi's mom never gave up and made everything to see her enjoying life like all the children do. And I'm so humbled to tell their story.
All of us can see her improvements in every check up; and see her running and jumping around our center hallways lights up our day. No more tears, she's truly happier thanks to you!
Today we don't have enough words to tell you how happy we are. Your contribution is changing this little angel and mom's life, thank you so much!
Thank you again for all your support. We're really blessed to count on you!!!
Team ANIQUEM.