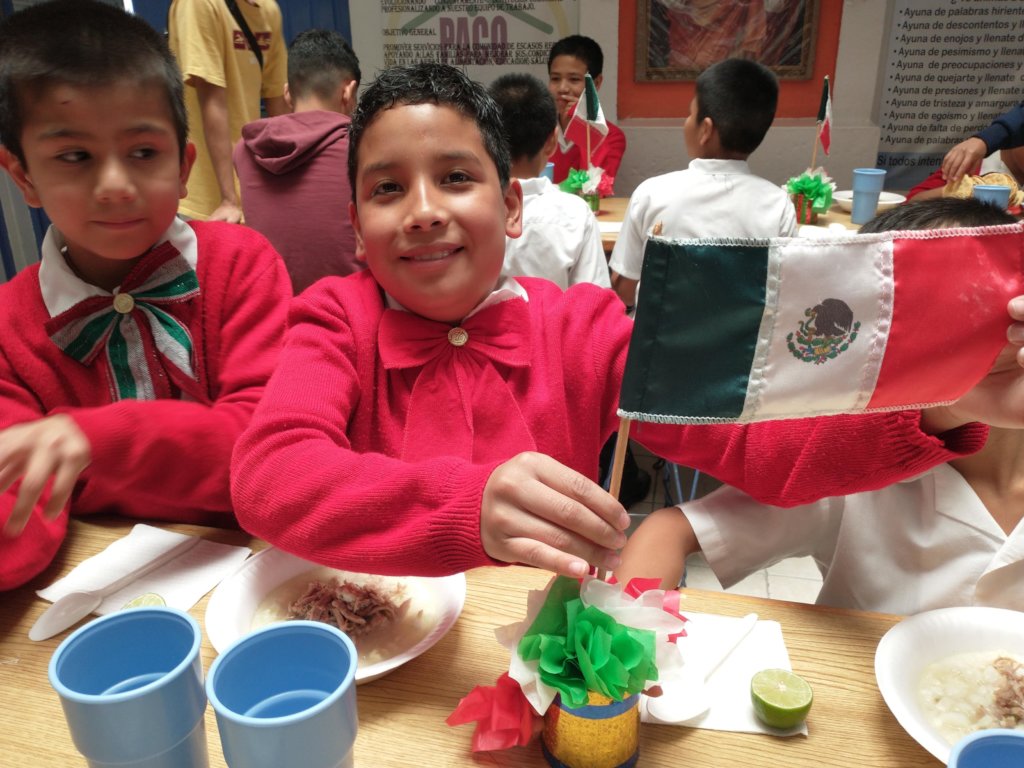 En
Promotion and Community Action, I.A.P. is an institution that, through its three programs, offers quality services to people in situations of vulnerability and social abandonment. Our priority program is Casa Hogar "Moscas Ley", with which we offer quality services to children and adolescents who have been victims of violence and social abandonment, that is, who do not have family, institutional or governmental ties that allow them to freely exercise their Fundamental Human Rights.
Our care model proposes a holistic vision of the comprehensive well-being of children and adolescents, we are convinced that correct human development depends on three dimensions, Biological, Psychology and Social, that is why our services are designed to attend these dimensions of children who they have been limited in their integral development and in the free exercise of their human rights.
To ensure that our interventions actually have a positive effect on the overall well-being of our users, we have a series of indicators and strategic lines that allow us to know and quantify the progress of our programs and projects, our areas of opportunity and actions of improvement, this guarantees that the services are of quality and cover the specific needs of the users, thus guaranteeing the restitution of their rights.
The Casa Hogar program is not only an assistance initiative, the care model has the conviction of providing users with tools for life that allow them to improve their living conditions by themselves, and giving them the possibility of applying what they have learned in the institution in their families and communities, breaking with the patterns of violence of which they were once victims. The biopsychosocial care they receive includes the following aspects:
Results first semester 2021
Biological
Healthy eating 3 times a day
89.7% in adequate nutritional status
7.7% Overweight
1.6% obese
Biological
Care and dental (Assessments and consultations)
90 consultations
Biological
Promotion of sports and physical education
800 sessions taught
97% of users improved their physical conditions
Psychoemotional
100% of users served
Quality education
100% of users enrolled in formal education
0% school dropout
0% school failure
Training workshops
100% of users started and finished one of the three workshops
Thank you very much for being part of this noble cause.
With your support we will continue to reap achievements
Es
Promoción y Acción Comunitaria, I.A.P. es una institución que, mediante sus tres programas, ofrece servicios de calidad a personas en situación de vulnerabilidad y abandono social. Nuestro programa prioritario es Casa Hogar "Moscas Ley", con el cual ofrecemos servicios de calidad a niños y adolescentes que han sido víctimas de violencia y abandono social, es decir, que no tienen vínculos familiares, institucionales o gubernamentales que les permitan ejercer libremente sus Derechos Humanos Fundamentales.
Nuestro modelo de atención plantea una visión holística del bienestar integral de niños y adolescentes, estamos convencidos de que el correcto desarrollo humano depende de tres dimensiones, Biológica, Psicología y Social, es por ello que nuestros servicios están diseñados para atender estas dimensiones de niños que han sido limitados en su desarrollo integral y en el libre ejercicio de sus derechos humanos.
Para asegurarnos de que en realidad nuestras intervenciones tienen un efecto positivo en el bienestar integral de nuestros usuarios, contamos con una serie de indicadores y líneas estratégicas que nos permiten conocer y cuantificar los avances de nuestros programas y proyectos, nuestras áreas de oportunidad y acciones de mejora, ello garantiza que los servicios sean de calidad y cubran las necesidades específicas de los usuarios permitiendo garantizar la restitución de sus derechos.
El programa de Casa Hogar, no solo es una iniciativa asistencial, el modelo de atención tiene la convicción de dotar a los usuarios de herramientas para la vida que les permita mejorar sus condiciones de vida por sí mismos, y dándoles la posibilidad de aplicar lo aprendido en la institución en sus familias y comunidades, rompiendo con los patrones de violencia de los que alguna vez fueron víctimas. La atención biopsicosocial que reciben contempla los siguientes aspectos:
Resultados primer semestre 2021
Biológica
Alimentación saludable 3 veces al día
89.7% en estado nutricional adecuado
7.7% Con sobrepeso
1.6% con obesidad
Biológica
Atención y dental (Valoraciones y consultas)
90 consultas
Biológica
Fomento del deporte y educación física
800 sesiones impartidas
97% de usuarios mejoraron sus condiciones físicas
Psicoemocional
100% de usuarios atendidos
Educación de calidad
100% de usuarios inscritos en la educación formal
0% de abandono escolar
0% de reprobación escolar
Talleres formativos
100% de usuarios iniciaron y terminaron alguno de los tres talleres
Muchas gracias por ser parte de esta noble causa.
Con su apoyo continuaremos cosechando logros