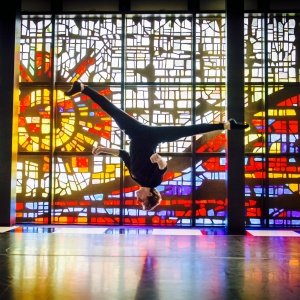 YoungArts is gearing up for its 2017-18 season, which promises to be another exciting year for the organization. Kicking off with IMAGINATION LAND: Fantastical Narrative, an alumni exhibition curated by YoungArts master teach Derrick Adams, YoungArts has a full calendar of energetic programming and events on the horizon, including signature regional weeks and robust programs that will highlight the organization's talented alumni.
Visual, Literary, Design and Performing Artists 15-18 Years Old Encouraged to Apply to National YoungArts Foundation
Call For 2018 Applications Open Through October 13, 2017
Through October 13, emerging artists in the visual, literary, design and performing arts ages 15–18 or in high school grades 10–12 are encouraged to apply to YoungArts to participate in one of the most comprehensive programs dedicated to supporting and propelling young artists. YoungArts winners receive the opportunity to participate in intensive programs nationwide; engage with renowned mentors; the chance to be nominated as a U.S. Presidential Scholar in the Arts; monetary awards, including prizes of up to $10,000; and ongoing support as they work to achieve their professional and artistic goals. Prospective candidates should submit applications online at http://www.youngarts.org/apply
YoungArts winners are designated as a Finalist, Honorable Mention or Merit winner through a blind adjudication process by an independent panel of highly accomplished artists. The 2018 Finalists, the most talented artists from across the nation, will attend the organization's signature program, National YoungArts Week, in Miami from January 7–14. During the week, winners work with distinguished artists in intensive master classes, workshops and seminars and share their work with the public through performances and screenings at New World Symphony as well as writers' readings and an exhibition curated by Pérez Art Museum Miami Assistant Curator Jennifer Inacio on the YoungArts campus. National YoungArts Week will culminate with the YoungArts Backyard Ball performance and gala. The event, presented by Max Mara, celebrates the year's outstanding YoungArts winners and raises funds to support YoungArts programs.
New and Expanded Initiatives
YoungArts is expanding its support across three areas: professional development; artistic development; and presentation opportunities.
Professional Development
Building on the success of YoungArts' model of mentorship with master artists across disciplines, day-long symposia called Up Next will feature talks, workshops and panels that help further prepare YoungArts alumni for successful careers in their artistic fields. Led by industry experts and renowned artists, the symposia will take place in New York on November 6 and Los Angeles on November 13, and will each culminate in a public program.
Artistic Development
Shining a national spotlight on Miami as a place where artists are supported and cultural momentum is growing, YoungArts is offering its alumni with roots in the area an opportunity to participate in In Process: Homecoming, an artist-in-residence program dedicated to collaboration. The program will provide artists with time, space and resources to create work and encourages them to recruit other YoungArts alumni to participate, experiment and innovate with them. At the conclusion of the residency, the artists will showcase their work in the neighborhood where they grew up, further expanding YoungArts' programs into communities throughout Miami.
Presentation Opportunities
The YoungArts Gallery has hosted exhibitions by YoungArts master teachers, winners and alumni, including Olafur Eliasson, Daniel Arsham and Hernan Bas since 2013. This fall, YoungArts will present IMAGINATION LAND: Fantastical Narrative, a group exhibition of works by 11 YoungArts alumni curated by multidisciplinary artist and YoungArts master teacher Derrick Adams. On view from September 9 through Miami Art Week, the exhibition features artists whose works respond to and are in conversation with consumerism, gender roles, the environment, and ceremonial ritual. Including video, sculpture, painting and performative works, the exhibition explores how the mechanics of art production play a major part in the way we see ourselves as products of our surroundings. Artists include YoungArts alumni from the past five years: Elle Cox, Glenn Davis, Su Wan Kim, Mateo Nava, Mika Rosenberg, Sebastian Ruiz, Celia Shaheen, SWAG FUTURE David Correa x Alberto Checa, Cornelius Tulloch, and Wade Winslow.
YoungArts' celebrated Outside the Box series, which features multidisciplinary performances by YoungArts alumni on the YoungArts Plaza will continue on November 4, 2017 with Outside the Box: Yara Travieso. Director and choreographer Yara Travieso, known for creating hybrid works of cinema, opera, theatre and dance, will curate an all-women YoungArts alumni music festival presented within one of her signature immersive set designs and alongside Travieso's cutting-edge transmedia choreography.
Next summer, in collaboration with the U.S. Department of Education, YoungArts will present the first ever Visual Arts Alumni Showcase in Washington, D.C. Notably, for the past 34 years, YoungArts has partnered with the Department of Education on the U.S. Presidential Scholars program and serves as the sole nominating agency for the U.S. Presidential Scholars in the Arts.
Mark your calendars for IMAGINATION LAND: Fantastical Narrative
Curated by Derrick Adams, IMAGINATION LAND: Fantastical Narrative is a group exhibition featuring YoungArts alumni whose works respond to and are in conversation with consumerism, gender roles, the environment, and ceremonial ritual. Including video, sculpture, painting and performative works, the exhibition explores how the mechanics of art production play a major part in the way we see ourselves as products of our environment. Provocative, complex and self-referential, the exhibition proposes new ideas and concepts of external objects, fuses the possible with the impossible, and invites the viewer into a space of self-discovery.
Exhibition Opening Saturday, September 9 \ 5-8 PM
YoungArts Gallery \ 2100 Biscayne Blvd, Miami
On view until December 15
Free and open to the public. RSVP at imaginationland.eventbrite.com
We have an exciting season ahead! Be sure to check our website at www.youngarts.org for the most up to date information on programming and event dates.