Project Report

| Sep 18, 2014
First Annual YoungArts Awareness Day is a Success!
By MaccaEna M. Gannat | Development Operations and Database Coordinator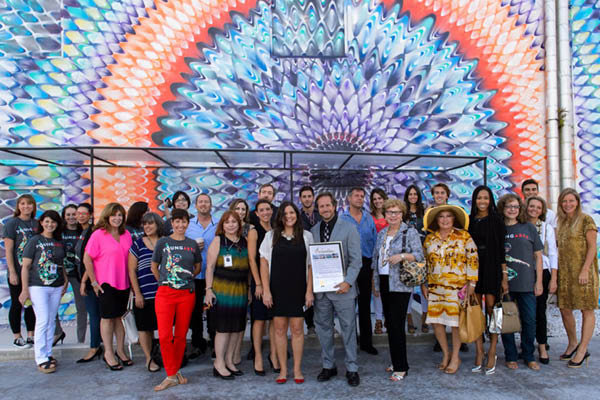 We would like to extend a warm THANK YOU to all the individuals and organizations who helped us celebrate YoungArts Awareness Day. Through your support, we were able to spread the word about the importance of arts education. We were inspired by the overwhelming response and hope you will continue to #KeepArtsAlive!
A special thank you to those who donated in support of YoungArts Awareness Day:

Books and Books; Betty B. Chapman; Albert Clark; Tracey Corwin; Ann and Felipe De Las Pozas; Irene DuMaurier-Oleksiak; Michael and Amy Goldbas; Dennis A. Gorman; Agnes Gund; Jennifer and David Lee Heinemann; P. Todd Heustess; Mark and Ann Hicks; Linda and William Ho; The James Royal Palm; Kalyn Chapman James; Brian E. and Suzanne L. Keeley; Dr. Valerica Maican; Marvin L. Meitus; Mark T. and Sharon Nash; Soledad Picón-Fernandez; Ellen B. Pilelsky and Roy Oppenheim; Alex Pline; Joseph S. and Norma Rosenberg; Denis Sheeran; Charles and Sandra Simon; E. Roe and Penelope W. Stamps; Gina and Doug Steffen; Gail Waxenberg and Dale Chapman Webb.
Check out a some of the highlights from the day below.
MIAMI - In Miami, the YoungArts Awareness Day celebration kicked off with a breakfast where YoungArts received official proclamations by both the City of Miami and Miami-Dade County declaring September 8th YoungArts Awareness Day. Guests were taken on a tour of the latest piece of art on the campus - a mural by YoungArts Alumnus Lee Pivnik and muralist Douglas "Hox" Hoekzema. The day continued with pop-up performances around town, and the premiere screening of the HBO show Joshua Bell: YoungArts MasterClass, followed by a salon sponsored by the Knight Foundation and performance by the Grammy award-winning violinist and YoungArts Alumni.
NEW YORK - In New York, YoungArts alumni gathered in Rockefeller Center to kick off YoungArts Awareness Day at the Today Show/NBC. That same afternoon alumni gathered at Time Warner Center in Columbus Circle and treated guests to a wonderful performance.
LOS ANGELES - In Los Angeles, YoungArts alumni popped-up at the 3rd Street Promenade in Santa Monica and wowed shoppers with their artistic talents.
NASHVILLE - We were there when YoungArts Alumnus and country music star Chris Young visited the Nashville School of the Arts on YoungArts Awareness Day to donate $30,000 for the school's new auditorium and speak about the important of music education!

The National YoungArts Foundation identifies and supports the next generation of artists, and contributes to the cultural vitality of the nation by investing in the artistic development of talented young artists in the literary, visual, design and performing arts.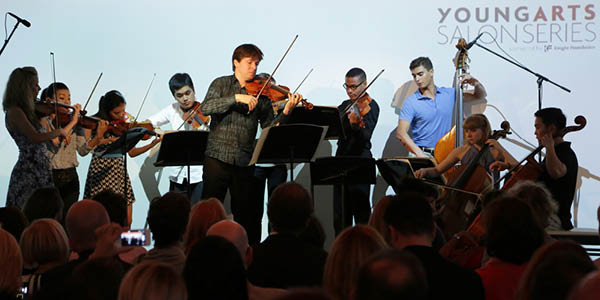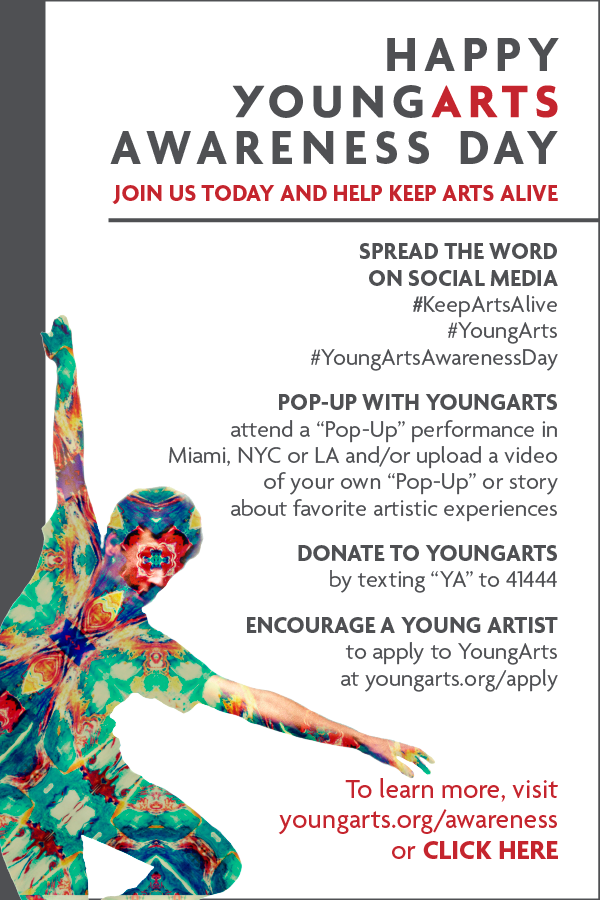 Links:
Attachments: