Project Report

| Dec 28, 2021
YoungArts 40th Birthday and 2022 YoungArts Winners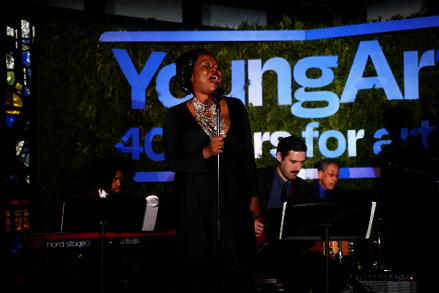 Happy Holidays from the entire YoungArts community! This month join us as recap our 40th birthday celebration and a few major announcements.
YoungArts 40th Birthday Party
On November 20, 2021, YoungArts hosted the organization's 40th Birthday Party. The event—made possible with the support of PRADA, Truist Wealth, Truman Vodka, and ONE Sotheby's International Realty—took place at the YoungArts Campus and welcomed artists, community leaders, cultural partners, donors and press for an evening of celebrating the uplifting, regenerative community of artists that the organization has supported since 1981. Themed "40 Years for Artists," the birthday party highlighted past YoungArts winners across disciplines and generations, and the organization's history of and continued commitment to supporting artists throughout their careers. Starting with a festive cocktail hour on the YoungArts Plaza, the evening seamlessly transitioned to an intimate seated dinner inside the iconic Jewel Box. To open the dinner, several notable past YoungArts award winners and guest artists appeared in a video directed and edited by Doug Blush (1984 Film) giving testimonials and wishing the organization a happy 40th birthday. The menu was designed by Miami chef Michael Beltran and guests enjoyed a performance by the evening's Master of Ceremonies and YoungArts award winner Queen Esther (1983 Theater). The celebration culminated with dessert and a birthday toast that recognized the monumental occasion dedicated to celebrating artists and their impact on society.
2022 YoungArts Winner and 2022 YoungArts Week+
Earlier this month, YoungArts announced the 2022 YoungArts award winners—720 of the most accomplished young visual, literary and performing artists from across the country. Selected through the organization's prestigious competition, YoungArts award winners, all 15–18 years old or in grades 10–12, are chosen for their caliber of artistic achievement by esteemed discipline-specific panels of artists through a rigorous blind adjudication process. YoungArts award winners gain access to one of the most comprehensive programs for artists in the United States, in which they will have opportunities for financial, creative and professional development support throughout their entire careers. A complete list of the 2022 winners is available online at youngarts.org/winners.
"We are thrilled to announce this year's YoungArts award winners—an extraordinary group of promising, accomplished young artists—and congratulate each of them on this exciting milestone in their artistic careers," said Executive Director Jewel Malone. "YoungArts empowers artists to pursue a life in the arts beginning at the critical time when many are faced with decisions about life after high school. We are proud to support these young artists at the beginning of their journeys and look forward to becoming a resource for them at all stages of their careers."
YoungArts awards are given in three categories: Finalist, Honorable Mention and Merit. This year, YoungArts award winners will have the opportunity to learn from leading artists. YoungArts award winners become eligible for exclusive creative and professional development support including a wide range of fellowships, residencies and awards; microgrants and financial awards; virtual and in-person presentation opportunities in collaboration with major venues and cultural partners nationwide; and access to YoungArts Post, a free, private online platform for YoungArts artists to connect, collaborate and discover new opportunities.
YoungArts award winners at the Finalist level are invited to participate in National YoungArts Week + in January 2022 featuring virtual classes, workshops and mentorship from leading artists in their fields as well as virtual performances and an exhibition for the public. Finalists are also eligible to be nominated to become U.S. Presidential Scholars in the Arts, one of the highest honors given to high school seniors, bestowed by the President of the United States. As the sole nominating agency, every year YoungArts nominates 60 artists to the White House Commission on Presidential Scholars. The Commission then selects the 20 U.S. Presidential Scholars in the Arts.
YoungArts Mentorship Program
Lastly, YoungArts announced a new mentorship program pairing established artists and industry leaders with emerging artists to provide one-on-one, personalized and direct support to help mentees meet their artistic goals. The inaugural year supports BIPOC emerging artists who are YoungArts award winners by pairing eight artists with five mentors for a period of six months. This program is the latest in YoungArts' commitment to provide award winners with professional development and creative support opportunities throughout their careers.
"This is an extraordinarily talented, promising group of award winners, and we are thrilled to match them with distinguished, experienced mentors to help set them up for successful careers," said YoungArts Artistic Director Lauren Snelling. "YoungArts is always looking for ways to offer award winners support at every stage of their artistic careers, and we are elated this program will provide the personal, directed mentorship that is crucial to a life in the arts. We congratulate this outstanding group of award winners, who were selected from a uniquely impressive applicant pool."
For more information on any of these programs, please visit www.youngarts.org.