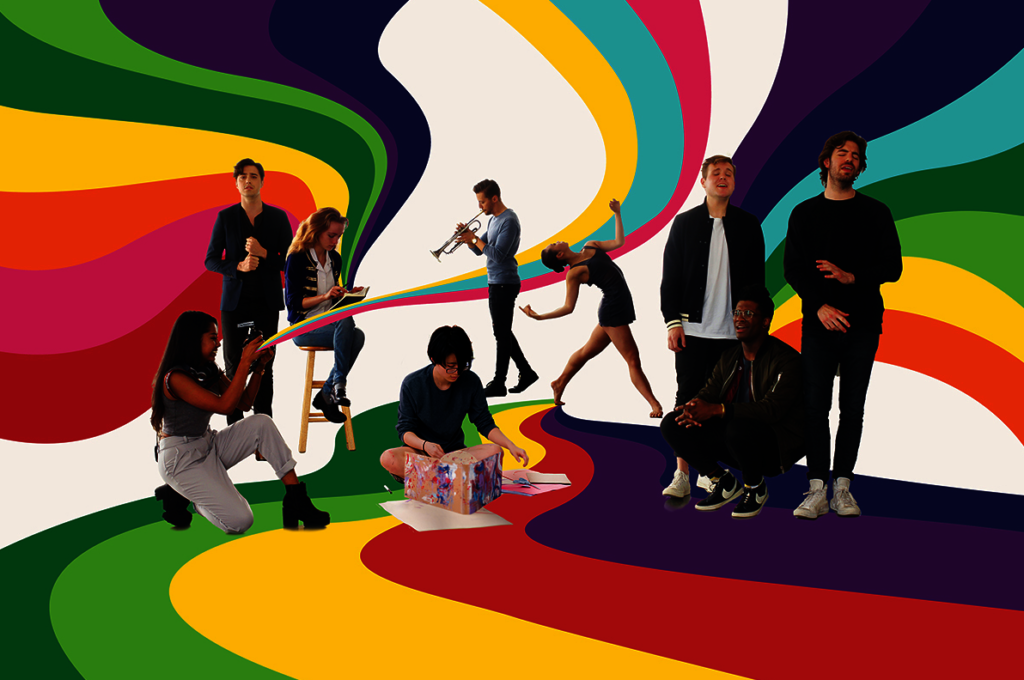 As the world continues to face the effects of the COVID-19 pandemic, YoungArts remains committed to identifying the most accomplished young artists in the visual, literary and performing arts, and providing them with creative and professional development opportunities throughout their careers. This report provides details to some of the programming that helps us to uphold our mission.
APPLICATIONS ARE NOW OPEN
Applications for the 2021 competition are now open through October 16, 2020. Accomplished artists ages 15–18 years old (or in grades 10–12) are encouraged to apply online at youngarts.org/apply. All YoungArts award winners will receive financial awards, opportunities to work with renowned mentors and leading artists and will become eligible for exclusive creative and professional development support throughout their careers. Esteemed discipline-specific panels of artists judge applications through a rigorous blind adjudication process. YoungArts 2021 award winners will be announced by the end of November 2020. Details regarding 2021 programming and mentors will be announced at a later date. For more information, please visit our site at https://youngarts.org/apply.
YOUNGARTS AWARENESS DAY
September 17, 2020 | All Day | Online
On September 17, join us in celebrating YoungArts Awareness Day, which is a nationwide initiative to encourage emerging artists to pursue their dreams of becoming professional artists. YoungArts Awareness Day aims to underscore the opportunities available to emerging artists (between the ages of 15 and 18 or in high school grades 1012) through the organization that provides them with lifechanging experiences to help ensure they are supported in their pursuit of careers in the arts.
MICROGRANTS
The COVID-19 pandemic and efforts to prevent its spread have brought about changes in our lives we could not have imagined. With performance spaces, galleries, libraries, theaters and studios closed and the temporary halting of most cultural productions, artists are some of the hardest hit among the millions of Americans currently unemployed and facing financial hardships.
As a result, YoungArts launched the Emergency Microgrants initiative in April, which have been extended through June 2021. Emergency Microgrants are open to YoungArts alumni who are experiencing loss of income due to the cancellation of scheduled professional engagements or unexpected expenses related to COVID-19. Beginning in September, artists who have worked for the organization in the past three years, such as mentors and panelists, are also eligible to apply for Emergency Microgrants. YoungArts provides up to 25 unrestricted $1,000 Emergency Microgrants a month.
YoungArts has also increased project-based Creative Microgrants– originally launched in 2018 –committing to offer up to $5,000 per month to alumni. Creative Microgrants help to offset expenses related to professional development or creative works-in-progress.
In the program's first five months, YoungArts Emergency Microgrants were distributed to more than 290 artists, and $32,689 in project-based Creative Microgrant funding has been distributed to 71 artists since November 2018.
In addition to increasing and expanding financial support of alumni, in 2021 all upcoming YoungArts award winners will receive a cash prize between $100 and $10,000.
As the country struggles to recover from the impact of the pandemic, we need artists to inspire us, to challenge us and to heal our communities. Artists bring us together—and with the collective whole making possible what we cannot do on our own—their sound, movement, writing and visual art influence how we relate to each other, and ultimately, how we transform our inner selves.