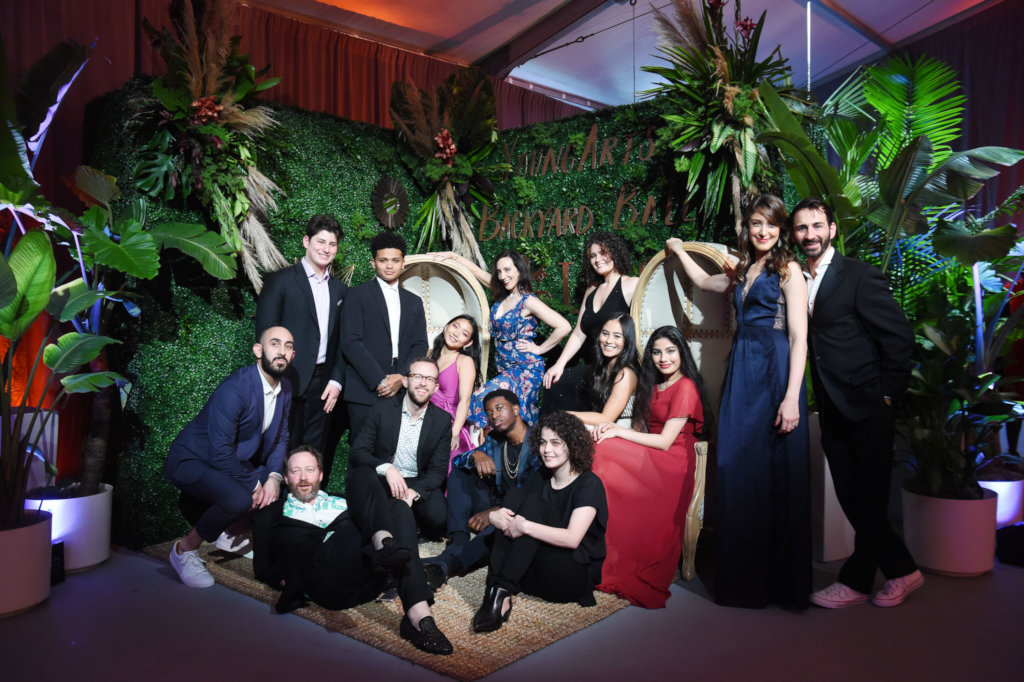 Happy New Year! Join us as we recap National YoungArts Week and the 2020 YoungArts Backyard Ball. We will also look forward to a few of our upcoming and exciting events.
2020 National YoungArts Week
From Monday, January 6 to Friday, January 10, 2020 audiences had the opportunity to discover the nation's next generation of great artists during National YoungArts Week through performances in Classical Music, Dance, Jazz, Theater and Voice, and a film screening at New World Center, as well as a writers' reading in the National YoungArts Foundation (YoungArts) Jewel Box, and a Design, Photography and Visual Arts exhibition curated by Pérez Art Museum Miami Curatorial Assistant Maritza Lacayo in the YoungArts Gallery.
National YoungArts Week is the National YoungArts Foundation's signature program, which offers the most accomplished 15-18 year old (or in grades 10 – 12) artists the opportunity to participate in an all-inclusive week long program in Miami featuring master classes and workshops with leading artists in their fields.
2020 YoungArts Backyard Ball
The 2020 YoungArts Backyard Ball took place on Saturday, January 11. The evening brought together artists, influential community leaders, philanthropists and celebrities to support and acknowledge the achievements of the 2020 YoungArts winners, the nation's most accomplished young artists in the literary, visual and performing arts.
As YoungArts' largest annual fundraiser, the occasion marks the culmination of the organization's signature program, National YoungArts Week. The evening was presented by fine jeweler Harry Winston and hosted by honorary chairs Sandra and Tony Tamer and co-chairs Sarah Arison and Thomas Wilhelm, Jay Franke and David Herro, and Oxana and Steven Marks. We welcomed more than 800 guests and raised over $1.7 million.
Additionally, we honored jazz trumpeter and composer Terence Blanchard (1980 YoungArts Winner in Classical Music) with the Arison Alumni Award and conceptual artist Teresita Fernandez with the Arison Award for their vital contributions and commitment to the arts. We also honored New York-based sculptor and installation artist Ilana Harris-Babou (2009 YoungArts Winner in Visual Arts) and Miami-based sculptor and painter Mateo Nava (2013 YoungArts Winner in Visual Arts & U.S. Presidential Scholar in the Arts) with the second inaugural Jorge M. Perez Award.
UPCOMING EVENTS
YoungArts at Ted's: Judith Hill | February 13, 2020Multi-instrumentalist, Grammy Award-winning vocalist and songwriter, Judith Hill (2002 YoungArts Winner in Voice) joins us for the third YoungArts at Ted's, a quarterly performance series of one-night-only, intimate alumni performances.
YoungArts Miami | February 25, 2020 – March 1, 2020National YoungArts Foundation (YoungArts)'s 2020 YoungArts Miami program will take place from February 25–March 1 and will offer 80 of this year's YoungArts Winners—representing some of the region's most accomplished young artists from 12 States—life-changing opportunities to learn, connect and collaborate with their peers and renowned artists in the visual, literary and performing arts. YoungArts Miami is part of a series of regional programs, including also Los Angeles and New York that are modeled after the organization's signature program, National YoungArts Week. The programs provide unparalleled artistic development opportunities, including interdisciplinary workshops, public performances and master classes with creative leaders.