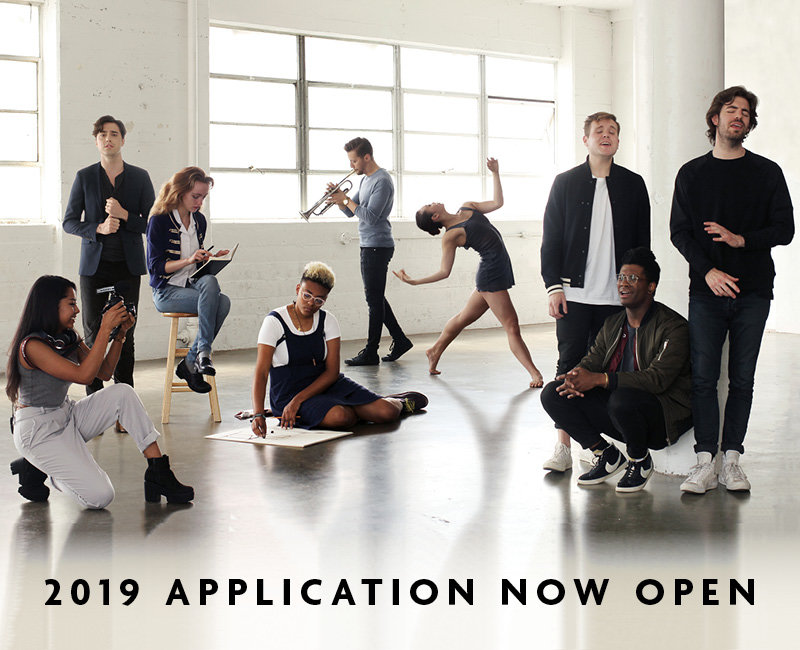 Happy July, everyone! This month we will recap the 2019 U.S. Presidential Scholars in the Arts, reveal our new and improved mission statement, and welcome you or anyone you know to apply to the 2020 National YoungArts Week competition.
New Mission Statement Unveiled
We are excited to share our new mission with the YoungArts community! Our mission is now as follows:
National YoungArts Foundation identifies the most accomplished young artists in the visual, literary and performing arts, and provides them with creative and professional development opportunities throughout their careers.
YoungArts 2019 Application
Call For 2019 Applications Open Through October 11, 2019
Applications for the 2020 YoungArts competition are now open. Emerging artists in the visual, literary, design and performing arts ages 15–18, or in high school grades 10–12, are encouraged to apply to participate in one of the most comprehensive programs dedicated to supporting and propelling young artists. Approximately 700 of the country's most accomplished young artists will be selected through a blind adjudication process and provided with lifelong support through funding, mentorship, community, and creative and professional development opportunities. YoungArts winners receive the opportunity to participate in intensive programs nationwide; engage with renowned mentors; the chance to be nominated as a U.S. Presidential Scholar in the Arts; monetary awards, including prizes of up to $10,000; and ongoing support as they work to achieve their professional and artistic goals.
The YoungArts winners are designated as a Finalist, Honorable Mention, or Merit. The 2020 Finalists, the most talented artists from across the nation, will attend the organization's signature program, National YoungArts Week, in Miami from January 5–12. During the week, winners work with distinguished artists in intensive master classes, workshops and seminars and share their work with the public through performances and screenings at New World Symphony as well as writers' readings and an exhibition curated on the YoungArts campus.
Additionally, all winners join a professional network of more than 20,000 alumni and will gain access to YoungArts Post, a custom online platform for YoungArts alumni to apply for microgrants, performance and exhibition opportunities; create their own profile to serve as an online portfolio of their work; post upcoming events for promotion; gain access to artistic and professional development content and engage with one another to foster professional and personal relationships.
Click here to hear how YoungArts impacted Nicole Ishimaru, 2015 YoungArts Winner in Dance.
To apply or learn more, please visit www.youngarts.org/apply
A Salute to the 2019 U.S. Presidential Scholars | June 24, 2019
The National YoungArts Foundation congratulated the 55th class of U.S. Presidential Scholars, with special acknowledgement to the 20 U.S. Presidential Scholars in the Arts who are YoungArts winners. The U.S. Presidential Scholars in the Arts were nominated by YoungArts to The White House Commission on Presidential Scholars and selected based on academic and artistic excellence, leadership qualities and community service.
From June 23-25, the U.S. Presidential Scholars in the Arts joined the other 141 U.S. Presidential Scholars from across the country in Washington, D.C., for the annual National Recognition Program, during which all Scholars received a Presidential Medallion presented on behalf of the President of the United States. On June 24, the Arts Scholars presented their work to the public at the John F. Kennedy Center for the Performing Arts through a special performance, "A Salute to the 2019 U.S. Presidential Scholars," in Concert Hall. The free multidisciplinary performance celebrated all of this year's awardees and was directed by award-winning choreographer, performer and YoungArts master teacher John Heginbotham. The evening started with an exhibition of works created by the recognized photographers, visual artists and writers, which were on view in the Hall of Nations.
For a full list of the 2019 U.S. Presidential Scholars and learn more about the program, please visit https://www.youngarts.org/presidential-scholars
Upcoming
2019 YoungArts Awareness Day | September 26, 2019
YoungArts Awareness Day is a nationwide initiative to encourage emerging artists to pursue their dreams of becoming professional artists. YoungArts Awareness Day aims to underscore the opportunities available to emerging artists (between the ages of 15 and 18 or in high school grades 10 -12) through the organization that provides them with lifechanging experiences to help ensure they are supported in their pursuit of careers in the arts.