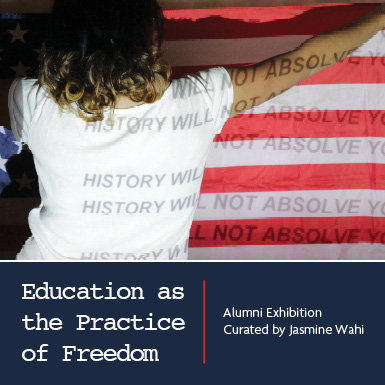 YoungArts' 2018/2019 season is in full swing! To kick off our season, we celebrated YoungArts Awareness Day and welcomed some our talented alumni to participate in some of our signature alumni programs on the YoungArts campus.
YoungArts Alumni Programming Recap
YoungArts kicked off its season in September with a dance residency. During a three-week long dance residency, the artist created an original and immersive dance theater work, which utilized artistic elements such as choreography, vocal compositions and set design to create an interactive space that explored non-binary identity and how gender is conceptualized within contemporary society. On September 27 YoungArts encouraged alumni, donors, and the entire YoungArts family to celebrate YoungArts Awareness Day, a digital campaign to raise awareness about the YoungArts program and encourage inspiring young artists age 15-18 to apply.
On October 9 YoungArts opened its fall exhibition, "Education as the Practice of Freedom". The exhibition features works from YoungArts Visual Arts and Design Arts alumni and examines ideas based on bell hooks' book Teaching to Transgress: Education as the Practice of Freedom. The exhibition also addresses the different phases of transgressive education while prompting contemporary and forward thinking discourse on the subject. The exhibition will be on display in the YoungArts' campus gallery until December 9th. Our gallery hours are Monday through Friday from 9:00 AM to 5:00 PM.
In October YoungArts also commenced its In Process Series an artist residency that focuses on interdisciplinary collaboration between alumni.
Our next In Process will take place from March 9, 2019 to March 15, 2019 .For more information, please visit www.youngarts.org
October 30, 2018 | Launching of YoungArts Post
Last week, YoungArts officially launched YoungArts Post, an inspiring and empowering platform for the YoungArts artist family to collaborate, learn and discover new opportunities. All alumni can register and create a profile to share their work, access exclusive resources, message fellow alumni and find opportunities for funding, collaboration and more.
In addition to launching YoungArts Post to the entire alumni community, YoungArts will also launch a new microgrant program in November that will award up to $1,000 a month to alumni to support their professional and/or artistic needs.
UPCOMING EVENTS
November 14, 2018 | Up Next New York 2018
Up Next builds upon YoungArts' mentorship model between finalists and master artists. This event features talks, workshops and panels that help prepare YoungArts alumni for successful careers in their artistic fields. This day long symposia allows alumni to network with industry experts and renowned artists. Alumni also have the opportunity to collaborate with other alumni and showcase their work in front of leaders in their field.
November 15, 2018 | Give Miami Day
Give Miami Day is a community-wide day of online giving.On November 15, you can make a real and immediate impact on the lives of young artists by donating to the National YoungArts Foundation through Give Miami Day.
December 4, 2018 - December 9, 2018 | YoungArts at PULSE Contemporary Art Fair
SHENEQUA (2011 Winner in Visual Arts), the inaugural recipient of the Daniel Arsham Fellowship, will present her new body of work at Pulse Miami Beach Contemporary Art Fair during Miami Art Week in December 2018. SHENEQUA's wall-mounted sculptural hair weavings mimic African-American hairstyles (such as braiding and Bantu knots), explore cultural heritage and contemporary identity and celebrate family, womanhood, beauty and the idea of sacred space.
January 5, 2019 – January 12, 2019 | National YoungArts Week
National YoungArts Week is YoungArt's signature program that aims to foster interdisciplinary collaboration and community while offering Finalists the guidance needed to prepare for the next stage of their artistic development.

During the intensive, week-long and all-inclusive program, artists across 10 disciplines participate in master classes and workshops with internationally recognized leaders in their field.

Throughout the week, Finalists' work will be further adjudicated to determine additional award levels. Each evening, audiences can experience the work of the next generation of artists through performances in voice, jazz, theater, dance and classical music, as well as film screenings at New World Center in Miami Beach, Florida, writers' readings in the YoungArts Jewel Box, and a visual arts, photography and design exhibition in the YoungArts Gallery.
We have an exciting season ahead! Be sure to check our website at www.youngarts.org for the most up to date information on programming and event dates.
Links: