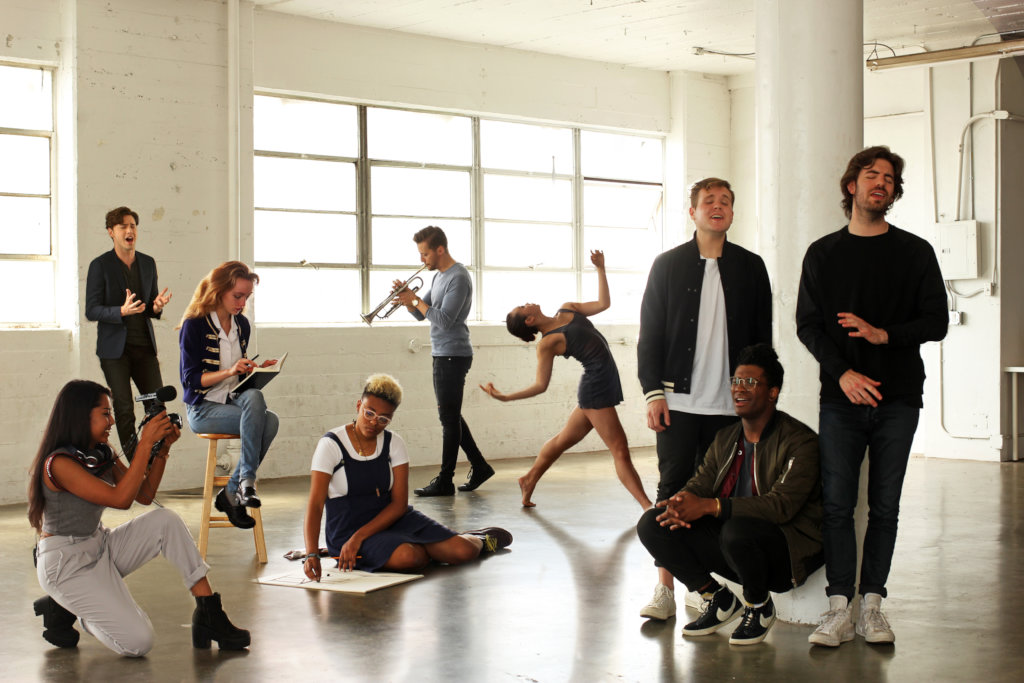 YoungArts is gearing up for its 2018-19 season, which promises to be another exciting year for the organization. YoungArts has a full calendar of energetic programming and events on the horizon, including signature regional weeks and robust programs that will highlight the organization's talented alumni.


Visual, Literary, Design and Performing Artists 15-18 Years Old Encouraged to Apply to National YoungArts Foundation

Call For 2019 Applications Open Through October 12, 2018

Through October 12, emerging artists in the visual, literary, design and performing arts ages 15–18 or in high school grades 10–12 are encouraged to apply to YoungArts to participate in one of the most comprehensive programs dedicated to supporting and propelling young artists. YoungArts winners receive the opportunity to participate in intensive programs nationwide; engage with renowned mentors; the chance to be nominated as a U.S. Presidential Scholar in the Arts; monetary awards, including prizes of up to $10,000; and ongoing support as they work to achieve their professional and artistic goals. Prospective candidates should submit applications online at http://www.youngarts.org/apply

YoungArts winners are designated as a Finalist, Honorable Mention or Merit winner through a blind adjudication process by an independent panel of highly accomplished artists. The 2019 Finalists, the most talented artists from across the nation, will attend the organization's signature program, National YoungArts Week, in Miami from January 6–13. During the week, winners work with distinguished artists in intensive master classes, workshops and seminars and share their work with the public through performances and screenings at New World Symphony as well as writers' readings and an exhibition curated on the YoungArts campus. National YoungArts Week will culminate with the YoungArts Backyard Ball performance and gala. The event celebrates the year's outstanding YoungArts winners and raises funds to support YoungArts programs.
Here is a short video of Timothée Chalamet, 2013 YoungArts Winner in Theater, on why you should apply to YoungArts! https://www.youtube.com/watch?v=lMjtnZhWPao
Learn more at youngarts.org/apply
New and Expanded Alumni Initiatives
In advance of its upcoming season, the National YoungArts Foundation is renewing its commitment to the arts by increasing resources and support for winners and alumni. In support of the organization's mission to nurture and support artists throughout their life cycle, YoungArts will increase the amount of resources available to artists at their second critical juncture — the transition from student to professional. This support will include access to fellowships, residency programs, career development symposia, and exhibition and performance opportunities with YoungArts, its cultural partners, and its alumni network comprised of over 20,000 artists.
YoungArts is further expanding its support for alumni across three areas: artistic development; presentation opportunities; and professional development.
"We are proud to announce a season committed to nurturing the next great generation of artists that truly shows how far our alumni have come. YoungArts is continuously growing the support for alumni artists throughout their careers with professional and artistic development opportunities," said Carolina García Jayaram, YoungArts President and CEO. "For this new season we are excited to invite art supporters in Miami and around the nation to join us and experience YoungArts winners and alumni, who will showcase their works through a variety of programs, residencies, performances and exhibitions."
Artistic Development
For the 2018/2019 season, YoungArts is expanding residency opportunities available to alumni through various new partnerships.
Starting September 10, 2018, YoungArts alumna Jay Jackson will take over the YoungArts Jewel Box for a dance residency that will include the creation of a new piece featuring multiple YoungArts alumni in Classical Music, Dance and Design Arts, as well as public performances, workshops and community engagement.
A new partnership with Aimco will offer six Visual Arts alumni the opportunity to create site-specific installations in a public exhibition space at Bay Parc Apartments in Miami over the course of two years. Accompanied by activations and art talks, the project connects artists to the public and aims to foster art as an integral part of living in Miami. The first resident artist is Nadia Wolff (2016 Winner in Design Arts and Visual Arts & U.S. Presidential Scholar in the Arts), who will explore space structure within a black Caribbean context, and transform the exhibition space through printed works into a collage that channels the energy inherent to Haitian cities, homes and history.
For the third consecutive year, YoungArts will continue its In Process residency program dedicated to interdisciplinary collaboration. At the conclusion of the residency, two YoungArts alumni will showcase their work on the YoungArts Campus through a public presentation and conversation. This year, In Process will highlight YoungArts' over 30-year history of supporting artists by focusing on intergenerational work and pairing alumni not only across disciplines, but generations.
Presentation Opportunities
Since 2013, the two-story YoungArts Gallery has hosted exhibitions by YoungArts master artists, winners and alumni, including Olafur Eliasson, Daniel Arsham (1999 Winner in Visual Arts) and Hernan Bas (1994 Winner in Visual Arts).
This fall, YoungArts presents "Education as the Practice of Freedom," an exhibition curated by Jasmine Wahi whose practice predominantly focuses on issues of female empowerment, complicating binary structures within social discourses, and exploring multipositional cultural identities through the lens of intersectional feminism. Opening on October 9, 2018,
the exhibition will feature works by Visual Arts and Design Arts alumni that are in conversation with one of three prompts or "phases" related to the idea of transgressive education in Bell Hooks's Teaching to Transgress: Education as the Practice of Freedom. The exhibition will feature additional programming in celebration of Miami Art Week in December. In spring, YoungArts will present an exhibition featuring the work of Photography alumni.
Additionally this season, YoungArts will also support our Visual Arts, Design Arts and Photography alumni with exhibitions and residencies with the following partners:
Alumni work will be available for purchase at two of the nation's premiere art fairs: Pulse Miami Beach Contemporary Art Fair in December 2018 and EXPO Chicago in September 2018, where interdisciplinary textile artist SHENEQUA (2011 Winner in Visual Arts), the inaugural recipient of the Daniel Arsham Fellowship, will present her new body of work. The wall-mounted sculptural hair weavings mimicking African-American hairstyles like braiding and bantu knotting explore cultural heritage and contemporary identity and celebrates family, womanhood, beauty and the idea of sacred space.
YoungArts at ONE will annually feature alumni works as part of the ONE Is Where The Art is art program by ONE Sotheby's International Realty.
Professional Development
Building on the success of YoungArts' mentorship model with master artists across disciplines, Up Next features talks, workshops and panels that help prepare YoungArts alumni for successful careers in their artistic fields. Led by industry experts and renowned artists, day long symposia take place in Los Angeles and New York, which are followed by showcases of alumni work and networking opportunities for alumni to collaborate with one another and pitch their work to leaders in the field.
YoungArts will also offer targeted half-day Up Next programming prior to all core program weeks for alumni who are serving as Resident Advisors in those programs.

YoungArts Post
In 2018, YoungArts launched YoungArts Post, an online community where alumni can connect, collaborate, find opportunities in their respective fields and access vital online resources to advance their careers. This initiative was conceived to adapt to the shifting tides of communication and interaction for alumni who not only live throughout the world, but also continuously travel and tour.

We have an exciting season ahead! Be sure to check our website at www.youngarts.org for the most up to date information on programming and event dates.