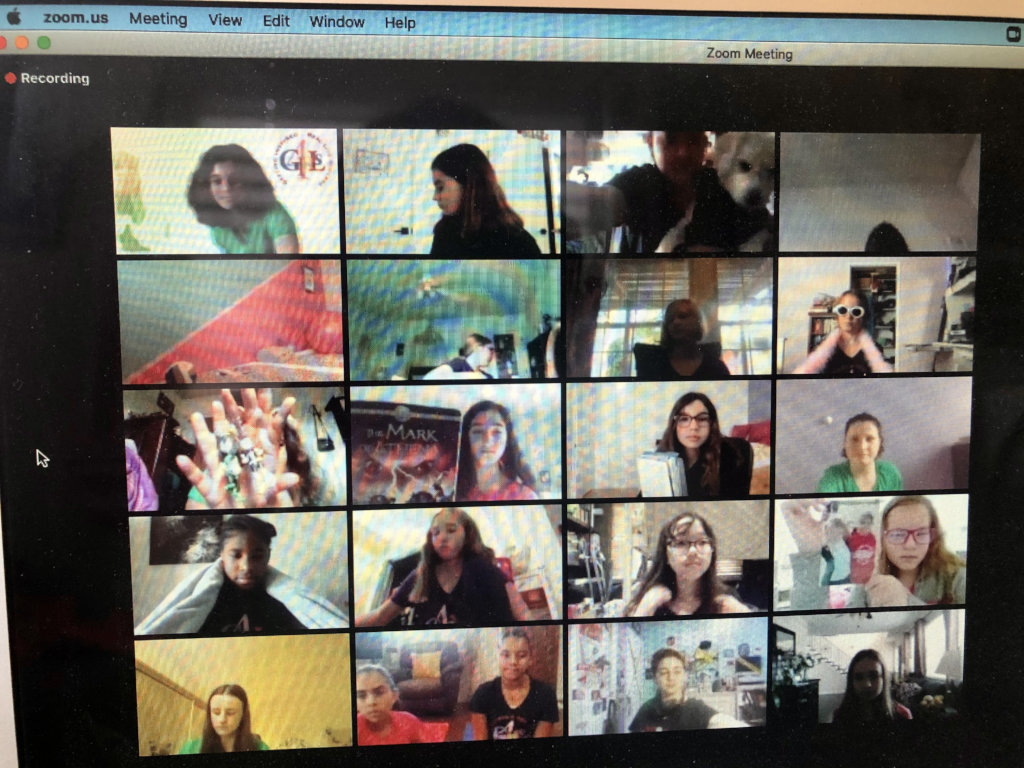 Greetings 4GIRLS Friends,
Spring is here, and "Where flowers bloom, so does hope." We hope you are well and looking forward to the positive changes on the horizon to our now one-year-long global pandemic. Throughout the struggle, we find ourselves stronger than before, and even more grateful for the people who support our work.
After our first-ever Virtual Workshop on November 7th, we saw the need, the opportunity, and the capacity to continue our virtual empowerment endeavors. Of course, there is nothing as powerful as our keystone event, an in-person Weekend Workshop, with two full days of inspiring speakers, engaging and fun activities, relevant educational modules and the gathering together of 100 + excited middle school girls with their high-school-aged Junior Mentors. But until it is safe to facilitate these types of events, the Virtual Workshop, Virtual Empowerment Events, and Virtual Community Events are a powerful way for 4GIRLS organization to connect with our participants and volunteers, and deliver our mission of inspiring and empowering middle school girls to identify as valuable, authentic, and resilient. And worthy.
We are pleased to announced our 2021 word is (drumroll) WORTHY. At 4GIRLS, we believe our words are important and every year we select a word that becomes our Workshop theme. This year, we took it from one of the girls' affirmations after the virtual workshop, when she confidently stated: "I am good enough. I am worthy." This word will pervade our planning, inform our curriculum, and influence all that we do this year to deliver our mission of empowering girls. It is a powerful message that must be heard and taken to heart, especially in these challenging times. And we have certainly challenged ourselves in adapting to the situation and finding new ways to empower girls. Here's what we have done lately.
We formed a Virtual Connections committee who met regularly with Junior Mentors to plan and implement Virtual Empowerment Events, as well as Social Media campaigns to deliver our message and get the word out. Our Junior Mentors (high school girls) have been very active in posting and following 4GIRLS social media, having contests, and sharing ideas and hobbies with our target audience, middle school girls. We kicked off the year with a virtual Community event co-sponsored by our District Councilperson to celebrate the Women in America that Make the Difference. A panel discussion with Long Beach's own Dr. Jane Close Conoley, Michele Dobson Esq., City Auditor Laura Doud, Carmen Perez, and Debra Montalvo Layton was moderated by 4GIRLS' very own, Kimberly Mendez. In March, we celebrated Women's History Month with a virtual Community event featuring three (3) young women who have demonstrated their worthiness in arts, athletics, and technology. Aman Batra, a Punjabi American poet, Jaime Potter, Director of Sports Medicine at Cal State Fullerton, and Amber Kobold, Program Manager at Activision inspired all who participated in the event. In April, 4GIRLS is having a virtual Empowerment Event to coincide with Earth Day, in which middle school participants will be able to select one of four items to create out of recycled trash, planned and led entirely by our Junior Mentors. Who would have thought you could make a solar oven out of a shoe box? And stay tuned…We are also in the planning stages for another Virtual Workshop coming this summer.
The 4GIRLS leadership team is also very excited that our board continues to grow with new and diverse talent. Kirsten Miller was a Junior Mentor for 4GIRLS as a high schooler, then became an adult Mentor at Workshops while she attended college at CSULB, then joined the Advisory Board when she graduated, and has recently joined the Board of Directors as our youngest member and full-fledged 4GIRLS representative. As, she begins her career as one of the few women in technology, Kirsten is a perfect example of what an empowered young woman can achieve.
In closing, we wish to thank our Worthy 4GIRLS community for their support of our work, and extend our best wishes to all as "Blossom by blossom, the Spring begins." Stay inspired, stay empowered, Stay hopeful.