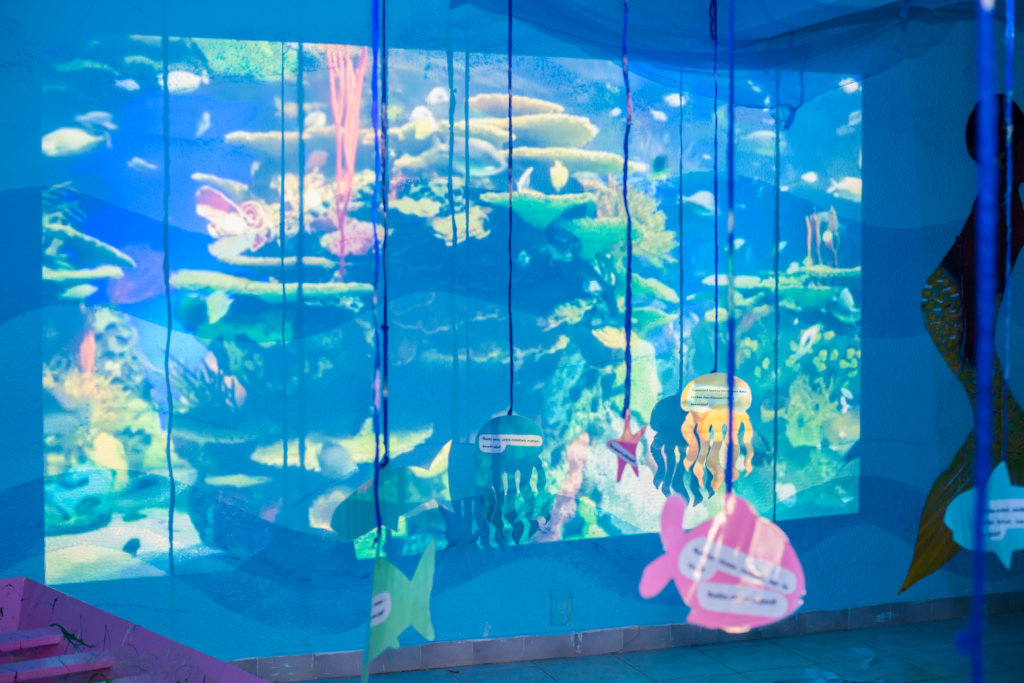 Since April 2019, Ker Imagination has been slowly transforming into an underwater world!
We have been working with the children of Dakar and most specifically Yoff to explore the secrets of the sea. Over the last six weeks, we have investigated the properties of water examining density, content and water changements.
We have learned about different professions underwater and even constructed a boat. We have had discussions about the importance of the ocean and how we can best protect it. We have interviewed the local communities to find out the importance of the sea to those who live around it.
Bringing all this together, the Ker Imagination team has curated an interactive and engaging exhibition for children 2 - 10 years old. Sous L'eau is an immersive experience - the children leave Dakar and enter an underwater world, sparking their imagination and curiosity.
BY CHILDREN FOR CHILDREN

The ideas, inspiration and content of this exhibition have been co-created by the local children of Yoff, the children who attended our Saturday programme and the Easter vacation programming. These children undertook fearless journeys into the depths of their imagination to explore the underwater theme together.
We value the knowledge that children possess and the ways in which they choose to present this. It is very powerful for children to share their learning - knowledge does not have to be a top down process… peer to peer learning is a vital part of Ker ImagiNation's learning framework, and this exhibition builds and develops critical 'soft' skills in communication and articulation of ideas.
WHY VISIT THIS EXHIBITION?
Ker Imagination delivers programming that strengthens school learning while creating an environment of innovation for children, parents and teachers alike. We firmly believe that play-based learning is the best way to develop children's cognitive, social, emotional and physical development.
The exhibition complements classroom study on water, water density, seas, conservation and explores different jobs (metiers) associated with water. Additional programming also introduces children to program partners, including divers, underwater archaeologists and surfers for visiting classes to interview and talk one on one with experts and practitioners.


Other community partners involved with the development of the exhibition include:
Julie and the Barracuda Diving Center who delivered specialised workshops in diving and have lent equipment that is part of the exhibition. Some of the amazing photos displayed of sea creatures were taken by divers of the Barracuda Diving Center. Their pictures accompany underwater maps developed by the children during programming.

Aicha Kamite and the team of Dr Ibrahima Thiaw of Cheikh Anta Diop's Archaeology Laboratory. Aicha in particular shared knowledge of her profession as a marine archeologist and contributed equipment to our exhibition. She will also be presenting at one the special exhibition family night during the month of June that we are curating as part of this exhibition.
Ibrahima Diene, a local Yoff fisherman and father of one of our children, who wowed us with a fantastic demonstration of different techniques of fishing, including harpooning, and took part in an interview to share knowledge about his profession. He has also contributed a fishing net to this exhibition.
The local Yoff community who shared their stories and connections of the sea in recorded interviews taken by participants.
We would like to give a special mention to Edou Abbott and Rene Lairaise who have contributed surfing equipment that form part of this exhibition.
Follow us on Facebook to see more of this exhibition