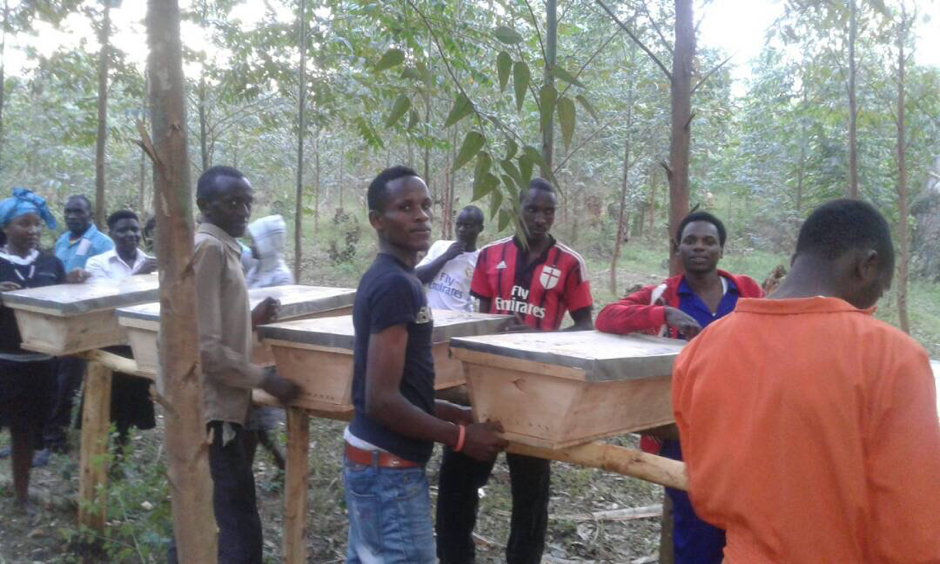 Many of the schools that we have worked with East Africa have few creative outlets for their students, focussing instead on academic achievements. Students often report suffering from exam related stress and anxiety, but lack sufficient extra-curricular channels to relieve this, and express their emotions in a fun and constructive way.
Two EPAfrica project workers, Vince and Chloe, have spent this summer volunteering with EPAfrica at St Joseph's Shibinga High School, to pilot a new type of EPAfrica project that hopes to address this situation. They have invested £200 of the money donated to the Innovation pilots fund on our GlobalGiving platform, and supplemented this with their own project funds, to set up a small music studio in the school. The hope is that this will help improve the mental wellbeing and academic performance of the students, and also allow those talented in the arts to flourish creatively.
The project will be completed in the next two weeks, allowing Vince and Chloe to see the students' initial reaction before they leave Kenya. EPAfrica will be maintaining contact with the school and monitoring the impact of this project, to see if this innovative idea is something that might be beneficial to more EPAfrica schools in the future.
This project is just one of six new and exciting EPAfrica projects that your money has funded this year.
Another project was set up by EPAfrica volunteers Donya, Evan and Hiu Min, who have spent the summer at St Benedict's technical institute in Mbarara, Uganda. Technical institutes in Uganda often struggle to provide their students with the practical experience necessary to pass their exams. To address this, Donya, Evan and Hiu Min have come up with a project that can equip agricultural students with valuable experience, while also providing an additional source of income for the school: beekeeping. Under this project, £200 of your innovation pilot donations were used to purchase five beehives, along with a full beekeeping suit and harvesting equipment.
The St Benedict's students have until now only learned the theory of beekeeping, but now they can finally see how it works in reality. In fact, they have already been getting stuck in with the hive installation (see the photo above). The beehives are a 'natural' style of beekeeping, allowing bees to build their own comb of honey that the school will then harvest for themselves. The school staff have already been trained in setting up and managing the beehives, as well as in marketing the honey. In addition to this new source of skills and income the bees are expected to have a positive impact on the school's agricultural production, on which it relies for food, and the students and teachers are looking forward to the honey's nutritional benefits (and great taste!). EPAfrica will follow the project's progress carefully to see whether this idea could be used in other partner technical institutes in future summers.
This snap-shot of two of our innovation pilots gives an idea of how a small amount of money can be used in very different ways to enhance the learning environment of students in East Africa. Our four other projects are just as diverse and exciting: a sprinkler irrigation system for enhancing water efficiency in a farm institute, a laptop-based system for improving school administration and formalising the payment-in-kind of school fees by poorer families, a novel way of designing girls' washrooms to improve sanitation, and an income-generating passion fruit farm.
Our teams in East Africa have reported that great progress has been made so far this summer on the projects supported by this fund. Each project is tailor-made to suit the needs of the school, but each has the potential to be applied to other similar schools in the future. We are hopeful that these projects will not only create a great positive development impact now, but will also help EPAfrica to learn what works best to continually improve our impact.
We have not forgotten that you, the donor, are making these exciting projects happen! Thank you so much for giving so generously to EPAfrica's project on GlobalGiving - none of this would be possible without your support.