Giovanni is a 26-year-old man living in Tole community. Those who don't know him might not notice him, he just looks like an idle young man. I see him often when we go to Tole for the different projects we have there, walking around shirtless, joking with other neighbours and always looking very relaxed. There's more to him than that.
"One day I was with some friends and somebody showed me a video of a 7-year-old boy in Ghana. He had managed to master the process to produce Bio Gas out of manure with simple compressor. I thought if a 7-year-old boy can do it, we can also do it." The group of friends set themselves to try, and they built a prototype with basic materials. They went to a nearby slaughterhouse and asked for cow dung to fuel it and…. It worked. "You should not just try to play with gas because it can get very dangerous. Let the experts do it" He studied sociology and learned everything he knows about Bio-Gas through the internet.
They kept thinking about it and developed a business model, they could set biogas facilities in villages that do not have regular access to gas and electricity and also set it up at a small scale in households. But without initial capital the idea was put in stand-by. Such a business will need a few thousand dollars at least to start, not too much, but out of reach for the group of friends.
A year later, we came along with Innovation Challenge, and he heard about it when we were registering applications. He came to one of our workshops and applied presenting a summary of the biogas concept
From his application:
"I have been doing research on it for quite some time now and my dream is to see the project realised"
"Bio gas is a natural gas (Methane) got from plant waste, animal dung and other decomposable elements from our natural environment that can be used as cooking gas and fuel. From the production of bio gas, we can also obtain chemical fertilizer"
The production of Bio gas is very cheap, affordable to the local man. We will reduce dependency in the forest for firewood, reducing deforestation and protecting the environment.
I was the person receiving his application. it looked so neat and serious, with some additional pages attached, and I went through it on the spot. I immediately asked "Can you do this?""Yes, I've done it, I have all the videos in my phone.". I knew we had our winner.
Giovanni went on to take the first prize of the Innovation challenge 2016, and we continue to work with him to connect him with opportunities nationally and internationally. The main challenge is to get enough capital for the receptacles where compression happens, and gas bottles to commercialize it. He is starting another project to generate money now, a fast food omelette restaurant. "There's a kind of chicken not known here that produces so many eggs in a week, I know a friend that has them and I've been helping him. I want to raise it and every day have the eggs cooked and served. Tole has been growing a lot these last years and there's always need for food."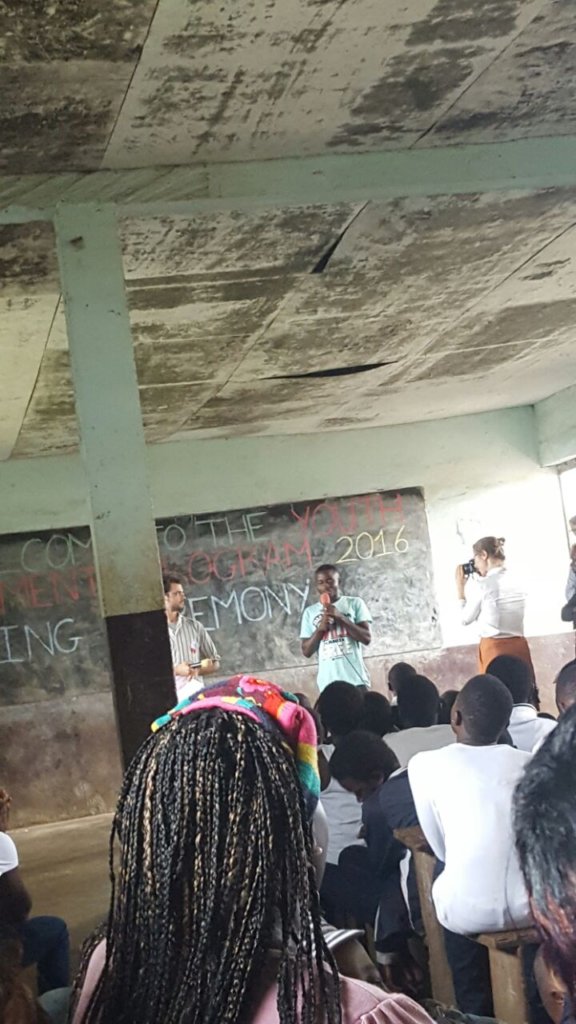 Links: