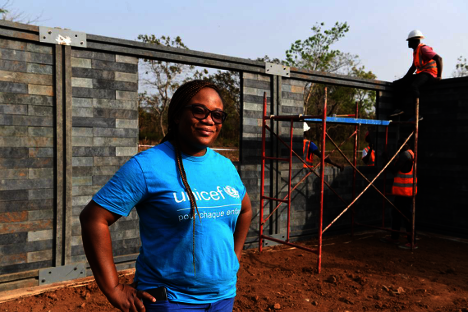 Dear UNICEF Community,
We are happy to share some much-needed good news. Despite numerous challenges, including the outbreak of COVID-19, production of the first plastic bricks in Côte d'Ivoire has begun thanks to your support!
Together, UNICEF and Conceptos Plasticos built two latrines, two health storage unites, and 42 classrooms. Through these efforts, over 225 tons of plastic have been recycled and 2,100 children will now have access to safe, sustainable school facilitates.
In Gouékolo, in the West of Côte d'Ivoire, Sylviane, 34, supervises the construction of a plastic bricks school. As a construction engineer, Sylviane works with local companies and workers from the communities to ensure the quality of classroom construction meets the quality and safety standards for children and young people.
"I have 12 years of professional experience and this is the first time I have worked on such an innovative project. My main goal is to create a safe and favorable environment for children to learn." - explains Sylviane. Behind each classroom made of recycled plastic bricks, there is a dynamic group of construction companies, architectural firms, and young people, committed to making communities more child and environment friendly. "With this new construction material, we can build classrooms in few weeks rather than a few months which is normally the time it takes to build traditional classrooms with concrete blocks," she adds.
"Since the beginning of the project, my team and I have helped to improve the learning conditions of over 3,000 children across Cote d'Ivoire and this is just the beginning!" - explains Sylviane enthusiastically. In Côte d'Ivoire, UNICEF is working with the Ministry of Education to provide quality learning spaces for all children, especially for primary and preschool children. This innovative UNICEF project also addresses many challenges affecting children's learning environment.
"My biggest satisfaction is to see the amazement and joy of children, teachers and the community at each new rehabilitation or construction. I am also very happy to contribute to the success of this project, which is unique in Africa." - explains Sylviane.
The incredible progress already achieved by Sylviane, her team, UNICEF and Conceptos Plasticos would not have been possible without your support. While this is just the beginning, we thank you for being some of the first to support this critical work.
In Partnership,
Whitney Simon