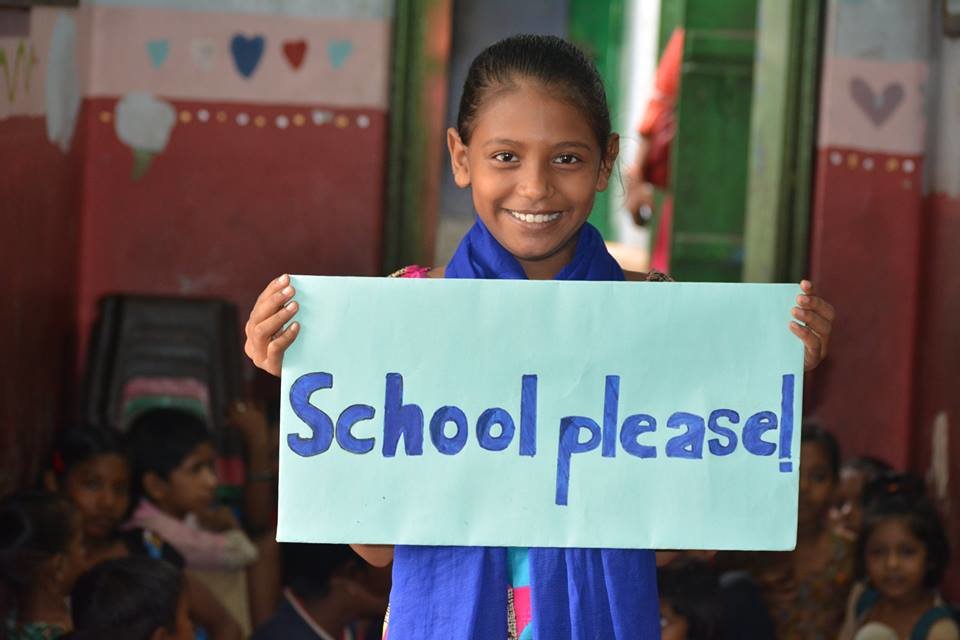 (English)
First and foremost, the Calcutta Espoir team would like to thank you for your generosity and for believing in our project for 2019. Last month, Calcutta Rescue finally managed to purchase the building that we hope to convert into the new school for 350 children! The premises are located in the North of Calcutta, in the Hedua district, and has 16 rooms and various open spaces where the children will be able to learn and play. The building is very old and will require a lot of time and work to convert into a school. However, it is twice the size of the current no.10 school, which used to be a brothel on the edge of the city's most notorious red-light district.
In the process of looking for architectural firms to help out with the transformation, our main criteria was to create a functional school building as cheaply as possible – this being in line with our charity's principle of ensuring donors money is always spent very carefully. It was in November 2018 that Planning Group became the chosen architectural firm for our project. Why? Because they have considerable experience in converting old buildings, and the team really impressed us with their passion, creativity and their willingness to work hard, even on a tight budget!
The children are very hopeful every day and are looking forward for this new beginning!
Calcutta Rescue support groups throughout Europe have been supporting this project and we are incredibly grateful that you have too. But our work is not done yet, we still need you! The founder of our charity, Dr.Jack Preger, has had an immense impact in the lives of thousands of people. He has gathered men and women all over the world to help those who need it most, in regard to children education, first aid and disease awareness, and proper medical attention! It is thanks to his determination of never giving up on the poorest of the poor in Calcutta, that Calcutta Rescue has an outstanding record of delivering low-cost, high quality education in the slums. Today, at the age of 87, Dr.Jack Preger is still fighting for the voiceless and strongly believes in this project: "This new school has much more space but requires a great deal of work. It will give our children a transformation educational experience and open up new opportunities to develop their potential. I hope you will help us as much as possible. It will be an investment which will be well worth while. Thank you very much!".
In the upcoming months, we will be working on the planification of what will be done once the building will be renovated. We will openly share with you, on our Facebook page and website, the building plans and drawings of how the school and its classrooms will look. Having classes for music, art, filming and picture-taking are options that we are considering, as we believe that it will enable the children to discover their talent and to develop them. Perhaps even make use their artistic skills for their professional career. The possibilities are endless!
Nevertheless, we must insist on how thankful we are for your donations, and we hope that you will share this project with your friends and family! Many children all over the world can be helped, even if you are 1000 kilometers away!
Together, we can give these youngsters a better start in life!
We wish you all the best for your end-of-the-year festivities !
The Calcutta Espoir Team
__________________________________________________
(Français)
Avant tout, l'équipe de Calcutta Espoir vous remercie de votre générosité et de votre soutien pour notre projet que nous espérons finaliser l'année prochaine. Le mois dernier, Calcutta Rescue a finalement réussi à acheter le bâtiment que nous espérons transformer en une nouvelle école pour 350 enfants ! Les locaux sont situés au nord de Calcutta, dans le quartier Hedua, et disposent de 16 chambres et de divers espaces ouverts où les enfants pourront apprendre et jouer ! Le bâtiment est très vieux et nécessitera beaucoup de temps et d'heures de travail afin d'être transformé en une école fonctionnelle. Cependant, elle sera deux fois plus grande que l'école n°10 actuelle, qui était autrefois un bordel aux abords du quartier rouge le plus connu de la ville.
Dans le processus de recherche de cabinets d'architectes pour les travaux, le critère principal était de créer un bâtiment scolaire fonctionnel le moins cher possible – ce qui est conforme aux principes de notre organisation caritative, qui consiste à s'assurer que l'argent des donateurs soit toujours dépensé aussi soigneusement que possible. C'est en novembre 2018 que le cabinet d'architecture, Planning Group, a été choisi pour notre projet. Ils ont une grande expérience dans la transformation de vieux bâtiments, et la passion, la créativité et la volonté de l'équipe de travailler dur, malgré le budget serré, nous a vraiment impressionné !
Les enfants en parlent souvent et attendent avec impatience ce nouveau début !
Les groupes de soutien Calcutta Rescue dans toute l'Europe ont soutenu ce projet, et nous vous en sommes extrêmement reconnaissants. Mais notre travail n'est pas encore terminé, nous avons toujours besoin de vous ! Le fondateur de notre association, le Dr. Jack Preger, a eu un impact immense sur la vie de milliers de personnes. Il a rassemblé et sensibilisé des hommes et des femmes du monde entier afin d'aider ceux qui en ont le plus besoin, que ce soit pour l'éducation des enfants, les cours de premiers secours et sur diverses maladies, et des soins médicaux basiques ! C'est grâce à sa détermination de ne jamais abandonner qu'il change des vies. Calcutta Rescue a un bilan remarquable en matière d'éducation de qualité et de faible coût dans les bidonvilles. Aujourd'hui, à l'âge de 87 ans, le Dr Jack Preger se bat toujours pour ceux qui n'arrivent pas à se faire entendre et croit fermement en ce projet : "Cette nouvelle école a beaucoup plus d'espace mais demande beaucoup de travail. Elle donnera à nos enfants une expérience éducative de transformation et leur ouvrira de nouvelles possibilités de développer leur potentiel. J'espère que vous nous aiderez autant que possible. Ce sera un investissement qui en vaudra la peine. Merci beaucoup !"
Au cours des prochains mois, nous travaillerons sur la planification du résultat que nous souhaiterons, une fois le bâtiment fonctionnel. Nous partagerons ouvertement avec vous, sur notre page Facebook et sur notre site web, les plans de construction et les dessins de l'école, ainsi que nos projets pour ses salles de classe. Des cours de musique, d'art, de tournage et de photographie sont des options que nous envisageons, car nous croyons qu'ils permettront aux enfants de découvrir leur talent et de le développer. Peut-être même utiliser leurs compétences artistiques pour leur carrière professionnelle. Les possibilités sont infinies !
Néanmoins, nous devons insister sur le fait que nous vous sommes reconnaissants pour vos dons, et nous espérons que vous partagerez ce projet avec vos amis et votre famille ! Beaucoup d'enfants dans le monde entier peuvent être aidés, même si vous êtes à 1000 kilomètres !
Ensemble, nous pouvons donner à ces jeunes un meilleur départ dans la vie !
Bonnes fêtes de fin d'année!
L'équipe Calcutta Espoir