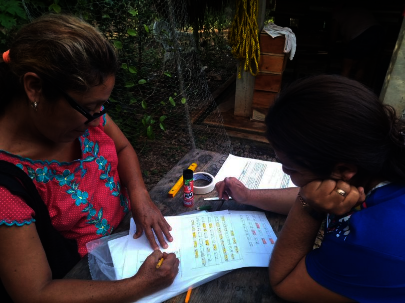 Las mujeres se han estado capacitando para saber cómo preparar las condiciones para la cosecha y acopio de miel, así como para la venta y la transformación de productos derivados de esta. Algunos de los temas son: "trazabilidad y caracterización de la miel, reclasificación de colmenas y proyección de cosecha en miliponinos".
Otros temas vistos fueron los relacionados a procesos administrativos como: llenados de bitácoras de producción e inventarios; y los relacionados a gobernanza e identidad de su empresa.
También han trabajado por generar vínculos con otros actores como el Colegio de Postgraduados Campus Campeche y la Universidad Intercultural Maya de Quintana Roo que les permita intercambiar información y conocimientos.
Durante los siguientes meses se estará llevando a cabo la cosecha de la miel y seguiremos con la promoción de la vinculación al mercado de las productoras, bajo un enfoque de comercio justo.
¡Te invitamos a seguir apoyando el desarrollo rural de las mujeres mayas!
Version English
Women develop skills to preserve their meliponarios and boost their businesses
Women have been training to know how to prepare the conditions for harvesting and gathering honey, as well as for the sale and processing of honey products. Some of the topics are: "traceability and characterization of honey, reclassification of beehives and projection of harvest in miliponines".
Other topics were those related to administrative processes such as: filled with production logs and inventories; and those related to governance and identity of their company.
They have also worked to create links with other actors such as the Colegio de Postgraduados Campus Campeche and the Universidad Intercultural Maya de Quintana Roo that allows them to exchange information and knowledge.
During the following months the honey harvest will be carried out and we will continue with the promotion of the linkage to the market of producers, under a fair trade approach.
We invite you to continue supporting the rural development of Mayan women!