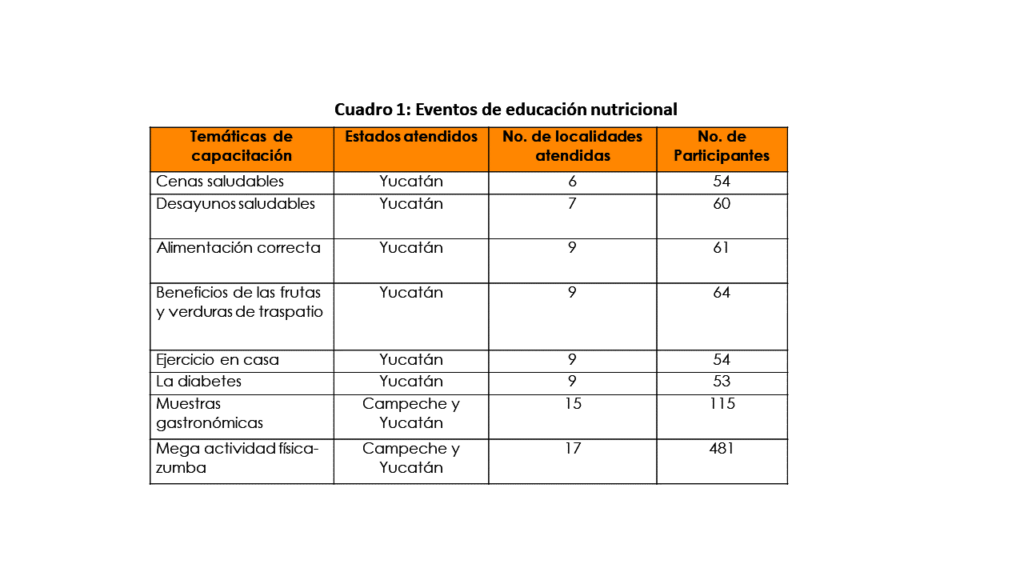 Educación nutricional
En el último trimestre del año 2022 (septiembre-diciembre), los grupos de productoras concluyeron su proceso de educación nutricional, en el cual se desarrollaron talleres educativos, ferias gastronómicas y eventos de activación física, logrando la participación de mujeres, niñas y niños, en el marco de los siguientes eventos que se muestran en el Cuadro 1. Eventos de educación nutricional:
En el marco de este proceso, se alcanzaron los siguientes resultados:
Diversidad de los alimentos consumidos:
Durante estos eventos se promovió la preparación de alimentos, reforzado el uso de los tres tipos de alimentos, en los tres tiempos de comida, se reforzó la importancia, el qué y para qué de la diversidad de alimentos, que aportan para la salud el consumo de frutas, verduras, cereales, alimentos de origen animal y vegetal. El 90% de los alimentos utilizados en estos eventos, se retomaron de la canasta de la familia familiar o traspatio, promoviendo el uso de los alimentos ya disponibles.
Elaboración de recetarios locales
El desarrollo de estos eventos fue reforzado con el uso de recetarios de alimentos locales, en los cuales se retoman recetas locales, preparados por las propias socias.
Eventos de mega activación física:
Se desarrollaron tres mega eventos de activación física, en los cuales se fortalecieron hábitos saludables de consumo de bebidas y la activación física; se promovió la inclusión de niñas y niños de la localidades de atención, en estos eventos. Estos eventos tuvieron una gran participación de las niñas y niños.
Muestras- ferias gastronómicas.
Para finalizar el proceso de educación nutricional, se desarrollaron eventos llamadas muestras gastronómicas, donde las productoras prepararon de platillos balanceados y completos utilizando mayoritariamente recursos locales, donde socializaron sus aprendizajes y degustaron sus platillos.
English Version.
Nutritional education
In the last quarter of the year 2022 (September-December), the production groups completed their nutritional education process, in which educational workshops, gastronomic fairs and physical activation events were held. There were women and children involved in the following events of the table 1. nutritional education events:
As part of this process, the following results were achieved:
Diversity of food consumed:
During these events the preparation of food was promoted, reinforcing the use of three types of food for the three meal times. The importance of food diversity was highlighted since it contributes to health, food such as: fruits, vegetables, cereals, animals and vegetable foods. 90% of the food used in these events was taken from the family basket or backyard, promoting the use of already available food.
Preparation of local recipes:
The use of local food recipes reinforced the development of these events. The members themselves prepared the local recipes.
Mega physical activation events:
Three mega physical activation events were developed, in which healthy drinking habits and physical activation were strengthened; the inclusion of children from care localities in these events was promoted. Plenty of children attended these events.
Exhibitions- gastronomic fairs.
In order to finish the nutritional education process, there were events called gastronomic exhibition developed, in which producers prepared balanced and complete dishes using mainly local resources. During the events, members socialized about their learning and tasted their dishes.