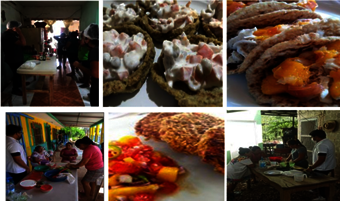 Los grupos de productoras continúan con sus procesos de capacitación en el manejo de sus meliponarios, transformación de sus productos, fortalecimiento de su organización, pero algo muy importante ha sido trabajar en la educación nutricional de su familia, en especial las y los niños de su comunidad.
Respecto a Educación Nutricional se están desarrollando talleres de preparación de alimentos cuya población objetivo son las y los niños, así como productoras de miel, en estos eventos se están promoviendo la incorporación y uso de alimentos sanos y locales que favorezcan su consumo para mejorar la salud y estado nutricional de esta población.
Así mismo, se están desarrollaron eventos de mega activación física que promueven el desarrollo de ejercicio en sus espacios como hogar, localidad, escuelas, para promover la salud física de las y los niños y productoras participantes.
Gracias a ti, esto es posible.
English versión.
The producer groups continue with their training processes in the management of their meliponarios, transformation of their products, strengthening their organization, but something very important has been to work on the nutritional education of their family, especially children in their community.
Nutritional Education. Food preparation workshops are being developed for children and honey producers, promoting the incorporation and use of healthy and local foods that favor the consumption of food to improve the health and nutritional status of this population.
In addition, we are developing mega physical activation events that promote the development of exercise in their spaces such as home, locality, schools, to promote the physical health of the participating children and producers.
Thanks to you, this is possible.