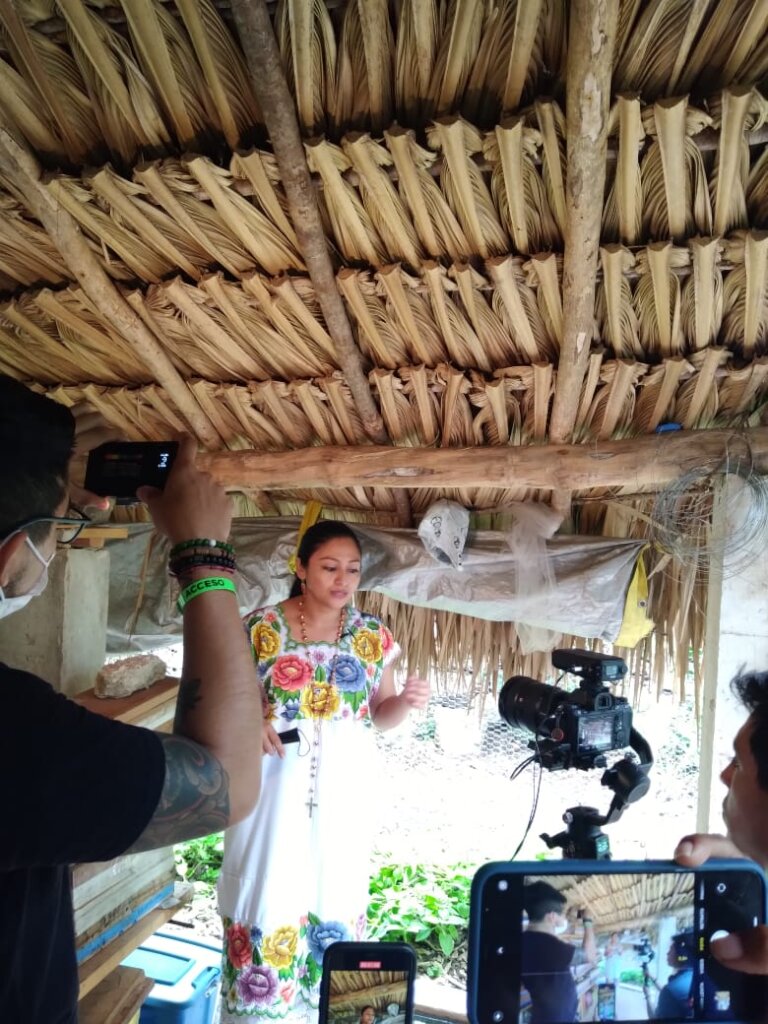 ¡Las mujeres mayas se siguen fortaleciendo!
Actualmente, las 12 unidades productivas de miel melipona, integradas por 90 productoras en los seis municipios atendidos en Yucatán, continúan con su sueño de ser empresarias sostenibles y hacer crecer el número de abejas mayas Beecheii, vitales en la polinización de los cultivos.
Levantamiento de imagen
El pasado 19 de noviembre, un equipo de filmación interesado en conocer las experiencias de mujeres exitosas con proyectos productivos sostenibles, eligió a las productoras de Yucatán para realizar un video.
La primera parada fue en Teabo, donde un grupo de productoras explicó el proceso para abrir una colmena y cómo extraer miel. El segundo municipio visitado fue Dzán, donde las productoras explicaron las dinámicas de las abejas y cómo se manejan los meliponarios. Finalmente, el equipo de filmación visitó Maní, donde pudieron apreciar el proceso de elaboración de caramelos de miel y bálsamos labiales.
Capacitación en estandarización de productos
Otro evento importante ocurrido en Yucatán, fueron las sesiones de estandarización de productos, impartidos por una experta a los grupos de productoras que conforman el grupo Yaal-kaab.
Kits navideños
No pierdas la oportunidad de conocer los beneficios de la miel melipona. Sigue a Yaal-kaab y a Artesanías de Campechanas en redes sociales, para conocer los kits y promociones disponibles en estas fechas, y regala productos sostenibles y socialmente responsables.
Gracias a tu apoyo todo esto es posible. ¡Ayúdanos a lograr más! Comparte este proyecto con amigos y familiares.
-------------------------------------------------------
Mayan women are stronger than ever!
Currently, the 12 production units of Melipona honey, conformed by 90 producers in the six municipalities served in Yucatán, continue with their dream of being sustainable entrepreneurs and increase the number of Mayan Beecheii bees, vital in the pollination of crops.
Making a video
On November 19, a film crew interested in learning about the experiences of successful women with sustainable productive projects, chose the Mayan Guardians to make a video.
The first stop was at Teabo, where a group of producers explained the process to open a hive and how to extract honey. The second municipality visited was Dzán, where the producers explained the dynamics of bees and how the meliponarios are managed. Finally, the film crew visited Maní, where they could see the process of making honey candies and lip balms.
Product standardization training
Another important event that took place in Yucatán were the product standardization sessions, taught by an expert to the groups of producers that make up the Yaal-kaab group.
Christmas Kits
Do not miss the opportunity to know the benefits of melipona honey. Follow Yaal-kaab and Artesanías de Campechanas on social networks, to find out about the kits and promotions available on these holidays. Give a beautiful, sustainable and socially responsible present.
Thanks to your support, all this is possible. Help us achieve more! Share this project with friends and family.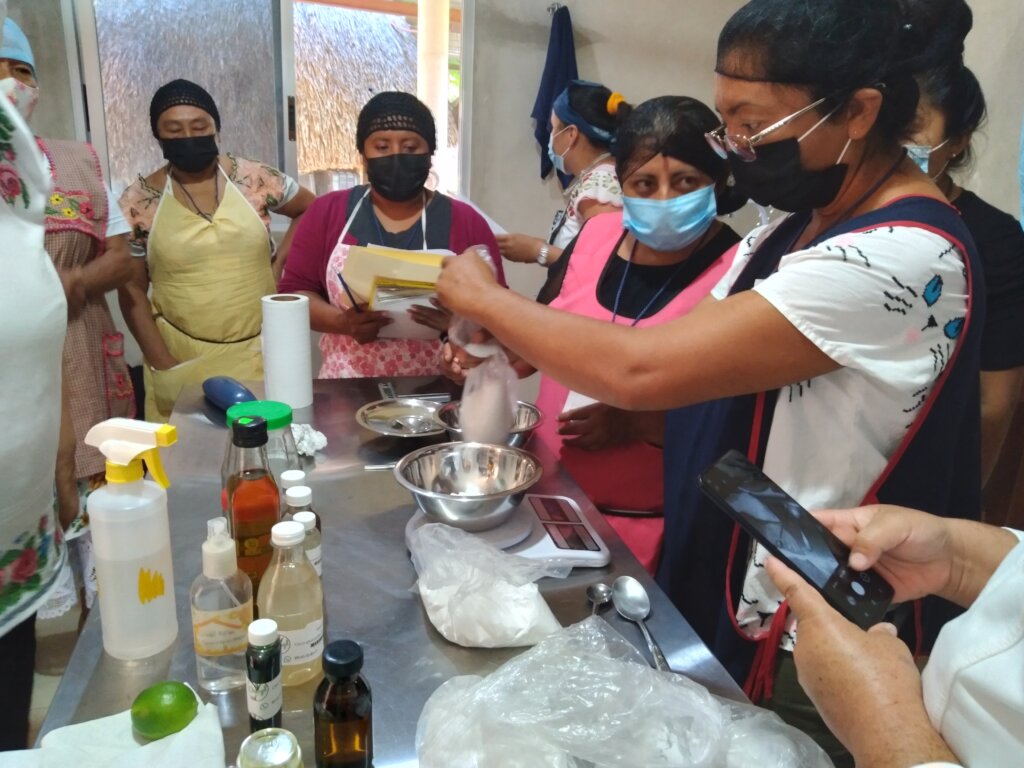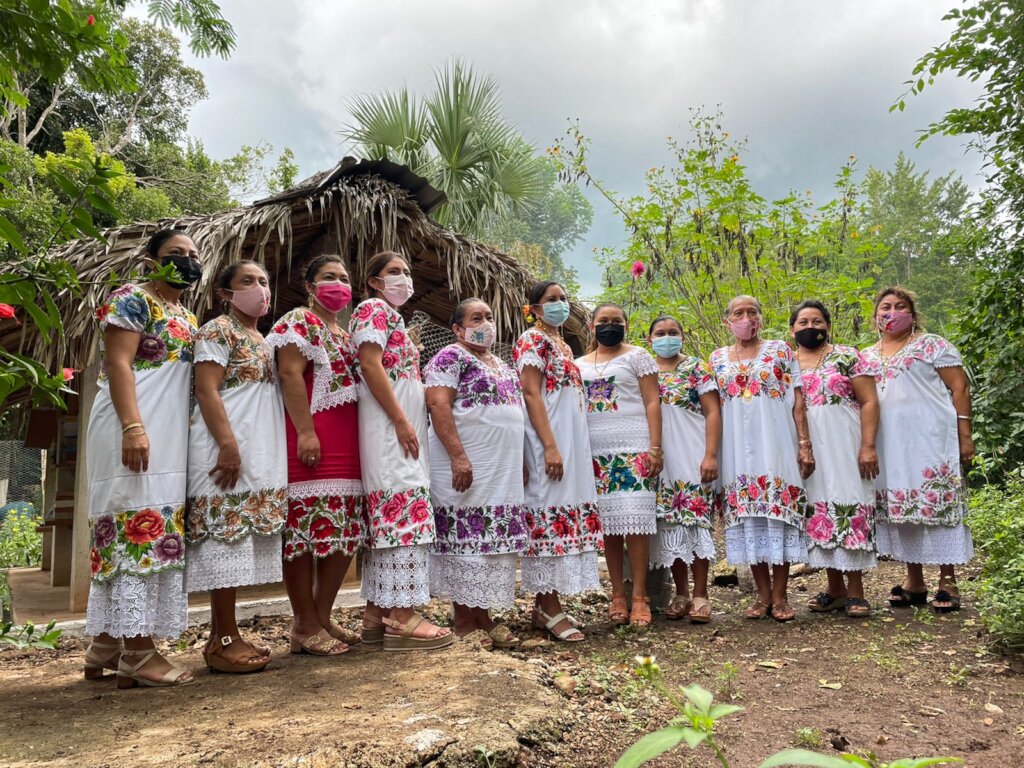 Links: