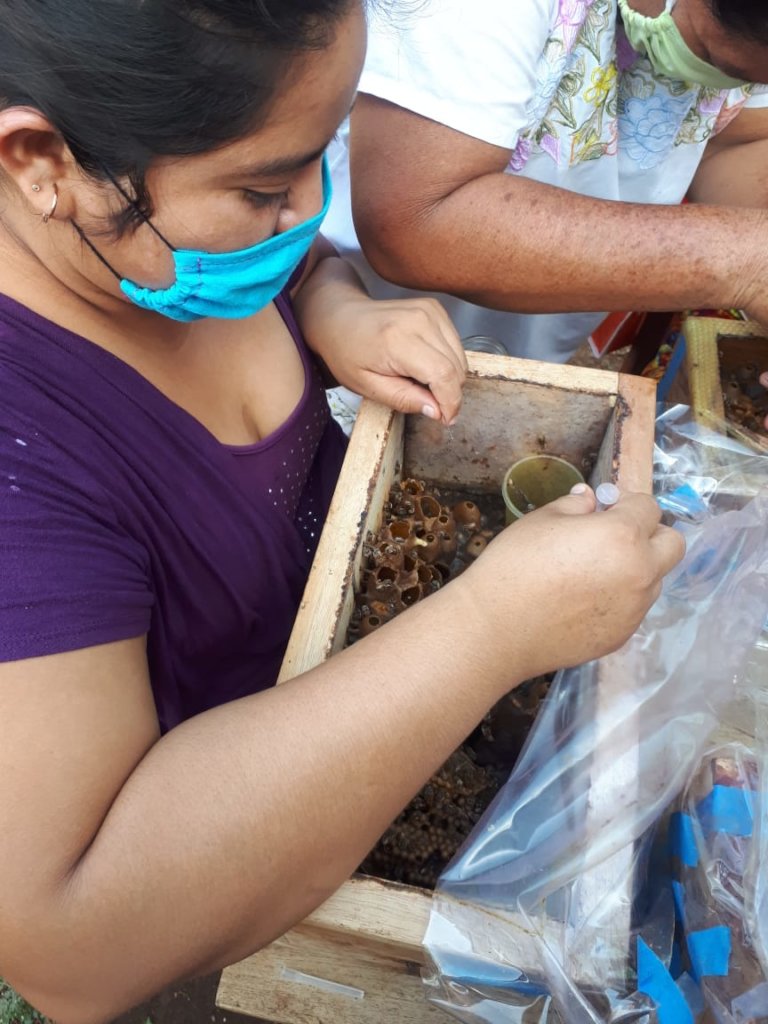 A pesar de la crisis económica y sanitaria, y de los daños ocasionados por tormentas tropicales, las Guardianas de la Abeja Maya han sabido adaptarse y generar estrategias para continuar con su proyecto productivo.
Desde julio hasta la fecha, con tu donativo has ayudado a 175 mujeres mayas en Campeche y Yucatán (75 y 100 mujeres respectivamente) a continuar con su capacitación y con su empresa rural. Apoyamos a 21 grupos y 1 cooperativa, quienes, en conjunto, poseen 8 talleres de transformación de productos (2 de ellos totalmente equipados) y 32 meliponarios.
Las mujeres mayas recibieron capacitación administrativa para aprender a crear y configurar el perfil de su negocio, integrando información de la actividad específica que realizan. Aunado a eso, recibieron capacitación sobre la cosecha, división de colmenas, envasado de miel y elaboración de crema derivada de la miel. Finalmente, en capacitación, las mujeres aprendieron a usar redes sociales para fortalecer la estrategia de comercialización en línea.
También generamos alianzas con otras instituciones para beneficio de las Guardianas; recibimos el apoyo de la Secretaría de Desarrollo Rural para la instalación de huertos de traspatio que permita a las mujeres tener una fuente alimento para sí mismas y para las abejas, y se facilitamos la grabación de un documental llamado "Mujeres que influyen", filmado por Canal 14, donde entrevistaron a varias de las beneficiarias.
¡Todo esto ha sido posible gracias a ti! Tu confianza transforma vidas. Ayúdanos a lograr más, comparte nuestro proyecto con amigos y familiares.
--------------
Despite the economic and health crisis, and the damage caused by tropical storms, the Guardians of the Maya the Bee have been able to adapt and generate strategies to continue with their productive project.
From July to date, with your donation you have helped 175 Mayan women in Campeche and Yucatán (75 and 100 women respectively) to continue with their training and with their rural business. We support 21 groups and 1 cooperative, who have 8 product transformation workshops (2 of them fully equipped) and 32 meliponarios.
Mayan women received administrative training to learn how to create and configure their business profile, integrating information of the specific activity they carry out. In addition to this, they received training on harvesting, splitting hives, packing honey and making cream derived from honey. Finally, in training, the women learned to use social networks to strengthen the online marketing strategy.
We also generate alliances with other institutions for the benefit of the Guardians. We receive government support for the installation of backyard gardens so that women have a food source for themselves and for the bees. Finally, a Mexican television station recorded a documentary called "Mujeres que influyen (Women who influence)", where they interviewed several of the beneficiaries.
All this has been possible thanks to you! Your trust in our labor transforms lives. Help us achieve more, share our project with friends and family.