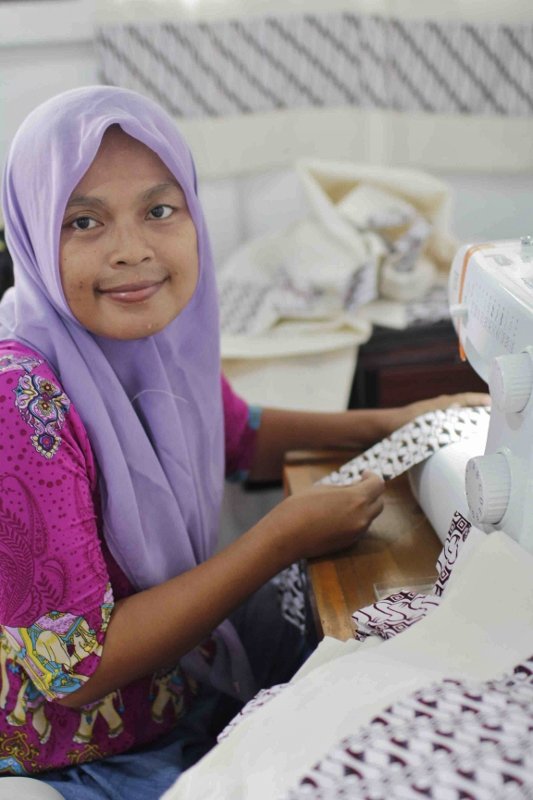 Her name is Aryuni but she is called Yuni at the Cirendeu garbage dump in Jakarta where she lives.
When she was in middle school in her village far from Jakarta, she dreamed of a career in nursing, but her family did not have enough money to send her. Instead, her grandfather paid her tuition to attend a sewing school.
After graduation, Yuni worked at many garment factories in and around Jakarta. But, low wages, long hours and poor working conditions forced her to return to her village.
Several years later, Yuni married. With her husband, she returned to Jakarta to once more look for employment. She went back to work at a garment factory where she earned about $100 a month. With both Yuni and her husband working, it almost seemed they could make it…
Yuni is now 35 years old and has two children, both getting their education through the XSProject Education Program. Daughter Ariska is in the 8th Grade and son, Toufan is in kindergarten. Her husband is a trash picker.
As the children got older, working the long hours at the garment factory far from their home was not good for the family. So Yuni left and went to work for a European designer. She spent her days sewing sequins on brocade gowns but her salary was only half of what she had made in the garment factory, about $50 a month.
She heard about XSProject's Cirendeu Handicrafts program from other mothers at the Cirendeu dump community who were making jewelry and sewing small handicrafts for sale. Yuni joined the group in 2016 and is now making children's dresses from batik fabric which XSProject sells on our US website. She makes alterations and household items such as curtains for local and expat customers.
Still, the work is not steady enough to have a regular income. Being the resourceful person she is, Yuni has tried to supplement her income by making and selling simple rice and noodle dishes at the schools in the morning and then sewing in the afternoon.
All of the young women and mothers working at Cirendeu Handicrafts would like to have a steady and better income. Sometimes they have a booth at the market to sell their own products.
If you would like to help Yuni purchase more batik fabric for her sewing projects or supplies for any of the other mothers in our program, making a donation to GlobalGiving will have a profound impact on them. Cirendeu Handicrafts is their business and is the hand up they need toward self-sufficiency and a sustainable income.