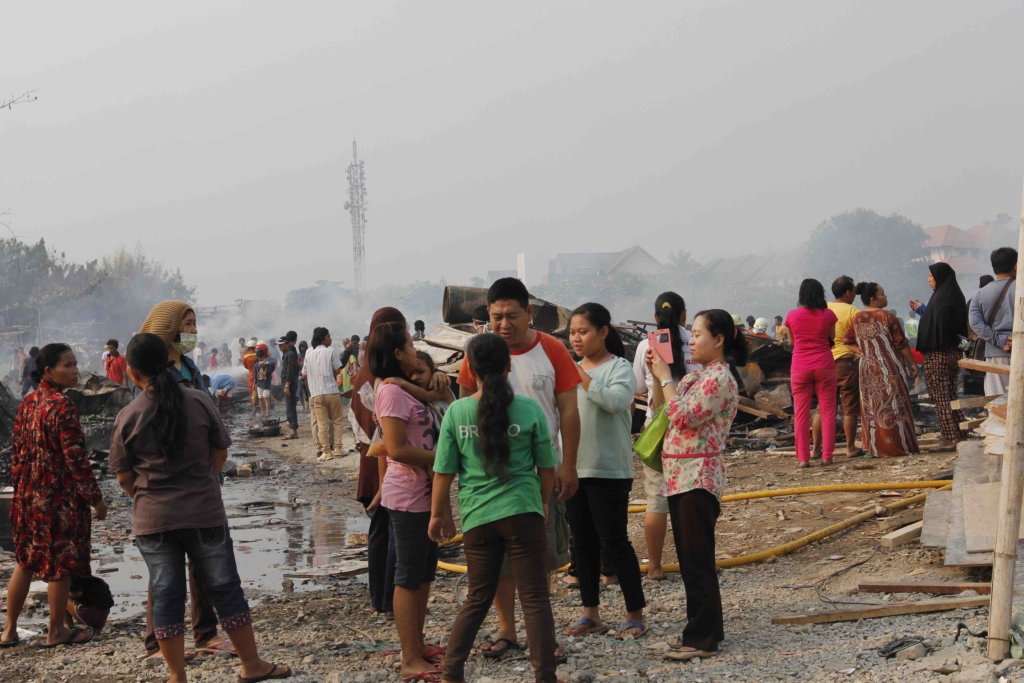 In the early morning hours of October 6, the trash picker community living at the Lebak Bulus open garbage dump in Jakarta burned to the ground. More than 225 families, a total of about 700 men, women and children lost everything and escaped with just the clothes they were wearing.
Lebak Bulus is near the Cirendeu open garbage dump where XSProject runs its social and educational programs. Two families from Lebak Bulus have family members working at XSProject. Three other families have children attending XSProject's XSEducation program.
When the XSProject office opened later that morning, they learned about the fire. General Manager, Retno Hapsari and employees, Any and Saminah went to Lebak Bulus to locate the two employees and families of the three children. Any and Saminah located both XSProject employees; Nur and her family and Ewon and his family and they soon arranged temporary housing for both until XSProject could find a more permanent place for them.
The three families with children in the XSEducation program were Retno's biggest concern. She picks up the story: "Wati and I looked for the parents of Febriansyah, grade 7, Silvi, grade 5 and Rahmat, grade 4 and finally located them in the chaos.
"First thing I told them was to find a place to stay for tonight. Febri's father specifically asked for my help in making sure that Febri can go back to school as soon as possible.
"Tonight all the 5 families are taken care of temporarily - in a much better condition than the rest of more than 225 families that lost their houses and belongings. Febri, Silvi and Rahmat's families are staying at the Cirendeu community
"Tomorrow, with the help of relatives and friends at the Cirendeu community, I will work with them to see what we can do to make sure they get their normal lives back and the three students can go back to school as soon as possible."
As of this writing, Ewon, Nur and their families have found permanent housing close to the XSProject office. XSProject is helping them purchase household items and food. The Jakarta International School has donated clothing that Ewon and Nur selected for themselves and their families.
With the help of the Jakarta Public School System and private donations, Febri, Silvie and Rahmat received all new school uniforms. XSProject used GlobalGiving donations to provide books, school supplies, backpacks and shoes. They all went back to school Monday, October 12.
All three families that were temporarily staying at the Cirendeu community have decided to stay. The Cirendeu community leaders and XSProject are now building three new homes for them. When completed, XSProject will furnish beds, propane stoves, rugs and other household items.
For the +225 other families, finding support is difficult. Some are staying at the burn site because they have no other place to go. Others have returned to their family homes outside of Jakarta. There is still much work to do and many people to feed.
XSProject must arrange to get new legal documents like birth and marriage certificates for our five families. They also need new identity/work cards. Yet, they are the fortunate ones.
If you would like to be a part of helping rebuild the lives of these families, you can make a donation today. We will continue to update and provide photos of the progress of the families in their new homes. Thank you.