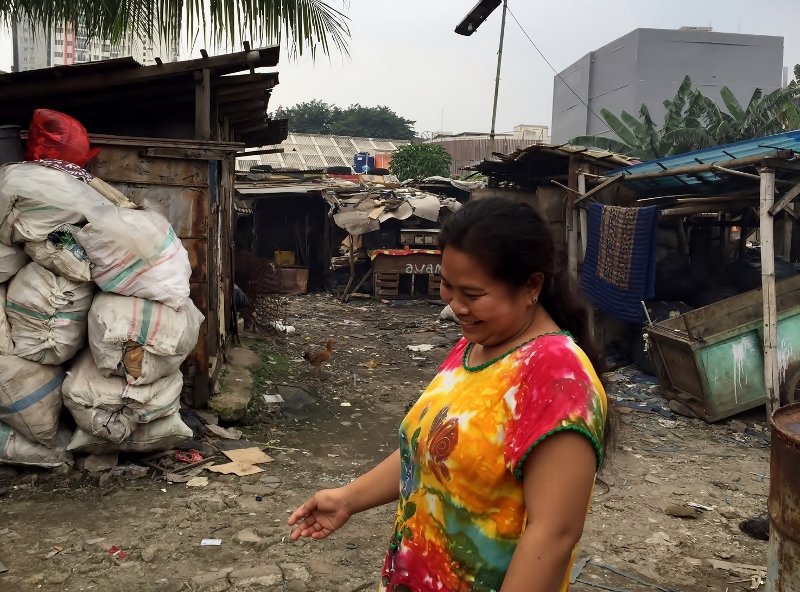 Saminah is the wife of a trash picker. She is very shy, this 42 year old woman, but when you are around her, you realize that she is only poor in the eyes of others. Saminah is rich in so many other ways.
She went to school until the 6th grade then worked in a garment factory in West Java. When she was 20, she married Kayan, a trash picker and they moved to Jakarta where Kayan continued to pick trash. They have two children, Oki and Fifi.
In 2010, Saminah came to work for XSProject. She started as a washer, cleaning the plastic waste pouches that XSProject uses to make products. She was paid 2 cents for every two pounds of trash she washed. It was not much, but it was extra income for the family and through donations to GlobalGiving, XSProject was able to pay for Oki's and Fifi's education.
Today Saminah has a position of responsibility at XSProject. She makes a lot more money than when she started. She loves her job and we love her sweet and generous nature.
Last year, Oki graduated from vocational school and now has a job at the City of Jakarta. He is saving money to buy the family a small home away from the garbage dump where they still live.
Fifi will begin training in the Hotel and Hospitality business in July.
Kayan is now a trash collector for the City of Jakarta.
If you have ever wondered whether your donations to GlobalGiving actually changed a life, we hope Saminah's story will inspire you. Life is still hard, but to Saminah, she is rich in many other ways.