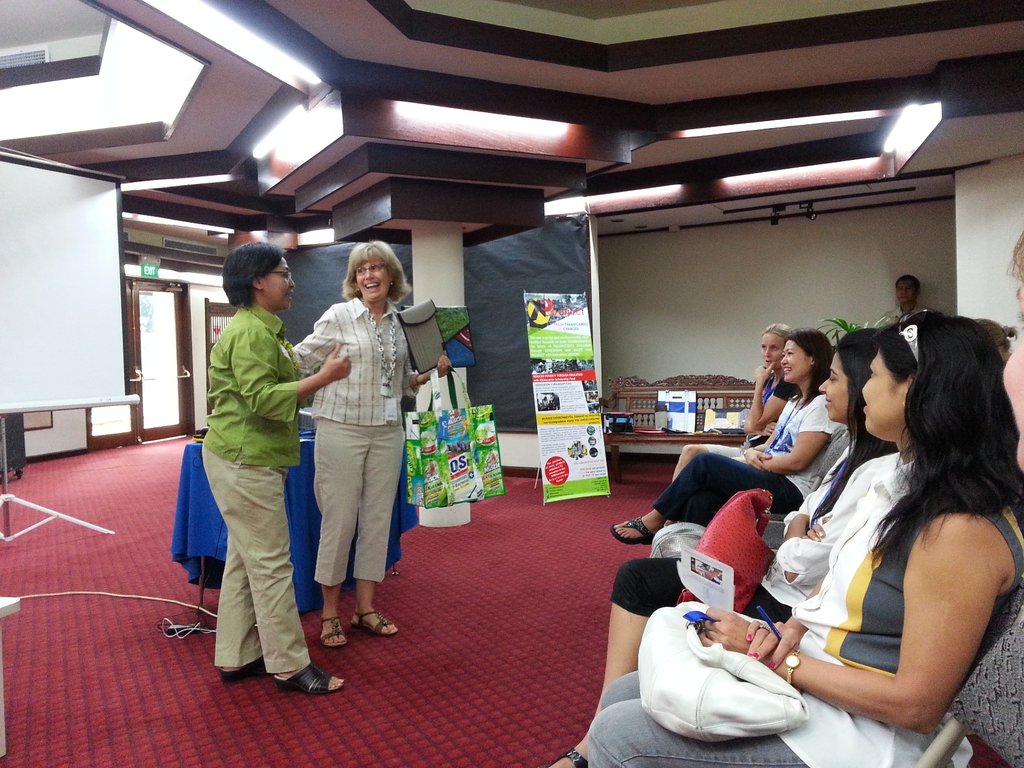 XSProject is fortunate to be connected with a special group of volunteers in Jakarta. This monthly report is about those volunteers and the role they play helping the children of the Jakarta trash picking community.

On September 10, XSProject was invited to a gathering hosted by JIS Peduli. A group of expat moms, whose children are attending the Jakarta International School (JIS), wanted to do volunteer work so they formed this group. The September gathering was to introduce the new expat moms to the programs that JIS Peduli supports and to encourage them to get involved.
XSProject General Manager, Retno Hapsari explained to the group how JIS Peduli volunteers work with the students who live at XSVillage, the garbage dump in Jakarta. She explained that, in order for Indonesian children to enter First Grade, they must be able to count and know their "ABC's". The volunteers from JIS Peduli prepare the
children for school and create confidence and excitement about attending. When the older boys and girls, who already attend school, work with the volunteers, they have an incentive to stay in school and do well in their studies.
The moms who were interested in joining JIS Peduli were then invited to attend the pre-school class at XSVillage that day. When they arrived the children were doing writing lessons, learning games and some crafts. Later in the morning the First and Second Grade students arrived from school and joined in the activities. All together there were about 30 children.
Without these classes, the children would not be prepared to enter school because their parents cannot pay to send them to pre-school. Bringing the "pre-school" to XSVillage, and with the support of the volunteers, the children are well prepared to enter First Grade.
The volunteers who work with XSproject prepare and pay for all the materials for the students. The classes are held, twice a week for two hours.
Through donations (such as yours through GlobalGiving), the XSEducation Scholarship Fund pays to send the
children from XSVillage to school each year. As the little ones enter school, the number of students grows. The goal
of XSProject is to give every child of a trash picker family a complete education and an opportunity to break the cycle of poverty. The volunteers at JIS Peduli make sure the pre-schooler's get off to a great start.
The XSProject team appreciates and thanks all our GlobalGiving donors. There is a child at XSVillage today
whose life is changed by the programs XSProject funds with your donations and by the of the volunteers of JIS Peduli.