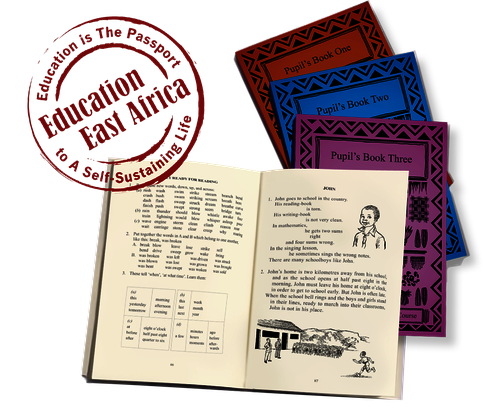 Warmest Greetings,
I hope this letter finds you well and in good spirits.
Like many places in our world, most schools in Rwanda have been closed since spring. Upper Primary (Primary 4 to Primary 6) returned to their classes Monday 2nd November, but for Lower Primary (P1 to P3) the wait continues. They are scheduled to return to the classroom in January.
Damian and Ivan will be supporting the teachers of P4 in our project schools, as they face the hard task of helping their pupils, after such a long break, remember the English they had learned.
Our popular radio programmes, 'English with Teacher Katy', aired over the summer. Five children of his neighbours congregated at Ivan's house to listen to the programmes on his radio, and Ivan carried on after each programme to teach them English using our NOEC (New Original English Course) books. There were two children who are in P2, two in P3 and one who is in P4 at various schools. Ivan noted they had little understanding of the meaning of what they had been taught, but that improved dramatically with the radio programmes and use of the NOEC books. The parents thanked Ivan as they too noticed the improvement.
We are now going to run the radio programmes for P2 and P3 again. This time they will be aired on Radio Rwanda.
Damian and Ivan have met several education officials at the Rwanda Education Board, and there is a strong indication that there might be curriculum reform, with an awareness that, "something is not right with English language delivery".
However, this must now be set against the nationwide announcement, in late July, that English will be the medium of instruction from P1 onwards. Up until now, English has been taught as a foreign language from P1 to P3, and all other subjects taught in the mother tongue of Kinyarwanda. From P4 English was the medium of instruction. This was not working well, as pupils were not learning enough English in P1 to P3 to be able to cope with all their lessons in English from P4. On top of that, there were still literacy problems in the mother tongue and a lack of development of thinking skills. Most primary school teachers have insufficient English, and switching to English as the medium of instruction in P4 was impeding their pupils' learning and education.
This extraordinary decision to expect teachers and pupils to use English for all lessons from P1 seems is ill-informed. Inevitably, there will be use of the mother tongue, but this will be covert, and pupils will most likely learn neither English nor mastery of their mother tongue.
However, in this unhappy scenario our NOEC books will have an even greater role to play.
The Chair of our trustees in Rwanda, Emmy Nyirigira, met the Minister of State for Primary and Secondary Education, Mr Gaspard Twagirayezu. They have worked together for many years on the President's Social Commission. The Minister of State agreed to meet Damian and Ivan, and that meeting is anticipated in the next week or so. It seems that he, along with other education officials, is more open than ever for ideas on how to improve the teaching of English.
On top of all that, on 2nd November a public notice came from the Prime Minister's office that the Director General, Deputy Director General, and Head of Teacher Development at the Rwanda Education Board had all been suspended from duties "for their failure to properly manage and coordinate the ongoing teacher recruitment process". It transpires that newly qualified teachers have waited months and are still not placed in schools —- and yet there are many vacancies to be filled. A newly centralized system is not working, and schools have reopened without sufficient staff.
It does seem that a crisis looms. Again, this could be a very good opportunity for our NOEC books. The NOEC books are not only tried and tested over the years, but they fit the present context. They enable the teachers to learn or improve their English on-the-job, as they teach their pupils. The English to use and teach to the pupils is specifically written so that good English is heard and learned by the pupils. The methodology to adopt is given to the teachers at every stage (written in their mother tongue of Kinyarwanda). The pupils enjoy the pictures and stories which are all set in an East African context and are fun and memorable, at times following the same characters through several escapades.
There are five books of the NOEC, and if those were used in the primary teacher-training then new teachers would have a grasp of English sentence patterns and structures to a good intermediate level, and would have learned good teaching techniques which they could transfer to other subjects.
Learn more about our NOEC books by following this link: https://www.educationrwanda.org/books/
At this critical time, it is frustrating being stuck in England and not being able to be in the thick of it, as I have been for over twenty-six years.
I'll end on a very upbeat, warming and happy note. Out of the blue I received an email from Hans Moshi, who has given me permission to use his name and quote his words. It turns out that he was taught English by our 'gap year' volunteers when he was at Mshiri primary school in Tanzania from 2001 to 2008. He is now studying in America, preparing for graduate school. He wrote, "I was reflecting on my life lately and looking at things that have carried me to this point in my life and that is where you came in. I remembered your work with the TRC (Teacher Resource Centre) trying to improve the teaching situation for teachers. It didn't make sense back then but in hindsight I am in awe over the things you were doing. I was there when the TRC building was completed and students could use computers. I remember us having computer classes once a week. There was always not enough time when we were there……
"I am really grateful for the work you did. I was inspired by all the volunteer guests we received each year. That exposure has been paramount to my success. I never thought about it until very late in my college career, when I was looking for my inspiration in life. I want to be able to do what you are doing someday. I just wanted to reach out to tell you even if it seems like you do not get back as much as you put in, someone somewhere out here was extremely inspired by your work. You have inspired me to do the same by helping the less fortunate and as I am approaching the end of my education career I am thinking of ways I can help and give back too, thanks to you.
"Having lived in the US for 5 years I can imagine what it's like uprooting one's life and moving to a whole different country with a different culture. I salute the courage, tenacity and drive to help and forever will be grateful for the inspiration. I promise to carry the light forward."
This in itself is thanks enough for 26 years' work. If Hans put it down in words, then there must be others who feel the same. Even if it is only Hans, then it has been worth the effort, and it is still worth fighting on.
Hans's letter is as much for you as it is for me. None of this would be possible without donations to enable our work to happen. Thank you so much for your continuing support.
With very best wishes,
Katy