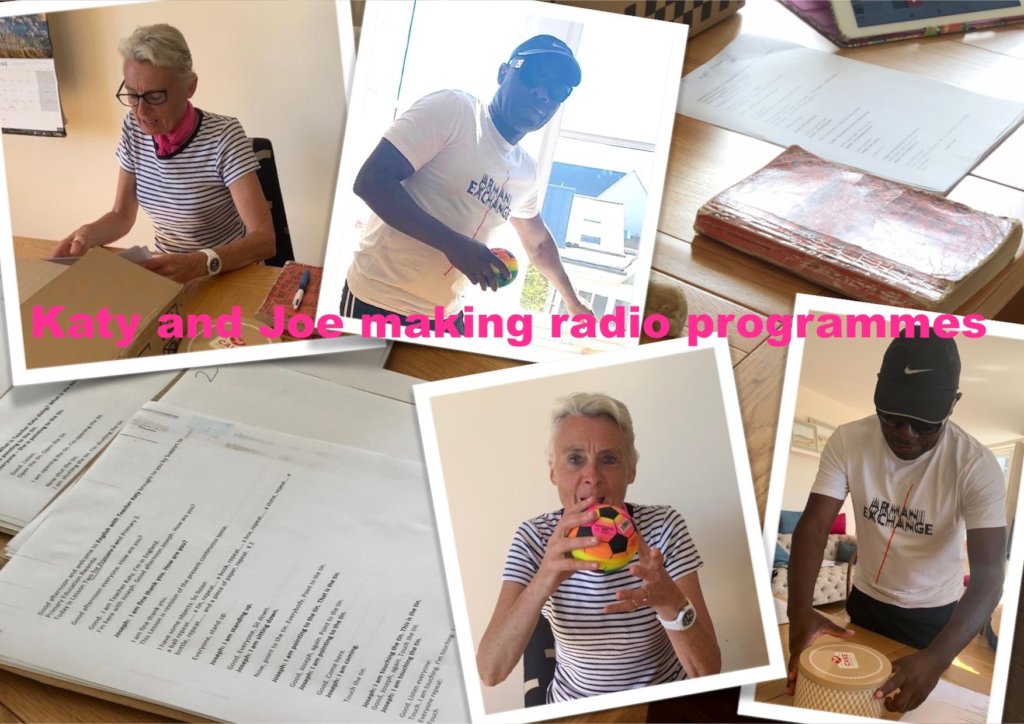 No sooner had I sent my last report than the Rwandan government announced the immediate closure of schools on 16thMarch.
Then a few weeks later came the decision that the schools would not reopen until September.
This is actually part of the government's plan to change the school year from a calendar year to a September/July school year, and so the corona virus has provided the way to make the change.
That means that in September, Primary 1 will have two cohorts; those who started in January this year, and who will continue with Primary 1 again in September, and those who were expecting to start school in January 2021 but who will now start in September 2020.
All other pupils will start again in September 2020 in the grade they were in in January 2020.
We were very concerned about our pupils who in January 2020 were in Primary 2, Primary 3 and Primary 4. Whilst they will continue in those grades in September, they will have forgotten so much of what they knew. They come from families where no English is spoken in the home and there is very little, or no, English heard around them in their villages.
We then had the idea that the only feasible way to help the pupils, and indeed the teachers too, was to use the radio. We hoped that most families have a radio and can afford the batteries to make it work! We were reassured by the teachers in the schools that this would be the case.
Damian and Ivan negotiated with Radio One, Rwanda, for a prime time slot at 11am every Tuesday and Thursday morning. Radio One is a nationwide, popular music station, and so this is an interesting diversion for them, and one they were very excited to take on.
We decided to call our radio programmes 'English With Teacher Katy'.
So, I then set about scripting the sixteen programmes which would run for 8 weeks. First, I decided to have one programme for Primary 2 and Primary 3 combined, and a separate programme for Primary 4. For each programme we were given a 15-minute slot which is, we think, enough for children to concentrate.
The content is based on our NOEC books. (More about our NOEC books here: https://www.educationeastafrica.org/books/). But the success of teaching English as a foreign language from the NOEC relies heavily on the pupils seeing things, and seeing things being done, in order for them to understand the meaning. I always say that they have to see the meaning.
So, my task for the radio was to ensure that the pupils could 'hear' the meaning, and I had to think of objects that make clear, identifiable sounds. For instance, I have used a box, a tin, a ball, a book, and a piece of paper. These are items whose sound when touched, bounced or fanned, as the case may be, convey what they are.
I then needed another person, another voice, to take the part of the pupil. I called on my Tanzanian friend Joe. I asked him to come with a pair of proper shoes and not trainers. He had no idea what I really meant and so came with a full suit and tie, and his proper shoes!
My sitting room has a wooden floor, and we rolled up the rug, put a chair in the middle and that was Joe's base. With his shoes he could then be clearly heard moving in response to commands, 'Come here', or 'Go the door' etc. Needless to say, Joe never wore his suit, and performed throughout in his track suit with his smart leather shoes underneath! Joe is not a well-known name in Rwanda, but Joseph is. So, in all the scripts he was Joseph.
The script for each programme was about 5 pages. Joe's parts were in bold type and mine in non-bold type. I sat at the table, with the iPad ready to record on Apple Voice Recorder. We had the various props arranged on the table in the order in which we needed to use them. My script was flat on the table in front of me. I realized that Joe would be moving around with his script, and so we stuck each page on a piece of cardboard so that not only would it stay firm but also wouldn't make a noise as he went from page to page. There were times when it was easier for me to deal with the props whilst Joe read the script. At other times Joe had to manipulate the props with the script, such as, "I'm opening the window", "I'm brushing my teeth" or "I'm playing football".
I never worked out how to edit anything we'd recorded. I could pause during recording and start up again, but if we made a mistake we'd just have to start all over again. Apple's Voice Recorder shows you the minutes and seconds as you record. That made the end of every script very stressful, as I'd have to judge whether we'd finish the script in time or whether I'd need to cut out a bit. I'd have to assess that we would have time at the end for a quick summary of what we'd done and to say 'goodbye'.
When we recorded our second programme, Joe, seeing the same objects on the table again, asked with some incredulity, "Oh, are we opening the box again?". Little could he have known just how often he would open the box, shut the box, put the box on the table, put the box on the chair, put the bottles in the box, or put the tin on the box. After we'd recorded all the programmes he took the box out to the rubbish shed with a spring in his step!
The end of each recording was a noted achievement. We'd then paste the next script pages on top of the others on Joe's cardboard pieces. There was a low point, when we'd recorded three programmes, opening each with, "Good afternoon" as our slot on the radio was first to have been 2pm, and then came the news that the better slot of 11am had been secured.
This required us to record the first three programmes all over again. Lesson learned. After this experience, we began every recording with a cheery, "Hello".
Whilst the programmes are broadcast nationally, I designed them for the pupils who are in our project schools. The aim overall is for the pupils to hear some English again and to revise what they had already learned. It is hoped that they speak English by following and talking with some of Joe's part of the script. If they learn something new, then that is an added bonus. We anticipate, of course, that all other pupils who listen to the radio will benefit from the programmes.
The programmes also provide the added bonus for teachers to hear English with native pronunciation and intonation. It might also be the first time in a while that the teachers have been on the receiving end, and they will feel again what it's like to learn by listening, and how much repetition is needed in a foreign language.
We have enjoyed good feedback. One of the Sector Education Officers, Dismas, told Damian, 'Barakurikira rwose!' – 'The pupils are really, really following!'. Another Sector Education Officer, Fidel, has said that there should be more than two programmes a week.
Claude, one of our teachers at Gasabo primary school, got a telephone call from the mother of one of his pupils, telling him that Anita was so excited by being able to follow the first lesson she listened to, that she was going to all her friends telling them to listen! The head teacher of another of our project schools reported that pupils in his upper classes were listening to all the programmes because they could follow them and were joining in.
Our new radio programmes, 'English With Teacher Katy', will be broadcast at least until the middle of August. We have posted a trio of our radio programmes on our website to share with you. This link will take you to our media page where you will easily spot our radio offerings:
https://www.educationrwanda.org/media/
Thank you to all of you for your continued support of our work and your interest in it.
These are still difficult times, and education around the world is being affected, but we have found a way to continue to help our pupils and teachers which is the best we can do in the circumstances.
All of your generous support is hugely appreciated.
With very best wishes
Katy