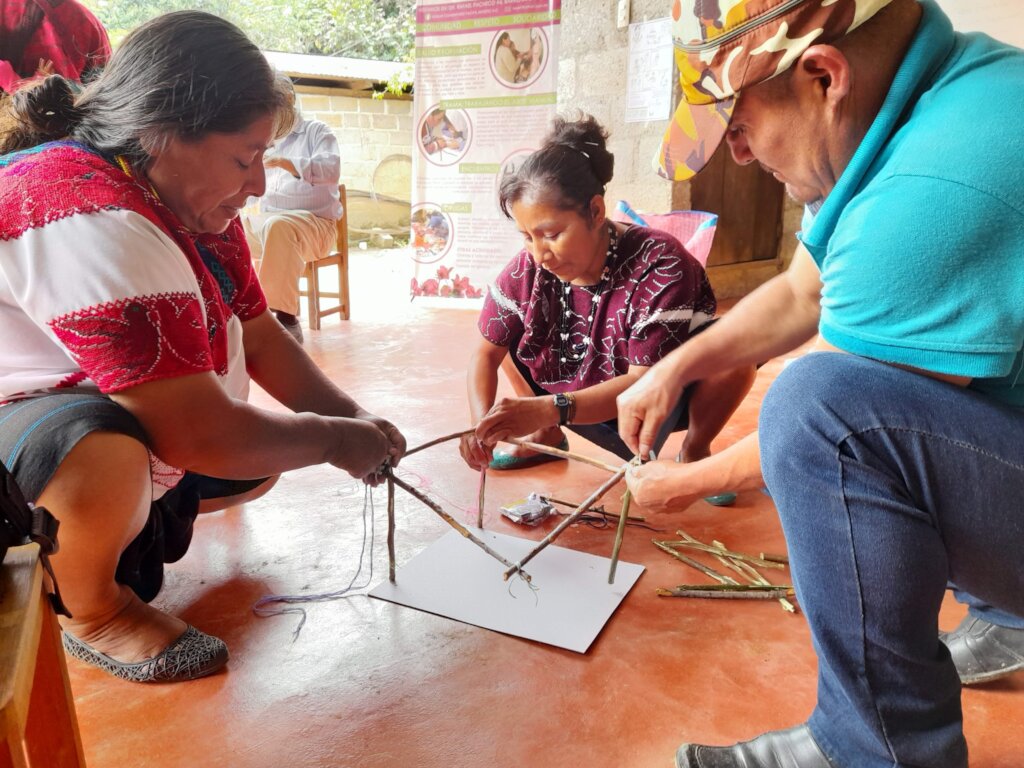 Once again, we meet to share experiences, stories, and work. On this occasion, we are pleased to share with you the projects we have accompanied this year, their progress, and their testimonies. All of them are key so that our communities' children, women, and families have more significant opportunities for development in an adverse context. Thank you very much for rereading us and continuing to support their well-being and our communities.
SOLMUNDI
From 2018 to 2022, the Agroecology Training Center project has been built and strengthened based on local contributions and knowledge. We have worked with four family groups from the Altos de Chiapas area. The locations are: Naranjatik Bajo and Jamubil in the municipality of Chenalhó, El Pozo de San Juan Cancuc, and El Corralito in Tenejapa, Tzeltal and Tzotzil groups respectively. The work has focused on learning agricultural techniques with an agroecological approach, including workshops on group participation, gender equity, and conflict resolution. From February 2022 to June 2022, follow-up workshops have been held in each group, mainly on ethnoveterinary poultry production and beekeeping management, reinforcing learning on coffee, orchards, and organic fertilizers. The groups are in a learning process for solidarity trade in producing eggs and meat from backyard poultry and the production of honey and by-products from the hive. There has been greater participation of young people and women in the workshops and greater diversification of food products in the families.
Uriel is a young man who has decided to study a career in the forestry area, at the Benito Juárez University, in his municipality. He told us that agroecological practices and workshops from this project had helped him better understand the issues he sees at his university. He also says that he reinforces these practices and learns about new strategies he is implementing with his family. He currently also participates in a group of young people trained in the marketing of agroecological products; together with his family, they decided to focus on poultry production.
AMEXTRA
In this project's first period, we followed up on productive projects of beekeeping, poultry farming, and vegetable production in orchards and greenhouses of 3 families in Chalchihuitán, Aldama, and Larráinzar. This experience has made it possible to obtain a production of food to integrate into the daily diet of the families. We managed to improve housing, health, and hygiene conditions by installing a new eco-technology and monitoring 13 more in the municipalities of Aldama and Chalchihuitán. Finally, three local promoters attended an exchange of experiences on solidarity economy to promote and construct leadership on issues of productive projects. This event was possible thanks to the alliance with ECOSUR, KAN, and KAKUXTAL.
Doña Estela is originally from the community of Canech in the municipality of Chalchihuitán; She raises backyard poultry and grows coffee and milpa. She has been producing with the new chicken coop for two months. She now has about 80 birds. The eggs are used for consumption and hatch, thus having new birds. She is the mother of several sons and daughters, and she also works in the fields and takes care of the home: "When it rained, a lot of water came in, and my chickens got wet and often got sick with cough, diarrhea or fever; the floor of the chicken coop was dirt and, truthfully, the space was tiny. With the new chicken coop, I think my production will improve because it is bigger, has a cement floor, meshed, and has greenhouse nylon that covers it when it is cold and rainy. I hope to see my poultry production improve and that I can produce more hens for family consumption." Estela
CONIDER
This project has sought to strengthen community health and follow up on deworming campaigns in 9 San Juan Cancuc, Chiapas localities. Seven communities were visited to promote the project and inform about the deworming campaigns and the health and nutrition workshops that take place throughout the project. In 2 communities, nutritional follow-up was given to children under five years of age, and anthropometric measurements were made. Physical examination showed that the main clinical signs of deficiencies are: vita C deficiency, iron deficiency, reflected in pale conjunctivae, protein deficiency reflected in the skin, nails, and depigmentation. Workshops were held in the communities: 1. Workshop Signs of malnutrition, attention, and care. 2. Personal hygiene workshop, family at home and community level to avoid diseases and parasites. 3. Workshop on how the digestive system works and feeding sick children. In 5 localities, the deworming campaign was carried out; ADC vitamins were provided for children, and folic acid and iron for pregnant and lactating women.
Ana is a mother of a family from the Community of Tanubiljá. She comments that she finds it very important to continuously attend to her children, two of whom have chronic malnutrition. The way the nutritionist treats them is a good way since they are attended to in their language. The project goes to her and her family. They explain their actions, so we have confidence in bringing our boys and girls to care.
FORO PARA EL DESARROLLO SUSTENTABLE
Joint work continues to be carried out with different actors, groups, and collectives with which they seek to build and strengthen an agroecological community for good living: The "Muk' ta luch" Collective, El Huerto Kassil Vochonil, Semillero Cultural and Agroecological Center, the Red Patrol Cultural and Agroecological Center, the "Anstik Tsunubil" Women's Group. Agroecological production activities, food exchange, sale of products for the sustainability of the project, exchange of seeds and knowledge with the participants and Latin American organizations, preparation of traditional foods, and training activities such as workshops on food sovereignty have been carried out, nutrition with and without an artistic approach; volunteering in the orchards; rap and hip-hop high school performances and murals; events such as Disco Sopa in the communities of Ciudad Real and Jardines del Valle.
Miguel Ángel actively participates in the Semillero project. He is an 11-year-old boy in the care of his brother, under three years old. They live in a complicated family situation; even so, they attend and participate with great motivation in the center's activities.
COMMUNITY HOME
Always seeking violence-free development for indigenous and mestizo migrant women, this year's activities strengthened these women, who often struggle to survive. Prenatal care and emotional care consultations, childbirth preparation workshops, and childbirth care continued. Manual art workshops for employment (TRAMA) four times a week, macramé and waist loom, where they reflect on the value of their culture, their abilities, their self-esteem, and the importance of collaborative work. Las Orugas Children's Space, where children reflect on suitable treatment and express their emotions and needs. Also, this year, we have held two Mothers and Children meetings designed to analyze the agreements at home to avoid violence. We have held women's meetings: 2 in the city and 2 in communities (some men have also attended) to reflect on the different forms of violence. In coordination with Doctors of the World, we resumed a program of face-to-face workshops on preventing violence and teenage pregnancies at CECYTE. We are going for the second season of workshops with the group of adolescents from the Community Home we hold at our headquarters. The themes point to self-knowledge, strengthening self-esteem, and learning and exercising healthy sexuality.
Julia came at a critical moment; we worked on anger and acceptance, the experience of abandonment, her self-care, self-worth, and self-knowledge: "every word I found when I got here had helped me a lot to get ahead, especially when I arrived I was all down without knowing what I was going to find, I thank you for having supported me a lot, you advised me that it had helped me a lot to get ahead and get my son ahead when I came he was not like that, I came worried I felt alone I felt that I had no support from anyone and with you, I felt accompanied." Julia
MUTRAM
The Educational project strategies in health-gender with women, men, girls, and boys strengthen the training process from a perspective of the prevention of gender violence and a community and indigenous perspective in the border region of Chiapas. The work has been done with groups ((Hummingbirds, Phases of the Moon, and Men G), training them on gender, health, and territory issues. There has been greater participation of women in the workshops and better management of popular education methodologies and perspectives of community feminists. Conversations were also held between adult and young men and women to prevent gender violence in the municipality, and bimonthly assemblies to plan and evaluate activities that allow groups to be strengthened. These activities have shown that the perspective of women and men is changing and has improved their lives. Women participate more; mainly, the attention is on incorporating young women and men. A group of young women and men has been formed from the talks driven by one of the collectives. We will carry out a diagnostic workshop to see what needs they have and start a process of enclosure and training.
"I did not dare to speak in the assembly. But I wanted to do it because of the problems related to the consumption and sale of alcohol, and passing in front requires a lot of security and removing fear, and I didn't want to do it. I dared and say what I thought, other people did not speak, and I ventured to speak in the assembly by myself. I felt bad, and then I settled; I expressed what I felt and stayed calm. The problem is that I was angry because I was going to see alcohol in the community, and it came up without approving anything. I got furious, and in the assembly, I said that because they drink, the consequence is violence, accidents, and mistreatment. That men think what they are doing because they have their daughters and not think only of themselves." Zenaida Member of the Hummingbirds.
OMNIUNITY
This project aims to build and strengthen community health spaces in the Cuxtitali neighborhood with activities aimed primarily at young people and women. From the Popular Gymnasium, we have followed up on all our sports courses with young people from Cuxtitali, starting activities to strengthen these programs. From the Health House, we have carried out different preventive health activities aimed at women from the neighborhood and other city neighborhoods. Two herbalist workshops for natural gynecology were held with women. In addition, the office was opened weekly for individual consultations. A free campaign for the prevention of cervical-uterine cancer and sexually transmitted infections (Pap smear campaign) was carried out, in which 53 women participated, in collaboration with health promoters from the organizations "Brigada Callejera de Apoyo a la Mujer E.M.A.C." and "Mayan Moon A.C."
Clara Luz and her family (her daughter and granddaughter) have been with us from the beginning. They are users of the Popular Gym and are proof of how much the women of the neighborhood have a fundamental role in the development and success of these projects since they are often the ones who are most involved. They always contribute as much as they can with some gifts or something to eat for our events. They do not miss an assembly or an event and always contribute new ideas about how you would like the project to evolve. Clara Luz and her family, as well as other families, are the backbone of our project.
TIERRA ROJA CUXTITALI
We seek to promote the active and autonomous participation of young people from the urban periphery of SCLC and offer them healthy, peaceful, and alternative social spaces to violence, discrimination, and marginalization. During this period, workshops and weekly meetings on academic reinforcement, literacy (primary and intermediate), music, construction and management of a family educational greenhouse, and socio-environmental education activities. With the accompaniment and monitoring of the group of educators, the participants organized and managed weekly and monthly leisure and fun spaces. Also, sports, crafts, and tournament workshops have been shared, opening the space for self-management and receiving other groups of young people from other organizations (Popular Gymnasium, Sueniños A.C., Cuxtitali soccer team). We also link with other groups and organizations to create collective moments of dialogue, reflection, and channeling needs, focused on building relationships of friendship, trust, and solidarity, inside and outside the Community Center. We are linked with Popular Gymnasium Barrio Bravo (for regular activities of physical activation and sports as a tool for conflict resolution); with Persicaria (for socio-environmental education workshops focused on the construction of spaces for Peace). We have other links planned with Semillero and Casa de Las Flores before the end of July.
Thank you very much for reading us and being interested in the projects. All this good news is possible because of your support and the accompaniment you give us.
United, we make the difference :)