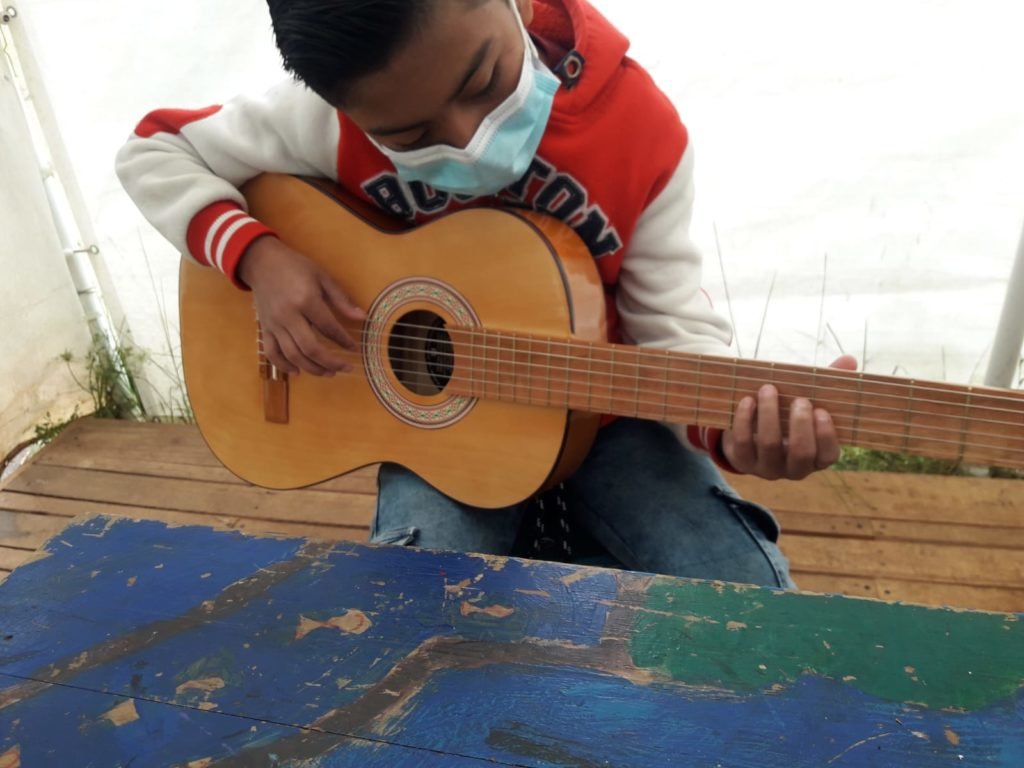 We are happy to write to you today to greet you with joy and share news about the work of the different projects with the people to whom all our work is owed: children, women, and families from Los Altos de Chiapas. Thank you very much for being part of this collective effort, for continuing to support us, and believe in our work.
Literacy and regularization of primary education
In Tierra Roja Cuxtitali, the school year has ended in July. All the work has been done these months to encourage children's participation, socialization, and especially children's emotional well-being. Thanks to this work, they have shown more group cohesion and initiative in sharing their knowledge among colleagues, supporting each other when necessary. Accompaniment with workshops to strengthen social skills such as working at the Casita de la emociones has been essential. The issue of self-esteem has been worked hard and the link with the own body, self-perception, and conflict resolution to motivate them and be resilient in the face of adversity. The guitar workshops, visual arts, and production in the garden have also inspired the children who participate and brought them closer to pleasant and joyful experiences. The closeness with the families has been essential to follow up the process of their children and build with them. After the cycle end, the evaluation of the project has been given to see the progress and challenges. In October, they have started the new cycle with all the lessons learned to continue sharing and growing with the children and their families.
Healthy nutrition and family and community gardens
Both the care of the land and the monitoring of health and nutrition problems of children, women, and families are fundamental for the well-being and integral health of the communities. In this sense, various organizations that need specific issues are monitored, whether health or related to the environment. CAMADDS, with the group of Mujeres y Maiz Criollo, UNECODES, and SOLMUNDI, the three organizations continue to create, strengthen, and consolidate orchards in the diversification of family food production and backyard activities, such as the reproduction and care of animals (chickens, bees). On the other hand, AMEXTRA and CONIDER work on projects that provide nutritional and health support to families.
CONIDER is serving several families in 5 communities in San Juan Cancuc. They have worked with people to develop a health and water plan and a participatory health and nutrition strategy. For this strategy, weight and height lifting has been carried out in children under five years of age, and awareness-raising has been carried out with families for better nutrition. By deworming and vitaminizing children and adults, they have served around 282 women and 173 men. Also for the water and health plan, it has sought to identify the health needs of the communities. Most of the communities have been incorporated and willing to participate. Unfortunately, the negative news in other communities has made them not take ownership of the project and not participate. AMEXTRA works with 75 families from Aldama and Chalchihuitán. It accompanies them nutritionally and with different activities to improve their health. A diagnosis has been made by taking anthropometric measurements of weight, height, and hemoglobin in 26 children under six years of age, and vitamin supplements have been given to children with some degree of malnutrition or anemia. It has also sought to make alliances with other institutions to channel children with anemia; thanks to this, it has benefited from bimonthly pantries to 25 families with children who present some degree of malnutrition and anemia. On the other hand, work has also been done on training and building backyard gardens and chicken coops for five families with children with some level of malnutrition. Twenty families from Chalchihuitán, 16 families from Namtic, and four families from Canech have analyzed their water tanks and have been able to know the test results. These people have been sensitized to consume boiled water. Finally, various workshops have been held on the importance of a healthy diet, preventing chronic diseases, and healthy food preparation.
SOLMUNDI has followed up with the families of El Corralito, Jamubil, Naranjatik, and El Pozo. As we have shared with them, the communities of Corralito and Jamubil have been introducing themselves and learning about agro-ecological production. They have been training in different topics. In these months, they have had workshops on good poultry care and management (feeding, preparation of natural medicines, good practices for production) and the management of coffee nurseries. On the other hand, the groups of Naranjatik and El Pozo communities have been doing a follow-up on the work they have carried out, mainly the monitoring of poultry production; they have shared learning about the natural feeding of backyard birds. UNECODES continues to monitor the work of the Bochilté families. They have held a workshop to share experiences among families on poultry preventive care and make syrups, dewormers, and ointments. Also, they have reviewed the micro tunnel's state and have seen a good development of the vegetables; they have used the waste to feed the chickens. They have also noticed that the sheep and their young are in good health and have given them recommendations to continue the chain pass with another family in the community.
Psycho-emotional support and care for women and children.
Two projects are working for the well-being, health, and prevention of violence in women. MUTRAM (Women transforming worlds) and the Yach'il Antzetic Community Home also work with children and young people. MUTRAM has been monitoring groups of women and men to work on issues of gender violence, care and promote change in their communities. The Sacsalum Women's Group addressed the issue of self-care, fostering reflection on the importance of taking care of your body and feeling good. The San Nicolás Women's Group has been developing a participatory diagnosis on the health problems of their community, what they think and feel about it, what causes them pain: they identified alcoholism, their economic situation, and machismo, as well as other diseases. The Lindavista Men's Group has worked on managing emotions and how being a woman and a man are constructed culturally and socially. Finally, the "Hombres G" group from the Margaritas have worked on strategic planning, reflecting on what they have learned, what they want, and where they are going.
Community home Yach'il Antzetic continues to do meaningful work with different populations. They have cared for nine pregnant women in vulnerable situations; all of them have gone through difficult situations such as abandonment of their partners, family violence, or financial precariousness. They have been given prenatal care, postpartum and emotional support has also been provided. With other women, they have worked in the TRAMA Workshops (Working manual art for self-employment) to generate an economic income. From August to October, they have facilitated the workshops of creating bags, embroidery, macramé, and loom of the waist. During the workshops, the women also address their healing and personal and emotional growth as a group. The children who accompany their mothers have received educational (support with their homework or exercise) and emotional support; this orugas area is increasingly strengthened to treat minors better. Finally, workshops were held for 11 young people. With these, their creativity, storytelling have been encouraged. These workshops have been essential due to the isolation they have had during these times of pandemic; it allows them to exchange and have fun in an atmosphere of respect.
Thank you for reading us, for following us, and for being close to us. Soon we will share more news and testimonials with you, and we hope that you continue contributing through GlobalGiving to have more positive stories to tell :)
Together we do more :D