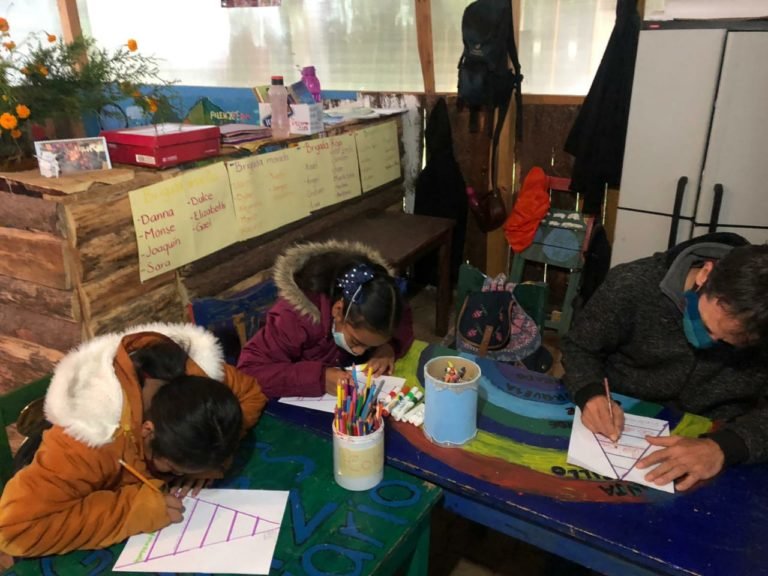 Again with great joy, we are here again with you to share the activities and achievements of the projects of our partner organizations. As you know, they continue to work hard to work together with women, girls, boys, and families to seek better alternatives for life and well-being. Your contributions continue to bear fruit, and we greatly appreciate your trust and support. Thank you very much from the heart!
Literacy and regularization of primary education
After the strongest of the pandemic, projects continue to adapt and seek more suitable alternatives for the people with whom they work. In the case of Tierra Roja Cuxtitali, they have faced several consequences of the pandemic. This situation has affected the boys and girls emotionally and in the development of their abilities. After several months without classes and Tierra Roja, girls, boys, and young people have changed. Many of them are in a state of passivity, silence, and lack of initiative; they do not participate as before and delay their academic performance. A decrease in their previous knowledge can be observed. Despite the above, the efforts are still present; it has been necessary to start from scratch, work to regain motivation, the will to continue learning, and the desire to express oneself. The support of Tierra Roja has been crucial to guarantee school permanence in school children, thanks to the accompaniment for the completion of schoolwork. These children are without face-to-face classes; they do not have an effective follow-up in their schools, and families receive a lot of pressure from teachers. They have worked with 18 girls and 28 boys during these months, 25 from 6 to 9 years old, 20 from 10 to 18 years old, and one person 25 years old. Training activities have been continued, such as support in training tasks and activities, workshops and life skills, human rights workshops, and free games.
Healthy nutrition through family and community gardens
Three projects continue to work to create alternatives for good food and nutrition in the communities of Los Altos de Chiapas, CAMADDS with the collective of Mujeres y Maiz Criollo, UNECODES, and SOLMUNDI. The three organizations continue to work on creating, strengthening, and consolidating orchards in the diversification of family food production and backyard activities, such as the reproduction and care of animals (chickens, bees). These activities in San Cristóbal de Las Casas and in other communities of Los Altos de Chiapas. CAMADDS with the Mujeres y Maiz Criollo collective has had good results in San Cristóbal with the links made with different groups and organizations such as the Plan Bioma collective and Otros Mundos. This linking has allowed them to reach more people and join forces to do a better job. They have worked with 30 adults and 80 children to diversify gardens and have produced more seedbeds. They have conducted agroecological workshops for 15 people on seed production and management, agroecological management of pests and diseases, fertilizers, seedlings management, sowing-transplantation, and care of display. Meetings have also been held between allied orchards to enrich collective actions. They have had a first experience with the organization of Tianguis Túmin, the community garden was the headquarters of this important alternative fair. There was a good influx of visitors and proximity of the residents of the Tlaxcala neighborhood; 300 people participated.
"I am excited to see that children and moms begin to take care of the value of caring for their environment, of producing their own healthier food that helps in the family economy. As well as the openness they have had to interact and learn new things from all the people who visit us and provide knowledge" Karelia head of the KassilVochomil orchard.
UNECODES is working with 15 families from the Chamcolom community in San Juan Cancuc to install, manage, and reproduce hens for self-consumption, sale of eggs and meat. A total of 115 people have participated in constructing the plan of work, purchase, and delivery of materials, selection of the place, location and construction of chicken coops, delivery of chickens, and workshops on care and handling of birds. Also, in the Bochilté community, 12 other families were monitored in the care of their birds and vaccinated. In this community, the micro tunnel was observed, and their vegetables were well developed. The group from the latter community continues to work with its petty savings bank, selling surplus vegetables. Although the pandemic has had to postpone some activities, the participants continue with enthusiasm and harmony with the planting, care, and consumption of various dishes with the products they harvest. They work in a motivational way to continue the process of working together.
"I am Juana. I am 44 years old. I am from Chancolom, the municipality of San Juan Cancuc. I have three children. I want to thank Amigos for the support you gave us, thank you for supporting us with the mesh, sheet, and chickens here in the community. Sometimes we have, but the disease passes, and they die we do not know how to cure them; thank you also for teaching us to vaccinate and take care of chickens".
SOLMUNDI works with two communities El Corralito in Tenejapa and Jamuvil in Chenalhó, where different workshops have been held to promote agroecological production within the productive plots and where the learning of the first workgroup located in Naranjatik Chenalhó has been applied. and El Pozo San Juan Cancuc. Workshops have been held on: Peasant to Peasant, soil analysis from local knowledge, biofertilizers, conflict resolution. In Naranjatik and El Pozo, the follow-up has been given to continue with their agroecological processes without constantly having a technical promoter and being autonomous in the new agricultural techniques they practice. The follow-ups are carried out every four months in groups that already have two years of the learning process in the project and have managed to become independent and benefit from the first years of work.
"I am Rosa, and I am 46 years old. I live in the town of Jamuvil, municipality of Chenalhó, I am a new participant in the project that SOLMUNDI brought, and my family and I are learning to care for the earth. The technicians have led us to work as a team. However, we are family, there are also problems, and with them, we learn that we always work better as a team. They have taught us to use what we have in the community to make natural fertilizers and know how our soil is. Because of the disease that is here, we have not had all the workshops that they would give us, but with what we already learned, we saw that it is essential to have our food, one never knows when these diseases will happen and, if we have our food here at home it is easier for us"
Psycho-emotional support and care for women and children.
Two projects are working for the well-being, health prevention of violence against women, on the one hand, MUTRAM (Women transforming worlds) and on the other, the Yach'il Antzetic Community Home. MUTRAM has been dedicated to working with organized women from the region of the highlands and the Comiteca plateau. Through workshops and construction of spaces for the training and awareness of women, their children, and men in Las Margaritas, to stop violence against women. Alliances with authorities for community advocacy accompany these initiatives. They held the Festival of Health and Peace in which more than 50 people participated, and essential workshops were held with men on masculinities and men and violence. Other workshops were also organized for and with young people on the topics that interest them the most, such as drugs, machismo, and sexually transmitted infections. The women who attend the workshops are now more willing because of the tranquility and security that the training spaces offer them because they know that they can bring their daughters and young sons to join the workspace with children. The link between men and women of the participating groups is now more respectful, unlike years ago when women had no voice or vote in decision-making spaces; family, church, work, school, community, and neighborhood assemblies.
"In 1998, it was my first masculinity workshop; it was in Palenque. I went in and saw pure strange men, macho, just like me. Some shared their experiences and cried, and I didn't, I put up with myself as a male. So I started the path of becoming aware of how I lived my masculinity and how I want to live it. The results of that experience have made me committed to continuing sharing these workshops; personally, there have been many changes, it has helped me to improve relations with my family, listening, speaking, expressing what I think, feel, be pending as I do not exercise violence" Testimony of a facilitator of the Men G.
At the Yach'il Antzetic Community Home, they have worked on the Comprehensive Program for the Accompaniment of Women in which 50 people have participated, 45 women and five men. All of them, indigenous Mayan and mestizo women migrants to the city of San Cristóbal de Las Casas, received care during their pregnancy. Several women arrived with health problems, some more serious than others and all with acute emotional situations caused by experiences of violence. A total of 80 women attended the monthly meetings in the Community Home. In this new normal, they have repeated the same workshop at least four times to attend to sanitary measures. The children who accompanied their mothers have the space of Las Orugas. The new collaborator Lupita has professionalized it. Now they can be offered a space where through the game, the taste for literacy and mathematics is encouraged; initially, It was challenging, but little by little, the children have asked to return to the Community Home to continue with the activities. They are also monitoring the situations of violence that they live in their homes. They have been working every day with their mothers on the issue of good treatment. There have been three meetings to reflect on the strength and importance of tenderness instead of blows and mistreatment. It is not easy to break the belief that tenderness is a sign of weakness; however, they trust the method and the perseverance in its application. In the TRAMA workshops (Working manual art for self-employment), 30 women attended seminars on a backstrap loom, macramé, and blanket embroidery with psychological support. They are improving the work from our Facebook page, trying to promote women's products.
"I learned that emotions are present in labor and that we can transform anxiety and fear into joy and confidence ... we don't have to dig in ... I didn't know the reproductive system of women, and how it works in the moment of delivery, it's incredible! I liked that they taught me to visualize the moment of my baby's birth and the meditations with deep breaths. I liked them, and I want to continue doing them. I want to be prepared for the best way to help my partner during labor, mentally and emotionally prepared; thank you!" Roger (parent attending the prenatal care workshops).
We will continue creating and working to improve :D. Once again, we thank you for your support. Together with the children, women, and families, we transform the Highlands of Chiapas. Soon we will share more news and testimonials with you, and we hope that you continue contributing through GlobalGiving to have more positive stories to tell :)
Thank you very much!