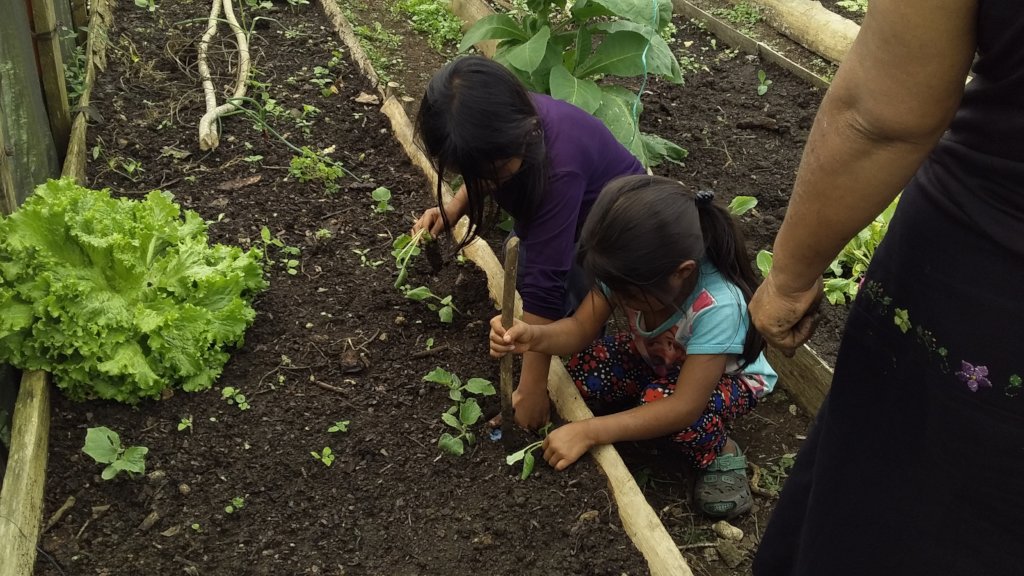 We greet you again with great joy after a few months of work. As we have shared with you before, we continue to use all our creativity to build new forms and alternatives to this new reality. We have made the most of every bit that each of you has given through GlobalGiving to contribute that children, women, and families in the Highlands of Chiapas have a better quality of life, thank you very much from the bottom of our hearts!
Literacy and regularization of primary education
During these months, the work of organizations such as Tierra Roja Cuxtitali has been fundamental. It has followed up on children and adolescents who have not been able to continue with their formal education given the pandemic and support those who have always been disadvantaged and have no education access. The demand for the services they provide to the community grows day by day. In the past months, Tierra Roja started with 15 people in the School for young people and adult women, a bet developed during the health crisis to give opportunities to women who are also users of the center. In the same way, in the last few months, they have restarted face-to-face activities with the children, taking care of the safety of all: organizing themselves into brigades with few participants and working outdoors with all sanitary measures. Twelve children and adolescents who do not have a formal education attended literacy classes, basic mathematics, and comprehensive knowledge. At the same time, 33 children and adolescents have participated in-school support and alternative training activities. Training-for-life workshops were also carried out (art, permaculture, native languages, reading promotion, approach to computing, basic English) and Human Rights Workshops for childhood and adolescence where 45 children participated. Children and adolescents have experienced many traumatic experiences in this last year since the pandemic has put their development at risk and other situations such as teacher strikes and floods that occurred in the city. Enabling a safe, community, and peaceful space for play and learning like Tierra Roja is essential for Los Altos' children.
Healthy nutrition through family and community gardens
With the pandemic and moments of crisis, we have learned that it is increasingly important to find ways to survive, have a good diet, and alternative forms of exchange in communities. Encouraging food sovereignty, the creation of family, school, and community gardens adds a lot to this and the care of the environment. Among the projects are that of CAMADDS with Mujeres y Maiz Criollo Collective, UNECODES, and SOLMUNDI. During these months, the Mujeres y Maiz Criollo Collective established more alliances with the community. They generated synergies in the Tlaxcala neighborhood, in San Cristóbal de Las Casas, with Plan Bioma, another group made up of people and families of the same area. They carried out meetings and assemblies where around 25 people participated, which served to see the needs of the community gardens that are already operating in the neighborhood. They have also accompanied the orchards where 50 people have participated and have been carried out workshops on conscious eating and responsible consumption for children, teenagers, and mothers of families. As well as in San Cristóbal de Las Casas, they have worked with several families in other communities of Los Altos: in Bochilté and La Libertad from Huixtán, El Corralito from Tenejapa, Jamuvil and Naranjatik from Chenalhó, and in El Pozo from San Juan Cancuc. Around 250 people have been assisted. Thanks to the three organizations, it has been possible to carry out different agroecological activities (workshops, monitoring, and meetings) and improve their orchards and plots' management and diversification. The families, among several things, have improved in the treatment of their poultry and their sheep: taking better care of their pens, they apply vaccines and home remedies that are prepared in the workshops, and have strengthened their knowledge in the reproduction of animals. Another vital activity they have carried out is exchanging experiences and products, which have contributed more to their gardens and created a closer relationship between people. Families continue to be strengthened through workshops such as the importance of rescuing local knowledge and conserving native seeds, solidarity economy, management in coffee cultivation, etc. Some families who have spent more time working in their gardens have already been able to exchange or sell the surplus of the products they produce, and in this crisis, it has made a difference for them.
Psycho-emotional support and care for children/women
In addition to children and adolescents, women, in particular, have had to go through different traumatic moments derived from the pandemic crisis, in addition to the difficult situation that many of them could have at home:
They have lost their jobs.

They have had to change their dynamics with their children.

Floods suffered in the city.
Monitoring emotional well-being has been essential for all of them. The Tierra Roja Cuxtitali community center as the Yachil Antzetik Community Home has continued with this vital work. In the Community Home to continue serving women, since several stopped attending due to the crisis, they decided to change the strategy and approve the dissemination of support through the media, such as posters, social networks, and radio, resulting in a positive response. On the other hand, they monitored the users' status more frequently with phone calls and requested help to locate those who had stopped attending. Hogar Comunitario served three hundred sixty-three women in this way, several women returned, and new users were able to benefit from the workshops on self-esteem and emotional intelligence. The delivery of pantries continued to be important for several due to their situation. In the Oruga space, the children were cared for as their mothers participated. In Tierra Roja, the little house of emotions continues to work, following up 45 children. Through workshops, they support them with their state of mind and group and individual work on their feelings.
Shelter for pregnant indigenous migrant women
Yach'il Antzetik Community Home welcomed seven women, all of whom were suffering from violent situations. Thanks to the intervention and work they carry out, they are strengthened to face adversities in their daily lives and with their children. Besides, these women continue with support afterward through the workshops and their follow-up. On the other hand, primary care and counseling were also given to 9 adolescents with an unplanned pregnancy and eight couples, making the men more interested in the topics discussed and changing their attitude towards their partner and the pregnancy.
We will continue creating and working to improve :D. Once again, we thank you for your support. Together with the children, women, and families, we transform the Highlands of Chiapas. Soon we will share more news with you, and we hope that you continue contributing through GlobalGiving to have more positive stories to tell :)
Thank you very much!