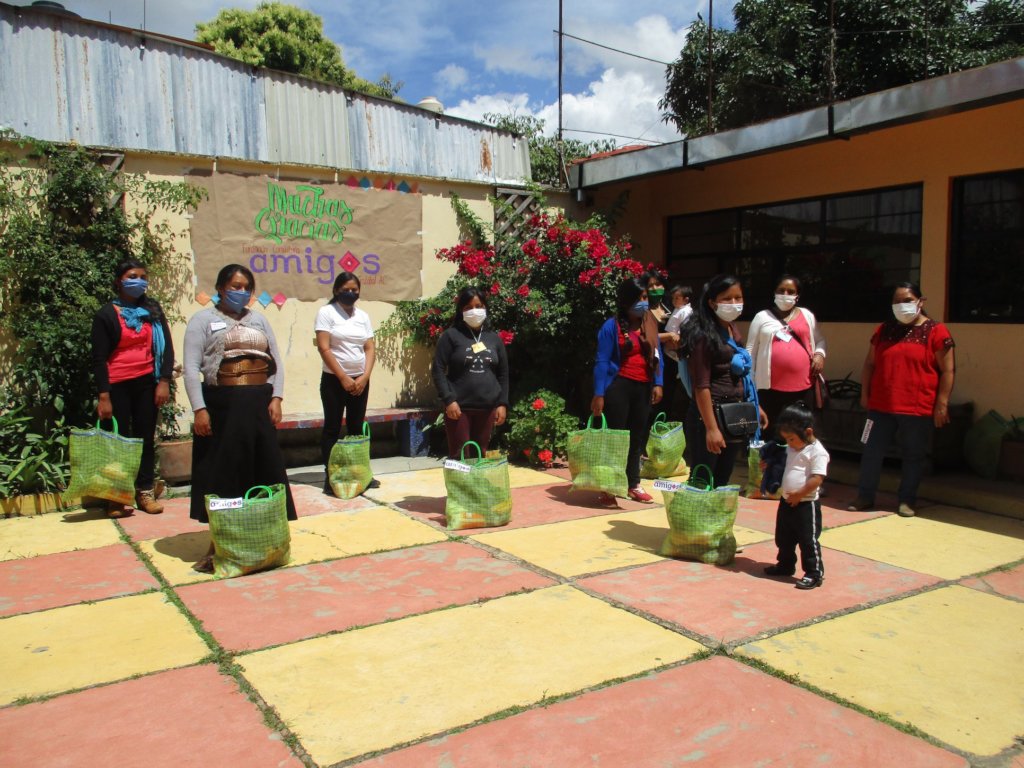 Once again, we greet you with great joy and share the exciting news of our foundation and the projects we support through the GlobalGiving Improve quality of health and education in Mexico project.
We especially appreciate your support and solidarity in these months. We have been adapting to all the changes that have occurred and have had to overcome various challenges. At Amigos de San Cristóbal, we have been able to get ahead together, listening to us, collaborating, and working as a team with beneficiary organizations, our allies, donors from different parts of the world, and volunteers from our community.
Literacy and regularization of primary education
Tierra Roja Cuxtitali worked in children's educational support and literacy during the months of stronger social distancing. Through phone calls and mainly through WhatsApp, because many families do not have internet service at home and video calls with those families with access. They also organized virtual cultural activities such as the Cuxtifest, where people share music, theater, and stories for the children. Together with other organizations, they could consult on how girls, boys, and adolescents in San Cristóbal de Las Casas live the coronavirus pandemic? Thanks to that, we learned about many children and young people's situation during this health crisis and their difficulties. With the reduction of restrictions, it has been possible to carry out face-to-face and outdoor activities by taking all the necessary measures, such as installing a handwashing unit and face masks' mandatory use. Thanks to constant contact with the people in his community and listening to their needs, the Entrepreneurship School project for young and adult women started.
Healthy nutrition through school gardens
Over this period, following up with the primary school, 31 de Marzo was also affected by the health crisis. However, the grantee organization Capacitación Asesoría Medio Ambiente y Defensa del Derecho a la Salud, A.C. along with the Mujeres y Maíz Criollo Collective, have adapted to the new situation and have been able to continue working. With the absence of teachers and students, the activities have been carried out with volunteers and Don Toñito, the primary caregiver. Regarding planting and care. Actions and meetings that have to be carried out in person have had to be postponed. The Follow-up with students and teachers' workgroups has been carried out via WhatsApp, where work plans and remote monitoring have been made.
Psycho-emotional support and care for children/women
Psycho-emotional support and care for women and children continue. In Tierra Roja Cuxtitali, they have followed up through the Friendly Line. It is a call center to provide emotional support and a listening space from the psychologist who collaborates with the Center. Hogar Comunitario Yach'il Antzetic, AC, has continued to deliver pantries to needy women's families. Through this, they have monitored their emotional state and talked with them about the different possibilities to create alternatives to the crisis. Thanks to the donation of seeds to the Community Home, the urban garden project has been able to start, which has helped women who come to the Center more regularly to learn and find alternatives for food security.
Shelter for pregnant indigenous migrant women
Hogar Comunitario has continued to provide shelter and monitoring for pregnant women in vulnerable situations. During the crisis, they monitored women by telephone to determine their overall health and well-being. During the delivery of pantries, and when the social distancing restrictions lowered, workshops on health and sexual reproduction issues could occur in the open air following necessary measures, such as the talk: How much do I know the parts of my the functions performed by each body?
In particular, during these months, we had to rethink our actions and use our creativity to support the most vulnerable in a better way. Many families have been left without income sources and do not have the means or the necessary tools so that their children can continue remotely in schools. During these months, we have also helped all families with deliveries of food baskets that can give them a break from the crisis that has unleashed. We want to thank you again for your solidarity and help since with this, we have been able to continue supporting and looking for better alternatives.
Thank you all for been here with us.