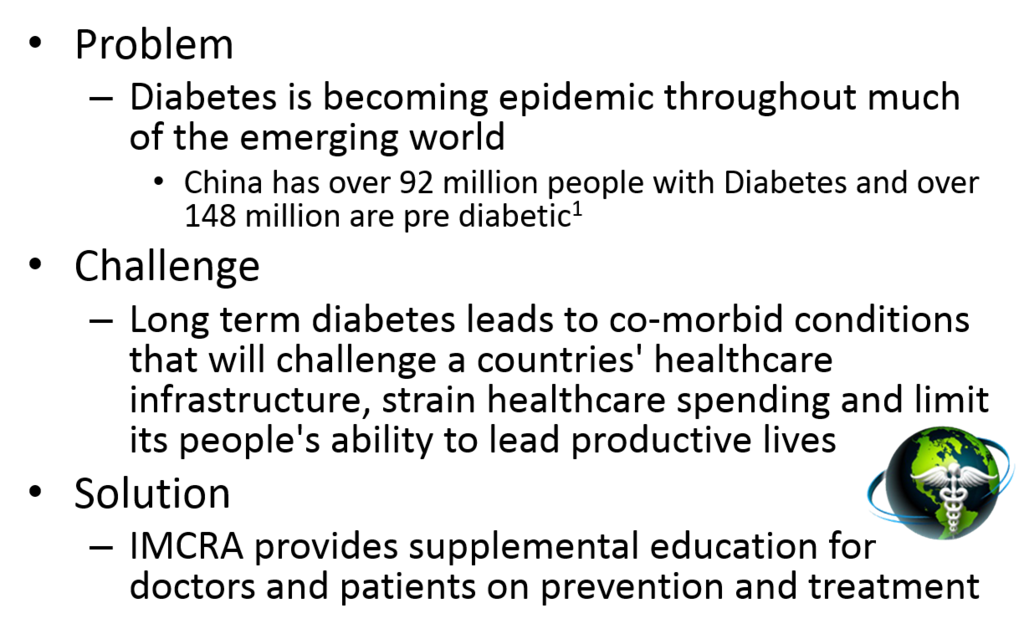 Over the last two months, in addition to our Ebola work, IMCRA has held several meetings with the regional medical authorities in Shenzhen China regarding the issue of pediatric diabetes.
Shenzhen is a microcosm and a model for what is happening in Westernizing nations all over the world. Once traditional diets and levels of physical activity are traded for the fast food and consumerism perceived as particularly attractive in emerging nations, there is a concommittant decline in basic health. This accompanies an increased incidence of lifestyle-related conditions like heart disease, some cancers, and especially diabetes.
In January and again in March IMCRA staffers met with representatives from the 4th People's Hospital in Shenzhen to design a pilot program for diabetes awareness and prtevention, aimed not just at schoolchildren and their parents, but at general practitioners in local communities who are generally unaware of the signs of pre-diabetes in children and adolescents.
The IMCRA program, in collaboration with regional health authorities, reaches out to both these target groups with compelling interactions on lifestyle choices, health threats, long-term health implications, and finally treating fully-emergent disease. Lessons learned in this program are applicable not only to China but to emerging nations everywhere - as well as domestically. When children are victimized by a fully-preventable condition, the fault lies firmly with us if we do little to help them.
And here's where and why your help and partnership are so important. This program will take place, and will spawn similar programs, but as ever we are faced with web-hosting costs, venue and travel expenses, materials dissemination and even an occasianal honorarium for especially devoted medical faculty.
Think of it this way, your kind support will be a form of long-term insurance for providing our children with a healthier, and ultimately more satisfying life.
Sincerely,
The IMCRA Team