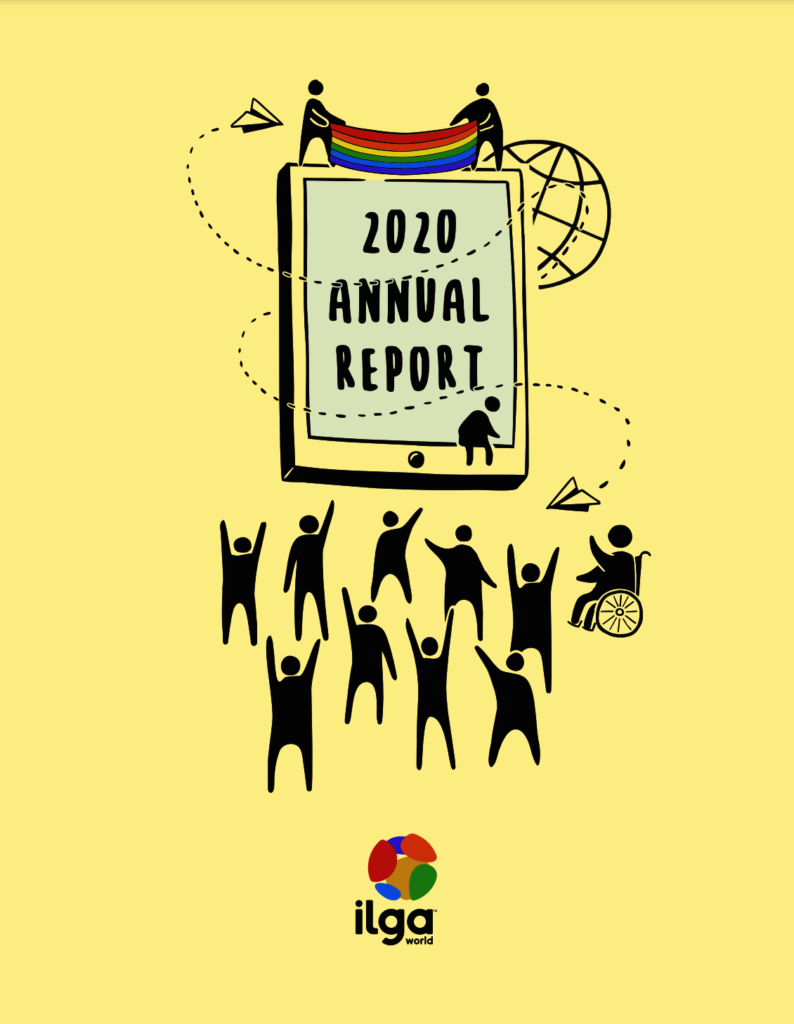 Executive Summary of the ILGA World 2020 Annual Report
#InThisTogether
2020 has been a year like no other: the Covid-19 pandemic has affected life everywhere, and ILGA World was no exception. When the emergency clearly became global, we quickly moved to adapt our work to continue supporting our communities worldwide.
At a time of forced distancing, "we are #InThisTogether" became more than just a public campaign: it solidified as the guiding principle to all our work. Our staff made sure to remain closely connected from their home desks, supporting each other's wellbeing through virtual coffee breaks and periodic check-ins. Our Board continued to lead our global family, at times connecting over 20 different time zones.
We had to make difficult decisions: many of the gatherings we had planned have had to be cancelled or postponed, including our next World Conference – now scheduled for Spring 2022 in LA Long Beach, California, United States. ILGA World is a global family, and our family needed – and will continue to need - each other's support as we navigate this global struggle.
Knowing that the pandemic would have impacted the work of our members, we worked on new ways for them to come together – including a series of roundtables and advocacy webinars, and a collection of resourc­es for their remote working and well­being. We were a platform for the world to share positive messages for our communities and continued to engage with international fora and media to make sure LGBTI voices were represented amid the global crisis.
This solidarity and support strengthened the relationship within the ILGA World membership, and our membership grew to 1,676 organizations from more than 160 countries and territories worldwide.
These members, supported by our six regions, are the founda­tion of the LGBTI movement. Through their activism, the global ILGA family advances LGBTI human rights from the grassroots level to the United Nations and back.
Throughout 2020, ILGA World offered institutional, strategic, and finan­cial support to our regions and together have ensured that regional and international levels have impact on, and are informed by, communities on the ground. Despite the challenging year, ILGA-Europe and ILGA Oceania held virtual conferences to share knowledge, strategise a way forward for the region, and elect their representatives.
At the ILGA World office, we streamlined our internal processes to liaise with our membership, and established new policies on procurement and travel, with whistleblowing and anti-corruption policies to follow. And we created a new Gender Identity, Gender Expression, and Sex Characteristics (GIESC) programme to streamline all the work that ILGA World does on these issues.
This is the last time I am will be prefacing this kind of report. After eight years in this organization, I have made the decision to move on to a new chapter in my life later in 2021. I have had the privilege to at first lead our United Nations programme, and then to serve as the Executive Director of this diverse organization: one that is truly making an impact. The people I've met, the triumphs we shared, the losses we mourned, and the hope that carries us all forward will be with me forever. My personal thanks to all the ILGA World family – people past and present – my fellow staff members, Board and Committee mem­bers, interns, consultants - and to each and every member organization and person who has left a mark in our collective struggle. I can't wait to see what the future has in store for this organisation, our communities and the world. I know we will prevail.
André du Plessis
Executive Director, ILGA World
An Overview of 2020
JANUARY
We kick off the year with new activities to support local organizations as they follow up on LGBTI recommendations from the Treaty Bodies. Throughout 2020 ILGA World and our allies made sure to keep raising queer voices at the United Nations!
FEBRUARY
We launch an extensive global research into laws banning 'conversion therapies'. Protection from similar ineffective and cruel treatment is as urgent as ever!
MARCH
The world comes to a grinding halt as the Covid-19 pandemic erupts. Even during these difficult days, we have continued to support our global family with our #inthistogether campaign, offering wellbeing and practical resources, stories of LGBTI organizations at the frontlines of providing support to our communities on the ground, a series of advocacy webinars, and a postcard initiative to raise the spirits of our LGBTI communities in this tough time.
APRIL
As everything turns virtual, our communities remain connected: ILGA World holds its first-ever online Board meeting, and hosts roundtables discussing the impact and response to the COVID-19 pandemic among LGBTI organizations.
MAY
We celebrate an important anniversary: 30 years ago, the World Health Organization finally decided to declassify homosexuality as a mental disorder. We bring our global family together with a campaign to break the silence on LGBTI-phobia, and say loud and clear: "We are here!".
JUNE
We take part in Global Pride, an unprecedented event reaching more than 57 million viewers over 24 hours. To celebrate this historic happening, we launch our World Map on Sexual Orientation laws in 20 languages.
JULY
We rejoice with our global community, as Sudan abolishes the death penalty for consensual same-sex relations, and Gabon decriminalises them.
As many interactions moved into the virtual world, many LGBTI persons have experienced particular isolation and vulnerability due to the digital divide. We addressed this during RightsCon 2020, the leading conference on human rights in the digital age.
AUGUST
The world celebrates International Youth Day, we continue to remind the world that LGBTI youth voices need to be heard. During the year, we collaborated with the UN Envoy on Youth and saw LGBTI youth appointed in two key initiatives by the United Nations.
SEPTEMBER
Amidst backlash and attacks on trans communities worldwide, we release our latest Trans Legal Mapping Report, detailing the impact of laws and policies on trans persons in 143 UN member States across the globe.
OCTOBER
In a historic step forward, 36 States from all regions of the world call on the UN Human Rights Council to urgently protect intersex persons in their bodily autonomy and right to health.
Meanwhile, our communities come together for the International Intersex Virtual Forum, and for two virtual ILGA regional conferences for Oceania and Europe & Central Asia.
NOVEMBER
Time to announce the theme of our next World Conference: we'll convene in May 2022 in LA Long Beach, United States, under the banner "LGBTI youth: future present change"!
DECEMBER
As 2020 comes to an end, our latest State-Sponsored Homophobia report paints a vivid picture of the progress and setbacks that happened across the world during the year.
Links: