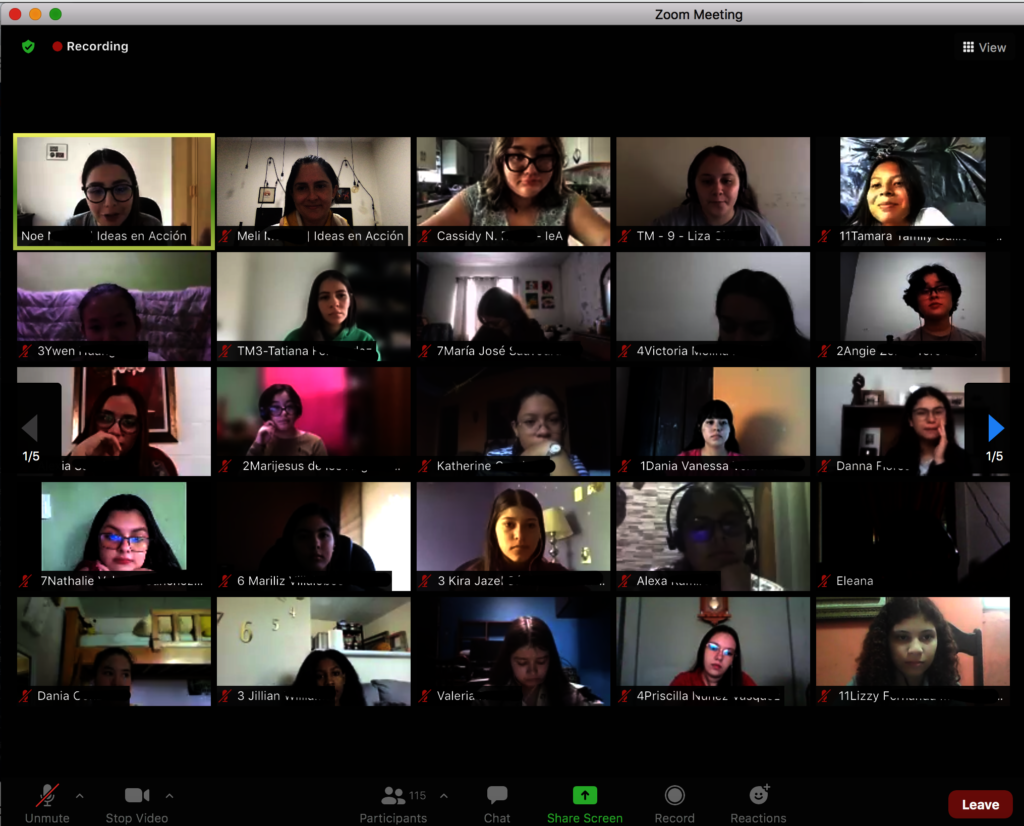 English bellow
Mente en Acción
Hemos finalizado 2 ediciones exitosamente, en la 14ta edición se graduaron 60 mujeres jóvenes y contamos con 25 Technical Mentors (voluntarios/as). En la 15ta edición se graduaron 64 mujeres de todo el país, y contamos con 17 Technical Mentors Para ambas ediciones contamos con el patrocinio de Accenture, P&G e Intel y con la alianza de Efecto Boomerang y Bond Co creation.
Actualmente se está llevando a cabo la 16ta edición, la primera a nivel centroamericano, se seleccionaron 100 mujeres de Costa Rica, Nicaragua, Panamá, Honduras, El Salvador y Guatemala. Se graduarán el próximo 23 de octubre. Esta edición está siendo patrocinada por Accenture, P&G, First Factory y Emerson.
Red Mente
Debido al COVID-19 hemos realizado las actividades de la Red Mente de forma virtual, hemos organizado clases de ejercicios, talleres y charlas de temas relacionados con Tecnologías, Ciencia, Programación, Orientación vocacional, además les hemos ofrecido membresías por 1 año en las plataformas Pluralsight y GrowUp (Ciencia de Datos) y 10 chicas se certificarán el Salesforce a partir de este mes. Tenemos proyectamos finalizar el año con al menos 39 actividades en total.
Además, organizamos una Hackathon que se realizó el 7 y 8 de agosto, donde se evaluó la funcionalidad del manual sobre la herramienta ThunkableX de acuerdo a los objetivos de programación para el prototipo de aplicación móvil desarrollado en el programa MenTe en Acción. Esto ya que esa es la nueva plataforma que utilizan las participantes en el programa. En la Hackathon contamos con 28 participantes, 7 equipos y 12 Technical Mentors.
Emprendimiento en Acción
Nace de las oportunidades de desarrollo identificadas a partir de las situaciones que enfrentan las mujeres de las Red MenTe debido a la situación por COVID-19. El programa tiene por objetivo brindar herramientas, conocimientos y apoyo en el desarrollo y mejoramiento de emprendimientos de las mujeres de la Red MenTe y sus familias. Además, a lo largo del proceso, se busca generar una comunidad y red de apoyo mutuo entre las emprendedoras, para incentivar la generación de ingresos a partir de sus emprendimientos.
Comenzó el sábado 06 de febrero y finalizó el 20 de mayo, tuvimos 43 inscripciones y se seleccionaron 34 mujeres, finalizó el 13 de mayo con la graduación de 16 chicas. Contamos con el apoyo de 14 mentorxs que guiaron el proceso de las participantes.
Conectadas
Conectadas tiene por objetivo proveer mayor acceso de herramientas tecnológicas a la mujer, de desmitificar el miedo que por falta de información a veces las mujeres pueden tener con respecto a la tecnología y de enseñar a una navegación de forma segura, previniendo el acoso digital. En lo que llevamos del 2021 hemos capacitado 1038 mujeres de todo el país en temas como Seguridad Digital, Recomendaciones para el Curriculum Vitae, ABC de los dispositivos móviles y las computadoras y Uso básico de Redes Sociales, Redes Sociales para emprendedoras, Fotografía básica para emprendedores.
FUN San José V. XIII
Movimiento mundialdesarrollado desde el 2016 en Costa Rica. Un evento donde se invitan emprendedores costarricenses a compartir con un público desconocido sus Fracasos/metidas de pata con el propósito de desmitificar el fracaso y poder verlo como parte del proceso de emprendimiento.
El jueves 27 de mayo tuvimos la edición número 13 que fue virtual y contamos con tres speakers invitados que hablaron sobre sus emprendimientos y cuales han sido sus principales metidas de pata en este proceso de emprender y las principales afectaciones debido al COVID-19. Contamos con la participación de 53 personas vía Zoom Meetings. El 26 de agosto tuvimos la edición número 14 también virtual y contamos con 4 speakers, 43 asistentes.
-English
Mente en Acción
Ideas en Accion has successfully completed two more editions. The 14th edition graduated 60 young women with support from 25 Technical Mentors (volunteers), while in the 15th edition, 64 women from all over the country graduated with the help of 17 Technical Mentors (volunteers). Both editions were sponsored by Accenture, P&G, Intel and the Boomerang Effect and Bond Co. creation alliance.
The 16th edition is currently ongoing. It is the first to be held at the Central American level, with the participation of 100 women from Costa Rica, Nicaragua, Panama, Honduras, El Salvador and Guatemala. They will graduate on October 23rd. This edition is sponsored by Accenture, P&G, First Factory, and Emerson.
Red Mente
(MenTe Network)
Due to COVID-19 our MenTe Network activities have been held online; we have organized exercise classes, workshops and talks on topics related to Technologies, Science, Programming, and Vocational Guidance. We have also offered one year long memberships on platforms like Pluralsight and GrowUp (Data Science). Starting this month, 10 girls will be certified on Salesforce. We plan to end the year with at least 39 activities in total.
In addition, we organized a Hackathon that took place on August 7th and 8th, where the functionality of the ThunkableX tool manual was evaluated according to the programming objectives for the mobile application prototype developed in the MenTe en Acción program. This is because Thunkable X will be the new platform used by the participants in the program. At the Hackathon we had 28 participants, 7 teams and 12 Technical Mentors.
Entrepreneurship Incubator
This program was created as a response to the development opportunities identified observing the various situations faced by members of the network as a result of the COVID-19 pandemic. The program aims to offer tools, knowledge and support to help these women and their families develop and improve their entrepreneurial endeavors. Throughout the process, we also aspire to create a community and support network among the entrepreneurs to boost their income through their different projects.
The Entrepreneurship Incubator started on February 6th and concluded on May 13th. Out of 43 applicants we selected 34 young women of which 16 completed the program, graduating in May. We had the support of 14 mentors who guided participants throughout the process.
Conectadas
(Connected)
The objective of this program is to offer women wider access to technological tools, demystify the fear surrounding the use of technology that some women might have due to a lack of information, and teach them how to surf the web safely, preventing cyber-bullying. So far in 2021, we have trained 1038 women all across the country on topics such as Digital Security, recommendations for their CV, the ABCs of mobile devices, Cash Flow, Basic Graphic Design for entrepreneurs, Photography 101, and Social Media 101.

FUN San José V. XIII
This is a global movement that's been taking place in Costa Rica since 2016. Costa Rican entrepreneurs are invited to share their failures with an unknown public. The purpose is to debunk the myth of failure and understand failing as a necessary part of the entrepreneurial process.
On Thursday, May 27th, we hosted the 13th edition online. We had three guest speakers who spoke about their local businesses and about their faillures during the whole process, and what have been the biggest challenges brought on by the COVID-19 pandemic. We had the participation of 53 people via Zoom Meetings. On August 26th, we held the 14th edition, also online and we had four guest speakers and 43 attendees.